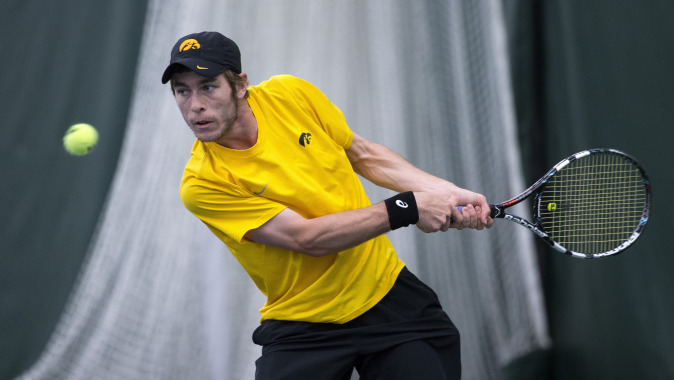 Sept. 29, 2015
Weekly Release

THIS WEEK:
The University of Iowa men's tennis team will travel to Tulsa, Oklahoma, for competition Saturday Oct. 3 – Monday Oct. 12 at the ITA All-American Tournament.
LINE UP FOR ITA ALL-AMERICAN:
Senior Dominic Patrick, Junior Robin Haden, and Sophomores Jake Jacoby, and Lefteris Theodorou will be competing in the ITA All-American Tournament for the Hawkeyes.
LAST WEEKEND RECAP:
Junior Nils Hallestrand competed in the championship match for Flight D Singles. He placed second overall in the flight. Freshmen Tony Leto and Jonas Larsen also saw action last weekend. Leto took fourth in the Flight E Singles bracket while Larsen lost in the consolation final of Flight C Singles. Hallestrand and Larsen took together in Flight B doubles action where they finished third. The tournament was good practice for the newest members of the Hawkeye squad. Larsen admits he learned a thing or two about what aspects of his game need the most work.
"It was tough but it was good to finally be playing matches here," said Larsen.
"I have to keep the ball in play. I have a big game but against guys who keep the ball in play it's nothing because all the guys here can play. Every guy in the States can put the ball in play and they can serve and know how to volley so even though you have a big forehand it doesn't win you matches because you're also going to miss. I definitely need to cut down on the errors and keep grinding."
LOOKING FOR REDEMPTION:
Three Hawkeye competitors will be returning to the ITA's this year with the hopes to redeem themselves. Patrick and Theodorou both lost in the opening round last year but were able to grab wins in the consolation brackets before their runs came to an end in the Pre-Qualifying round. Then freshman, Jacoby was unable to grab a win in his collegiate debut last year. He fell in straight sets to Stuart Depaolo from the Univeristy of North Carolina in the first round and Yannick Junger from the University of Texas at San Antonio in the consolation bracket.
"Last year it was my second tournament so I was really early into college matches and really it was a step up in level for sure," said Jacoby.
"It showed me that while you're training hard there are a lot people in the country training hard as well and you have to stay with them and improve at the same rate or better than they are or you're going to get left behind. There are a lot of good players out there so I can appreciate the level that there is in college tennis."
FOLLOW THE HAWKEYES:
Fans can follow along all season to the Hawkeyes and receive live match updates on Facebook (facebook.com/IowaMensTennis) or on Twitter (@IowaMensTennis).
WILSON ON THE ITA ALL-AMERICAN:
"The All-Americans is one of the biggest tournaments of the year on our schedule. The guys that will be competing for us have trained and competed non-stop throughout the summer and are really playing well. I think we are ready for some great results."