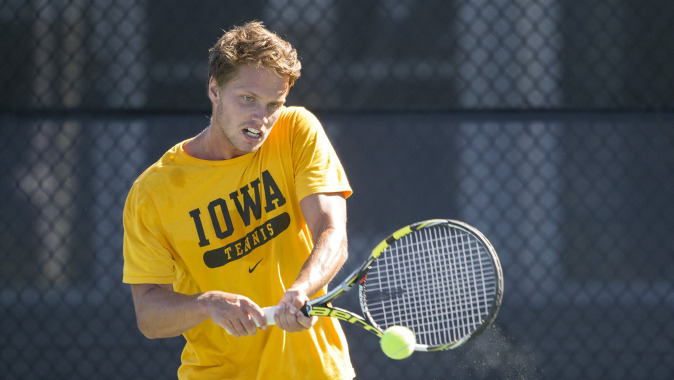 Oct. 15, 2015
FAYETTEVILLE, Ark. — University of Iowa junior Robin Haden advanced to the round of 32 at the ITA Regional Championships following a pair of opening round victories on Thursday.
Haden recorded consecutive straight set wins, 7-5, 6-2, over Victor Mendez (WS), and Toby Boyer (Neb.), 6-3, 7-5. He faces Nebraska's Andrew Dzulynshy on Friday at 11 a.m. (CT).
"Haden is playing great tennis right now and has a great opportunity to reach the round of 16," said head coach Ross Wilson.
Sophomore Jake Jacoby was one of six Hawkeyes to advance to the round of 64 today, taking down Alvaro Santamaria (ORU), 6-3, 6-0. Jacoby dropped his second match, 7-6 (3), 6-4, to Julian Cash (OSU).
"I really liked the fire that Jake played with today. He lost a tough match to a great player in the second round," said Wilson.
Senior Dominic Patrick picked up a first round win against Henrique Pereira (SDSU), 7-5, 6-2. He fell in the round of 64 to Wilder Pimentel (SIUC), 7-6, 6-1.
Sophomore Lefteris Theodorou made the round of 64 by topping Pete Molloy (SIUC), 6-4, 6-3. Theodorou suffered defeat in his next match, dropping both sets, 6-1, 6-3, to Santiago Munoz (ARK).
Two Hawkeye freshmen, Jonas Larsen and Tony Leto, also won in the opening round. Larsen took a three-set match, 7-5, 0-4, 6-1, over Jocelyn Devilliers (WS). Leto won his match against Lucas Pereira (SDSU) in two sets, 6-2, 6-0. Larsen lost his second match to Airam Castellano (WS), 6-1, 6-1. Leto dropped to Marino Alpeza (MN), 6-4, 4-6, 6-1.
Junior Nils Hallestrand suffered defeat in his first match of the day at the hands of Haru Inoue (WS), 7-6, 6-3. His consolation match against Scott Elasass (NEB) begins at 11 a.m. Friday.
Doubles play begins tomorrow with six Hawkeyes in the mix. Theodorou/Jacoby start the morning off against the Nebraska duo of Zitsch/Dzulnsky at 9 a.m.
First serve of the Haden/Patrick match against Rodhe/Santamaria (UMKC) is set for 10 a.m. Hallestrand/Larsen received a first round bye.