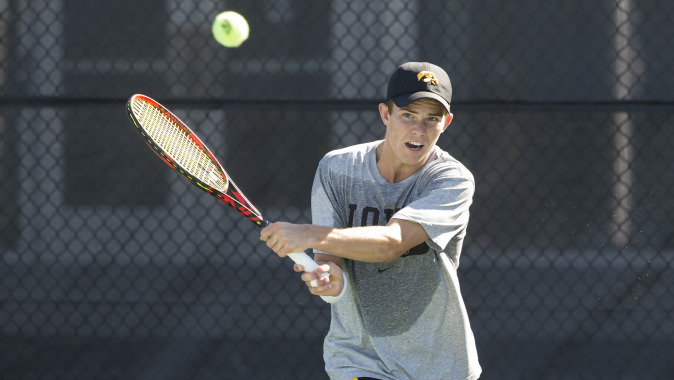 Oct. 16, 2015
FAYETTEVILLE, Ark. — The University of Iowa men's tennis team continued competition Friday at the ITA Regional Championships.
Robin Haden was the top Hawkeye finisher yesterday winning both of his matches and advancing to the round of 32. However, the Hawkeye junior fell today to Andrew Dzulynsky of Nebraska, 6-2, 6-2.
Doubles action began today with six Hawkeyes taking the court. The duo of junior Nils Hallestrand and freshman Jonas Larsen were the top finishers of the day for the Hawkeyes. They received a first round bye and posted an, 8-7, win against Salazar/Herrerias of Arkansas in the second round. They take the court again tomorrow at 3 p.m. (CT) against Gerch/Mendoza (OSU).
"Nils and Jonas played great doubles today. They made returns and first serves on big points," head coach Ross Wilson.
Haden and senior Dominic Patrick teamed up to take on Rodhe/Santamaria of UMKC. Haden/Patrick defeated their opponents, 8-1. However, the Hawkeye duo were edged by Kirby/McCloskey in the Round of 32, 8-7.
Iowa sophomores Lefteris Theodorou and Jake Jacoby lost their only match of the day, 8-6, to the Nebraska team of Zitsch/Dzulnsky.
Hallestrand, Jacoby, Patrick, and Larsen also posted singles wins in the consolation bracket. Hallestrand topped Sam Gray of Oklahoma, 6-0, 6-1. Jacoby beat Barnabas Koncz of Oral Roberts, 2-6, 6-2, (10-8). Patrick downed Charlie Parry of Saint Louis, 6-0, 6-1. Larsen bounced Tulsa's Dominic Bechard, 6-2, 6-3. Leto fell in his singles match to Daniel Santos of Tulsa, 6-2, 7-5. Theodorou dropped his consolations singles match, 7-5, 4-6, 10-6, to Justin Levin of Minnesota.
Action continues tomorrow at the Dills Billingsley Tennis Center on the campus of the University of Arkansas.