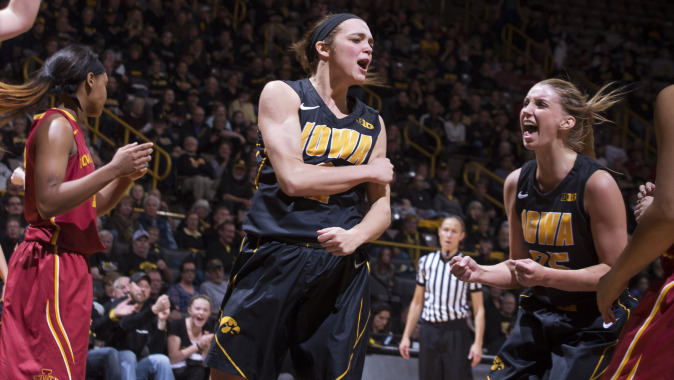 Oct. 17, 2015
Editor's Note: The following first appeared in the University of Iowa's Hawk Talk Daily, an e-newsletter that offers a daily look at the Iowa Hawkeyes, delivered free each morning to thousands of fans of the Hawkeyes worldwide. To receive daily news from the Iowa Hawkeyes, sign up HERE.
By JIL PRICE
IOWA CITY, Iowa — Less than two months after the program's memorable NCAA Tournament run that resulted in a Sweet 16 appearance, University of Iowa women's basketball began to lay the foundation for the 2015-16 season.
Electing captains, who will be responsible for keeping the Hawkeyes focused and on track for another NCAA berth, was the first step. The team and coaches selected senior forward Kali Peschel and junior guard Ally Disterhoft for the role.
"It's an incredible honor knowing that your teammates and coaches have confidence in you," Disterhoft said. "They believe we are capable of leading the team and it's something Kali and I are excited to do. We've been embracing the role over the last few months."
"It's very humbling," Peschel said. "Everyone hopes they can get that recognition, and getting this position as a senior has been very meaningful. I'm just happy to be a part of this team and contribute as much as possible. It was an honor and blessing to have my teammates and my coaches back me up."
Disterhoft and Peschel agree that prior captains, teammates, and the Iowa coaching staff have prepared them well for their leadership roles. Last year's senior class, specifically, showed them how different leadership styles can be effective.
Samantha Logic was the commander on the court, Kathryn Reynolds was the realist leader on the bench, Bethany Doolittle kept everyone calm and on the same page, and Melissa Dixon was the positive-thinking encourager on and off the court.
"I've had a lot of great role models in captains over the last four years who have shown me how to be a good captain," Peschel said. "I strive to be a positive influence at practice, put in the extra time, and lead by example as much as I can. Having Ally as a co-captain has been awesome. We've been able to work as a team."
As team captains, Disterhoft and Peschel meet with the Hawkeye coaching staff regularly. The group meets with specific goals in mind, which include keeping the team focused, addressing setbacks, and representing Iowa in a positive manner.
"We have captains meetings with the coaches and they care a lot about our development as young women and leaders," Disterhoft said. "They believe in us and want to see us become the best versions of ourselves. To be able to bounce ideas off of them and have open communication lines is great. We know we can go to our coaches with questions, struggles, or anything. We've learned so much from them."
Disterhoft, a two-time All-Big Ten honoree and starter, and Peschel, the second-best 3-point shooter and first player off the bench a season ago, are determined to make their presence known on the court. Both will leave their unique stamp on the program that will no doubt impact the Hawkeye team captains that follow.
"I'm going to bring 110 percent every time I step onto the court," Disterhoft said. "I'm going to be intense and passionate, maybe sometimes to a fault. But I hope other people will rally behind that and want to get it done for each other. Unselfish basketball has been a staple of our program and if we can continue to do that and show how passionate we are, we will be successful."
"I'm not going to have any regrets after this year," Peschel said. "I want people to remember me for working hard and giving all I have in games. That's all I can ask for. My teammates and our fans have been amazing and supportive. I want to play hard for all of them and my coaches, and I want to have a great year with this team."