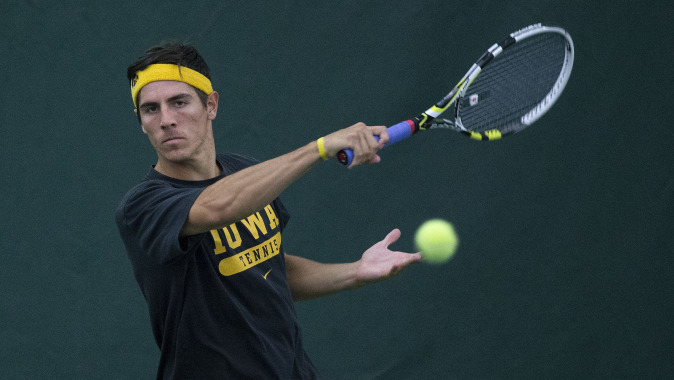 Oct. 19, 2015
Urbana, Ill. — Last Weekend, the Hawkeyes traveled to compete in the JSM Challenger. Senior Dominic Patrick advanced to the final round of pre-qualifying.
Patrick earned a bye in the first round and took the court in the second round against Carl Hestrom. Patrick won the match, 6-1, 4-6, 10-5. In his next match, Patrick faced Farris Gosea and won, 5-7, 6-3, 10-8. Gosea, who graduated from Illinois after playing No. 1 last season, is currently ranked No. 962 in the world and had a career high ranking of 557. In the fourth round, Patrick squared off against Fedor Baev, this time winning in straight sets, 6-4, 6-4. Patrick ended his tournament run in the finals, falling to Tim Kopinski, 6-4, 6-2.
Junior Robin Haden also received a bye in the first round. For his first match he took on Mitch Granger, who withdrew due to injury. In the third round, Haden completed his first match of the day, earning a 6-4, 6-3 win from Michael Lornzini. Haden was eliminated from competition in the semifinals by Jared Hiltzik, 6-1, 3-6, 10-1.
Lefteris Theodorou also finished in the semifinals. The Hawkeye sophomore took the court against Mahir Dalwani in his first match, advancing to the second round with a, 6-1, 7-5, victory. In second round action, Theodorou finished off Pete Molloy in straight sets, 7-5, 7-6(4). The third round saw another straight set win for Theodorou against Toshiki Matsuya, 6-1, 6-2. The native of Athens, Greece, fell in a semifinal match to Alex Jesse, 6-2, 6-1.
Sophomore Jake Jacoby also advanced past the first round, taking down Jasith Choppara with ease, 6-0, 6-0. In the second round, Jacoby was defeated by Hiltzik, 6-1, 6-4. Hiltzik played Haden later in the day and ultimately went on to win the pre-qualifying bracket.
Hawkeye newcomer Jonas Larsen was another second-round finisher for the Hawkeye squad. His first match of the day pitted him against Emerick Fulton. Larsen won the match, 6-0, 6-2, but fell in the next round, 6-2, 6-4, to Lorenzini who would then lose to Haden in round three.
Freshman Kareem Allaf suffered a similar fate, receiving a bye in the first round and losing in round two. The Dubai native lost to Alex Pozo, 3-6, 6-3, 10-7.
Junior Nils Hallestrand bounced Brendan Wolan, 6-4, 6-2, in the first round however lost his second round match, 6-2, 6-2.
Freshman Tony Leto lost his only match of the day, 6-1, 6-1, to Robert Skolik.