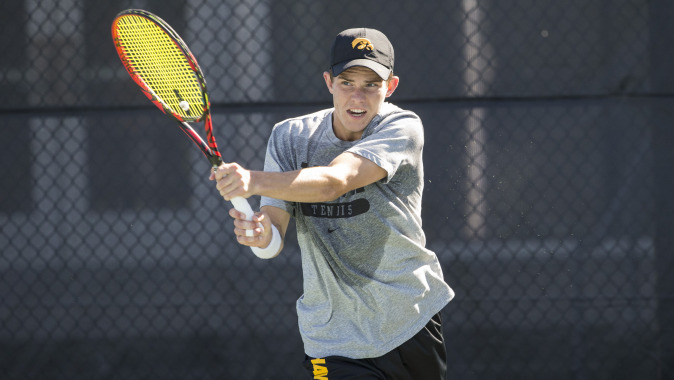 Nov. 6, 2015
IOWA CITY, Iowa — The University of Iowa men's tennis team had two doubles teams advance to the quarterfinals of the Big Ten Indoor Championships Friday at the Hawkeye Tennis & Recreation Complex.
The doubles team of Nils Hallestrand and Jonas Larsen posted a pair of victories before falling to Dusty and Toby Boyer on Nebraska in the quarterfinals, 6-3. Hallestrand/Larsen bounced Sprecher/Carranza of Wisconsin in the first round, 6-3 and No. 8 seed Crocker/Cuba of Michigan, 6-4, in the Round of 16.
No. 7 seed Lefteris Theodorou and partner Jake Jacoby earned a first-round bye and notched a 6-4 victory over Penn State's Trkulja/Lieb, 6-4 in the Round of 16. The sophomore duo's run came to an end in the quarterfinals with a narrow, 7-6(1), loss to another Nittany Lion duo, Kohan/Lutschaunig.
Fifth-seeded Dominic Patrick and Robin Haden dropped their Round of 16 match, 7-6(5), to Nebraska's Zitsch/Dzulynsky. The Hawkeye duo trailed 5-2 in the match and rallied to send it to a tiebreaker, but ultimately fell 7-5. Patrick/Haden cruised in their consolation match, 6-1, over Essick/Lugonjic of Indiana.
Singles play begins tomorrow with competition taking place all day at the HTRC beginning at 8 a.m. (CT).
Doubles Main Draw
Hallestrand/Larsen (UI) def. Sprecher/Carranza (WIS): 6-3
Hallestrand/Larsen (UI) def. Crocker/Cuba (MICH): 6-4
Theodorou/Jacoby (UI) def. Dages/Hanayama (PSU): 6-4
Dzulynsky/Zitsch (NEB) def. Haden/Patrick (UI): 7-6(5)
Lutschaunig/Kohan (PSU) def. Theodorou/Jacoby (UI): 7-6(1)
Boyer/Boyer (NEB) def. Hallestrand/Larsen (UI): 6-3
Doubles Consolation Bracket
Patrick/Haden (UI) def. Essick/Lugonjic (IU): 6-1