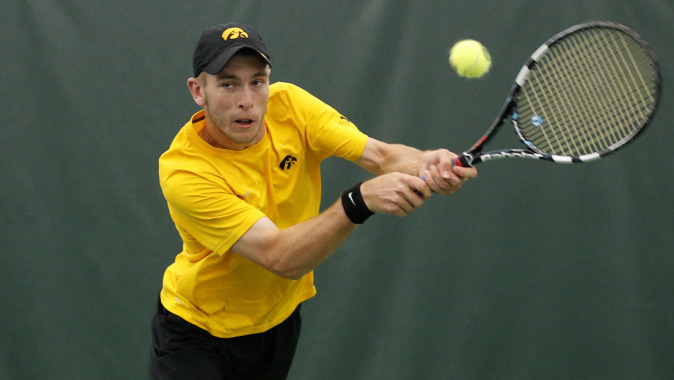 Jan. 15, 2016
THIS WEEK:
The 71st-ranked University of Iowa men's tennis team opens its spring season Monday, with a nonconference match against No. 70 Utah State. The Hawkeyes take on the Aggies at 11 a.m. (CT)inside the Hawkeye Tennis & Recreation Complex (HTRC). Admission is free to the public.
HAWKEYES RANKED:
The University of Iowa Hawkeyes open with a preseason ranking of No. 71 by the Intercollegiate Tennis Association (ITA). Iowa is one of seven Big Ten teams ranked in the first poll of the season.
The Hawkeyes return four starters from last season including senior Dominic Patrick, and sophomores Lefteris Theodorou, Jake Jacoby, and Josh Silverstein.
HAWKEYE NEWCOMERS:
Iowa welcomes three freshmen to the squad: Kareem Allaf (Dubai, UAE), Jonas Larsen (Koege, Denmark), and Tony Leto (Downers Grove, Ill.). Allaf achieved and International Tennis Federation (ITF) junior ranking of 182 and ATP Pro Ranking of 1,404. He also represented Syria in the 2014 Davis Cup and 2013 Asian Youth Games. Larsen is was two-time gold medalist at the Danish National Senior Championships in 2013 and 2014 and was nationally ranked as high as 24. Leto was a 2014 Midwest Open finalist (singles) and a National Open finalist (doubles).
The Hawkeyes also welcome junior transfer Robin Haden to the team. Haden previously competed for Mississippi State where he accumulated 16 singles wins and reached the Round of 16 at the USTA/ITA Southern Regional Championships during his sophomore season. During his junior career, Haden ranked as high as 32nd among Swedish men's players and reached an ATP ranking of 1,553.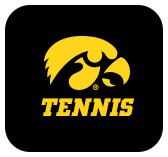 SCOUTING UTAH STATE:
This will be Iowa's first ever match against Utah State. The Aggies start their season in a doubleheader against Grandview and Drake on Jan. 16, in Des Moines with a preseason ITA ranking of 70–the highest in program history. Last season, Utah State remained consistently ranked in the top-75 with a season high of No. 62. Aggie sophomore Jamie Barajas will start the season with a ranking of No. 9 in the Mountain Region. The program set a school record last season with 18 wins.
NEW ASSISTANT COACH OUELLETE
Head coach, Ross Wilson named Greg Ouellete, a former five time All-American honoree and SEC Player of the Year at the University of Florida, assistant coach of the Iowa Hawkeyes on Oct. 28, 2015. Ouellete competed professionally on the Association of Tennis Professionals (ATP) World Tour for six years. Throughout those six years, Outellete reached a career high ATP singles ranking of No. 269 and a career high doubles ranking of No. 360. He holds five professional singles titles and eight professional doubles titles. Ouellette also competed in the US Open, ATP Masters event at Indian Wells, ATP Masters event in Montreal, and ATP 250 Events at Winston Salem, Houston, San Jose and Delray Beach.
ASSISTANT COACH GREG OUELLETE ON THE SEASON OPENER:
"Our guys are eager to to kick off the season this Monday against a solid Utah State team. They are aware that it is going to be important to get off to a good start for the season and there preparation leading up has shown that."
FOLLOW THE HAWKEYES
Fans can follow the Hawkeyes all season long and receive live match updates on Facebook (facebook.com/IowaMensTennis) and on Twitter (@IowaMensTennis). Fans can also get a behind the scene look on Snapchat (uiowamenstennis).