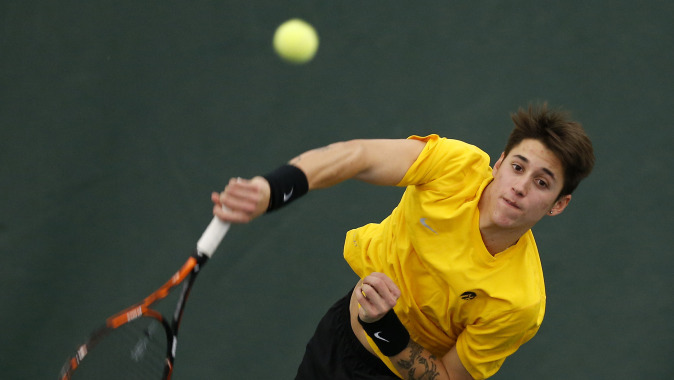 Jan. 30, 2016
Flushing, New York — The 64th-ranked University of Iowa men's tennis team dropped a 6-1 decision to No. 34 Princeton at the USTA Billie Jean King National Tennis Center as part of the Big Ten/Ivy League Challenge Saturday afternoon.
Iowa lost the doubles point after falling in two of three matches to open the match. The duo of senior Dominic Patrick and sophomore Josh Silverstein were the lone victorious Iowa doubles team, taking down Princeton's Diego Vives and Jimmy Wasserman, 6-3, at No. 2.
Sophomores Jake Jacoby and Lefteris Theodorou took the court as the No. 1 doubles for the Hawkeyes against Alexander Day and Luke Gamble. Iowa was edged in that match, 7-5. Juniors Robin Haden and Nils Hallestrand paired as the No. 3 doubles and fell to Thomas Colautti and Joshua Yablon, 7-6.
Theodorou was the only singles champion for Iowa on the day. He played at No. 2 and defeated Colautti, 4-6, 6-2, 6-4.
After winning in doubles, Silverstein served as the No. 3 for Iowa against Day, who is regionally ranked No. 93. Silverstein took the match into the third set but was unable to clinch another Iowa win, falling to Day, 4-6, 6-2, 7-5.
Iowa's No. 1, Patrick, split the meet with Princeton's Vives. After winning in doubles, Patrick faced the sophomore again in singles, but lost, 7-6, 6-4.
Haden played in the No. 4 spot as the only other upperclassmen in singles for the Hawkeyes. He dropped his match against Yablon in straight sets, 6-4, 7-6.
Iowa freshman Jonas Larsen saw his second singles match as a Hawkeye in the No. 6 position. He was defeated by Jonathan Carcione, 6-2, 6-3. Jacoby lost his match at No. 5 to Wasserman, 7-5, 6-2.
The Hawkeyes will travel to Princeton, New Jersey Sunday for their second meet in the Big Ten/Ivy League Challenge against the No. 47 Cornell Bears. The match begins at noon (ET) at Princeton's Jadwin Gym.
No. 34 Princeton 6, No. 64 Iowa 1
Singles
1. Vives, Diego (PRIN) def. Patrick, Dominic (UI): 7-6, 6-4
2. Theodorou, Lefteris (UI) def. Colautti, Thomas (PRIN): 4-6, 6-2, 6-4
3. #93 Day, Alexander (PRIN) def. Silverstein, Josh (UI): 4-6, 6-2, 7-5
4. Yablon, Joshua (PRIN) def. Haden, Robin (UI): 6-4, 7-6
5. Wasserman, Jimmy (PRIN) def. Jacoby, Jake (UI): 7-5, 6-2
6. Carcione, Jonathan (PRIN) def. Larsen, Jonas (UI): 6-2, 6-3
Order of finish: 1,2,3,6,4,5
Doubles
1. Day, Alexander/Gamble, Luke (PRIN) def. Jacoby, Jake/Theodorou, Lefteris (UI): 7-5
2. Patrick, Dominic/Silverstein, Josh (UI) def. Vives, Diego/Wasserman, Jimmy (PRIN): 6-3
3. Colautti, Thomas/Yablon, Joshua (PRIN) def. Haden, Robin/Hallestrand, Nils (UI): 7-6
Order of finish: 2,1,3