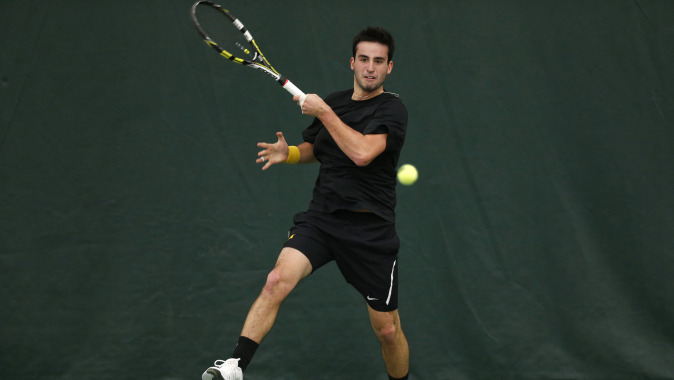 Jan. 31, 2016
Princeton, New Jersey — The 64th-ranked University of Iowa men's tennis team bounced No. 47 Cornell, 4-2, at the Jadwin Gym on Princeton University's campus as part of the Big Ten/Ivy League Challenge Sunday afternoon.
Iowa started the day off strong with victories at No. 1 and No. 2 doubles to capture the doubles point.
The No. 1 sophomore duo of Jake Jacoby and Lefteris Theodorou dropped Cornell's Colin Sinclair and David Volfson, 6-3. Playing at No. 2, senior Dominic Patrick and sophomore Josh Silverstein took down Bernardo Casares Rosa and Chris Vrabel, 6-3.
Juniors, Robin Haden and Nils Hallestrand played doubles in the No. 3 spot against Karim Arem and Stefan Vinti. Their match was abandoned once Iowa clinched the doubles point.
In singles, the three sophomores took care of business for the Hawkeyes.
"I thought today was the most mature match Lefty has played," said Iowa head coach Ross Wilson, "He got up early and when he got down a break in the second set at 4-3 he didn't panic. He controlled his emotions and was able to win."
Playing at No. 2, Theodorou swiftly defeated Cornell's Sinclair, 6-1, 6-4, while Jacoby, playing at No. 6, topped Maverick Lin, 6-1, 6-4, as well.
"Jake made the proper adjustments to his game by trying to finish points at the net. That was a big difference in his match."
At No. 3 for Iowa, Silverstein took his match to the third set before finishing off Vrabel, 6-2, 3-6, 6-2.
"Josh clinched the win for us today in singles against someone who beat him last year. He really enjoys the pressure moments and has come through big for us many times during his younger career here at Iowa."
Patrick (7-5, 6-1) and freshman Jonas Larsen (6-4, 6-3) both lost their matches today in straight sets. Haden's match against Casares Rosa was unfinished when the conclusion of Silverstein's match ended with an overall Hawkeye victory.
The win improved the Hawkeyes' spring record to 2-1. Iowa will host a doubleheader on Friday against SIU-Edwardsville at 10 a.m. (CT) and Western Michigan 6 p.m. (CT) at the Hawkeye Tennis and Recreation Complex. Admission is free to the public.
#64 IOWA 4, #47 CORNELL 2
Singles
1. David Volfson (CU) def. Dominic Patrick (UI): 7-5, 6-1
2. Lefteris Theodorou (UI) def. Colin Sinclair (CU): 6-1, 6-4
3. Josh Silverstein (UI) def. Chris Vrabel (CU): 6-2, 3-6, 6-2
4. Bernardo Casares Rosa (CU) vs. Robin Haden (UI): DNF
5. Stefan Vinti (CU) def. Jonas Larsen (UI): 6-4, 6-3
6. Jake Jacoby (UI) def. Maverick Lin (CU): 6-1, 6-4
Doubles
1. Jacoby/Theodorou (UI) def. Sinclair/Volfson (CU): 6-3
2. Patrick/Silverstein (UI) def. Casares Rosa/Vrabel (CU): 6-3
3. Karim Arem/Vinti (CU) vs. Haden/Nils Hallestrand (UI): DNF