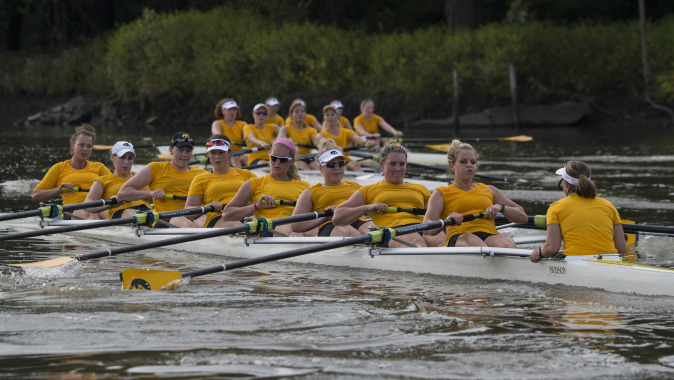 Feb. 17, 2016
By ELISE GOODVIN
IOWA CITY, Iowa — The University of Iowa women's rowing team is looking to gain valuable experience in a pair of scrimmages in Texas this weekend.
The Hawkeyes fly south to train and scrimmage against Old Dominion in New Braunfels, Texas on Thursday and Friday, respectively, before traveling to Austin to scrimmage against the nationally relevant Longhorns. Texas, the defending Big 12 Champion, placed seventh at the NCAA Championship in 2015.
Both the Old Dominion and Texas scrimmage will be held on 1250-meter courses, which is shorter than the standard 2000-meter racing distance in the spring season. Despite the shortened distance, it will provide Iowa with a small dose of head-to-head racing.
"It's a great opportunity to be opposed in shorter distances, which is a very different style of racing than most of what we had in the fall," head coach Andrew Carter said. "We'll be doing head-to-head racing, so we'll be beside the other crews, and that presents a completely different dynamic from fall head-style races."
"It won't be like the formal spring racing with fixed, held starts and open stroke rates. We'll be using rate caps and there won't be start sequences. The format generally reflects the needs of the programs involved as they prepare for the demands of their spring racing schedules. All three programs will be using the scrimmages to test what we've practiced and measure where we are in our preparations. One of the things I'm interested to see is how the crews respond to the situation of being back beside another team where you can see them, hear them, and even feel them."
Carter and the Hawkeyes continued to build on the foundation that was laid in the fall after strong outings at the Head of the Des Moines Regatta, the historical Head of the Charles Regatta, the Jayhawk Jamboree, and competitive scrimmaging against Indiana, another NCAA Championship caliber program, at the program's January training trip in Texas Hill Country.
Those experiences have provided Carter with plenty of data on his team to adjust and form lineups and this weekend is no exception.
"We have good information from our January training camp," Carter said. "Lineups are starting to take shape but nothing is etched in stone. We'll do more work to iron that stuff out during when we get out for a row prior to scrimmaging Old Dominion. We'll have a chance to revisit it on the day between ODU and Texas."
Iowa is also looking forward to opening the weekend in a familiar venue against Old Dominion. The squad's prior visit to Lake Dunlop was a positive one for the Hawkeyes, who feel as though they are returning to a home away from home.
"More so than I ever thought it would, the people there made it a home course for us," Carter said. "Everyone was so welcoming, not just where we were staying, but along the waterway where we were rowing. Those living along the lake were very engaged during our training camp and made it clear that they were excited we were there. Lots of people were letting us know in person and via social media that they were checking our schedule online and telling us that they were going to come out and watch these scrimmages."
"We have Hawkeye fans down there now – there was even one house flying a Tigerhawk flag much of the week were there, so it's kind of a home course for us. I think it also helped us out a lot to become familiar with the venue so we have an idea of landmarks and where we are on the water. A lot of comfort with the knowledge that you're on your own turf."