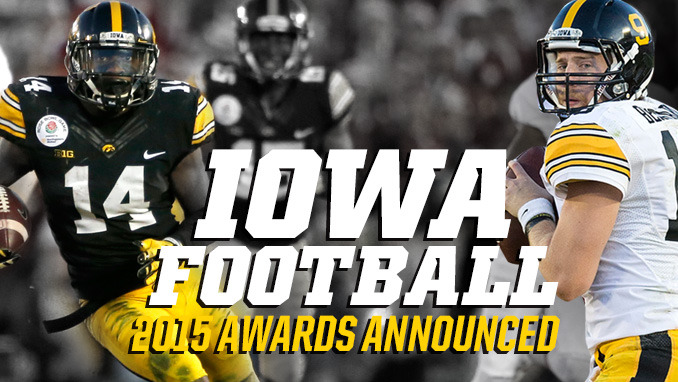 March 4, 2016
IOWA CITY, Iowa — University of Iowa junior defensive back Desmond King and junior quarterback C.J. Beathard were named Roy J. Carver Most Valuable Players for the 2015 Hawkeye football team that held its annual awards banquet Friday evening.
Five team captains for the 2015 season were announced; Beathard and senior center Austin Blythe on offense and senior defensive end Drew Ott, senior defensive back Jordan Lomax and sophomore linebacker Josey Jewell on defense.
The Hayden Fry "Extra Heartbeat" Award was shared by Beathard and Blythe on offense, Ott and Jewell on defense, and senior linebacker Travis Perry on special teams. The "Extra Heartbeat" Award goes to team members who show exempliary leadership and dedication throughout the year.
King, a native of Detroit, earned the Jim Thorpe Award as the top defensive back in the nation. He earned unanimous consensus All-America recognition and was the Big Ten's Tatum-Woodson Defensive Back of the Year. King ranked second in the nation with eight interceptions, matching Iowa's single season-record.
The Players Choice Awards, selected by player vote, went to Beathard on offense and Jewell and Lomax on defense.
Beathard returns for his final season after winning his first 13 games as Iowa's starting quarterback. The native of Franklin, Tennessee, started all 14 games, completing 61.6 percent of his pass attempts for 2,809 yards and 17 touchdowns.
Blythe, a Williamsburg, Iowa, native, started the final 45 games of his career and had 49 career starts. He was also recognized with the Iron Hawk Award. Blythe was one of three finalists for the Rimington Trophy as the top center in the nation and earned third-team All-America honors.
Ott had his season cut short after six games due to injury, but remained one of the team leaders throughout the season. The native of Trumbull, Nebraska, is appealing for an additional year of eligibility due to knee and elbow injuries. Despite seeing limited action, Ott tied for second on the team in tackles for loss (7.5).
Along with serving as a team captain, Lomax received the Forest Evashevski Scholastic Achievement Award, presented to a senior who has the highest scholastic record. The native of Upper Marlboro, Maryland, earned second-team Academic All-America recognition and ranked third on the team with 96 tackles.
Jewell started every game at middle linebacker and led the team with 126 tackles. The Decorah, Iowa, native solidified the Iowa defense in his first year as a starter and was second on the team with four interceptions.
Perry contributed on special teams throughout his career. The Urbandale, Iowa, native started four games in his career while missing the second half of his junior season due to injury.
Senior kicker Marshall Koehn earned the specialist portion of the Reggie Roby Special Teams Award, while King was recognized for his overall special teams play. Koehn, a native of Solon, Iowa, led the team in scoring with 95 points and ranks 13th in career scoring (170). He connected on 16-of-20 field goal attempts, with his career-long 57-yard field goal providing the winning margin against Pittsburgh. King led the Hawkeyes and ranked among conference leaders in both kickoff (24.4) and punt returns (14.2).
The Brett Greenwood Award was shared by senior fullbacks Adam Cox and Macon Plewa. The former walk-ons shared the fullback position throughout their careers. The Greenwood Award is presented to a walk-on who embodies the values and behaviors of former Hawkeye walk-on Brett Greenwood, a defensive back from Bettendorf, Iowa, who completed his playing career in 2010.
Established in 2011, the Greenwood Award also honors former Hawkeyes who fit the description, one year at a time, for each season Kirk Ferentz has coached the Hawkeyes. Outside linebacker Grant Steen, a 2003 senior, was recognized. Steen has remained involved in college football, currently working with the strength and conditioning program at USC.
Two Hawkeyes earned the Next Man In Award; junior offensive lineman Cole Croston (Sergeant Bluff, Iowa), on offense and redshirt freshman end Parker Hesse (Waukon, Iowa) on defense. Croston stepped into the lineup early in the season and started four games at left tackle and six games at right tackle. Hesse started nine games and played in all 14, recording 44 tackles and three tackles for loss, along with an interception and return for a touchdown in the win at Nebraska.
Coaches Appreciation Award recipients included senior running back Jordan Canzeri (Troy, New York), senior wide receiver Tevaun Smith (Toronto) and senior lineman Jordan Walsh (Glendale Heights, Illinois) on offense, Lomax on defense, and junior wide receiver Riley McCarron (Dubuque, Iowa) and senior linebacker Cole Fisher (Omaha, Nebraska) for special teams.
Canzeri led the rushing attack with 984 yards and 12 touchdowns, despite missing two complete games and parts of others with injuries. Smith recorded 32 receptions for 563 yards and three touchdowns while also missing two games. Canzeri ranks 13th in career rushing yards (2,073) and Smith is 19th in career receiving yards (1,500).
Fisher was also awarded the Finish Strong Award, which is new this year. Fisher, who primarily played special teams throughout his career, started all 14 games at weakside linebacker. He ranked second on the team with 116 tackles, including 5.5 tackles for loss, three sacks, one interception, and six pass break-ups.
Team Hustle Awards went to senior wide receiver Jacob Hillyer, junior wide receiver Matt VandeBerg, and senior tight end Henry Krieger Coble on offense, Jewell, senior end Nate Meier, and sophomore safety Miles Taylor on defense and redshirt freshman defensive back Brandon Snyder on special teams.
VandeBerg (65-703) and Krieger Coble (35-405) ranked first and second in receptions. Meier ranked fourth on the team in tackles, while leading the defense in tackles for loss (10.5) and sacks (seven). Taylor started 13 games and recorded 69 tackles, while Snyder was a key contributor on special teams coverage.
Team Leader Awards were presented to freshman quarterback Drew Cook (Iowa City, Iowa), freshman tight end Nate Wieting (Rockford, Illinois), and freshman lineman Brett Waechter (Hartley, Iowa) on offense; freshman fullback Brady Ross (Humboldt, Iowa), junior lineman Daniel Gaffey (Iowa City, Iowa), and junior lineman Jake Hulett (Springville, Iowa) on defense; and sophomore wide receiver Brandon Bishop (Sugar Grove, Illinois) on special teams.
The Player Appreciation Award was presented to Henry B. and Patricia B. Tippie of Austin, Texas. The Tippie Consensus All-American room in the Hansen Football Performance Center is named in honor of Henry B. (1949 B.S.C.) and Patricia B. Tippie, who have built a legacy of transformational philanthropy at the University of Iowa. Henry–who made his first gift to the UI in 1953 in the amount of $5–and Patricia, have supported the Hawkeyes in the stands for more than 50 years. Originally from Belle Plaine, Iowa, Tippie earned a B.S.C. degree in accounting from the UI in 1949. He is chairman and CEO of Tippie Services, Inc.; chairman of the board of Dover Downs Gaming & Entertainment, Inc., and Dover Motorsports, Inc.; and presiding director of Rollins, Inc., RPC, Inc., and Marine Products Corporation. In addition, he is the owner of Tippie Ranch, a 34,000-acre working cattle ranch near Waco, Texas.
The Bump Elliott Appreciation Award is shared by Kiley Hinkle and Brian Ray. Hinkle holds the position of Premium Services & Stadium Club Coordinator, coordinating events held within athletic department venues and collaborating with the football program on football related activities at the Stew and LeNore Hanson Football Performance Center. Ray is the UI athletics department photographer, taking photos for all 24 sports in the athletics department.
The Distinguished Service Award was presented to Bob Brooks of Cedar Rapids. As a member of the media, Brooks has covered Iowa athletics, particularly Hawkeye football, since 1943. Brooks has worked in the radio and television profession in Cedar Rapids since earning his journalism degree from Iowa in 1948.
Here are the Award winners:
Forest Evashevski Scholastic Achievement:
Jordan Lomax
Iron Hawk Award:
Austin Blythe
Reggie Roby Special Teams Award:
Marshall Koehn, specialist
Desmond King, overall
Team Leader Award:
Drew Cook, offense
Nate Wieting, offense
Brett Waechter, offense
Brady Ross, defense
Daniel Gaffey, defense
Jake Hulett, defense
Brandon Bishop, special teams
Players Choice Award:
C.J. Beathard, offense
Josey Jewell, defense
Jordan Lomax, defense
Brett Greenwood Award:
Adam Cox
Macon Plewa
Former Player:
Grant Steen
Coaches Appreciation Award:
Jordan Canzeri, offense
Tevaun Smith, offense
Jordan Walsh, offense
Jordan Lomax, defense
Riley McCarron, special teams
Cole Fisher, special teams
Finish Strong Award:
Cole Fisher
Team Hustle Award:
Matt VandeBerg, offense
Jacob Hillyer, offense
Henry Krieger Coble, offense
Nate Meier, defense
Miles Taylor, defense
Josey Jewell, defense
Brandon Snyder, special teams
Next Man In Award
Cole Croston, offense
Parker Hesse, defense
"Extra Heartbeat" Award
C.J. Beathard, offense
Austin Blythe, offense
Drew Ott, defense
Josey Jewell, defense
Travis Perry, special teams
Most Valuable Player:
C.J. Beathard, offense
Desmond King, defense
Permanent Team Captains:
C.J. Beathard, offense
Austin Blythe, offense
Josey Jewell, defense
Jordan Lomax, defense
Drew Ott, defense