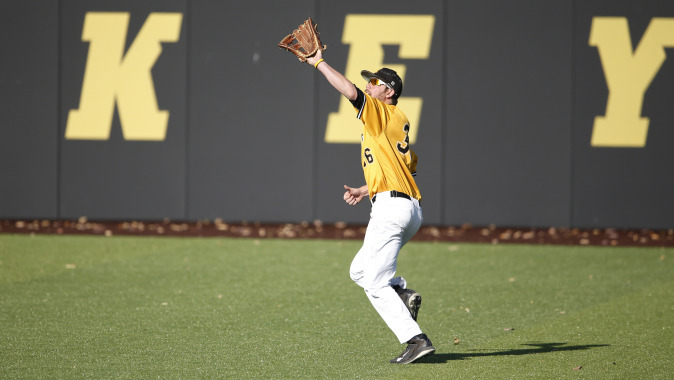 March 21, 2016
Bradley (9-6) at Iowa (6-11)
Dates
March 22, 2016
Location
Iowa City, Iowa | Duane Banks Field
Statistics
Bradley | IOWA
Game 1
Date | Time
Tuesday, March 22 | 4:05 p.m. (CT)
Pitching Matchup
IOWA: Fr., RHP Cole McDonald (2-1, 1.80 ERA)vs.
BU: Fr., LHP Ben Olson (1-1, 5.40 ERA)
IOWA CITY, Iowa — Due to rain in Wednesday's weather forecast, the University of Iowa baseball team has moved its midweek game against Bradley to Tuesday at 4 p.m. (CT) at Duane Banks Field.
The Hawkeyes are 6-11 overall after dropping three games at No. 12/19 Missouri State last weekend in Springfield, Missouri. Bradley won all five contests during Spring Break at the Russ Matt Central Florida Invitational last weekend to improve to 9-6 overall. The Braves' final two games were rained out.
Iowa will send freshman Cole McDonald to the mound for his third start. The right-hander is 2-1 with a 1.80 ERA, allowing one run on one hit in five innings. McDonald has posted back-to-back wins over Northwestern College and Point University.
Bradley will counter with southpaw Ben Olson in a staff day. Olson is 1-1 with a 5.40 ERA in four appearances (three starts), where he has allowed 10 runs on 18 hits over 15 innings. He has 17 strikeouts to five walks on the year.
The Braves are hitting .277 as a team and averaging 5.3 runs per contest. Three every day players are hitting above .300 with Tyler Leffler leading the way with a .328 average with eight doubles. Evan Gruener has a .310 clip, 12 RBIs, and 10 runs. He also had a team-best three home runs.
Iowa is hitting .267 as a team and averages 5.8 runs. Seniors Nick Roscetti and Joel Booker bring 14 and 12-game hitting streaks, respectively, into Tuesday's contest. Roscetti, who has five straight two-hit games, is hitting .386 with 18 runs and 15 RBIs, while Booker has a .366 average with 15 runs and eight RBIs.
The Hawkeyes lead the all-time series over Bradley, 41-40-2. The Braves have won three of the last four meetings, winning 5-2 in Iowa City and 5-4 in Peoria last season.
Iowa's home stand continues this weekend, hosting Maryland for three games in the opening weekend of the Big Ten Conference schedule.