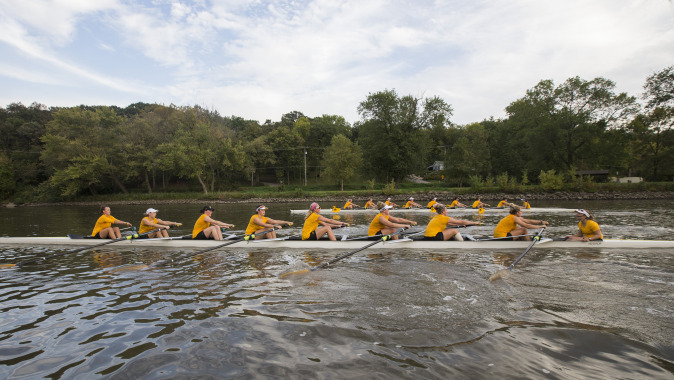 March 28, 2016
Editor's Note: The following first appeared in the University of Iowa's Hawk Talk Daily, an e-newsletter that offers a daily look at the Iowa Hawkeyes, delivered free each morning to thousands of fans of the Hawkeyes worldwide. To receive daily news from the Iowa Hawkeyes, sign up HERE.
By JIL PRICE
IOWA CITY, Iowa — After running through countless hours of indoor and on-water training sessions in Iowa and Texas, fall scrimmages, and racing simulations, the University of Iowa women's rowing program is ready to put its hard work to the test in its season-opening regatta on April 2.
"It can't come soon enough for everybody," UI head coach Andrew Carter said. "That group will be headed up by the women on the team. They're excited to get going and so are we as coaches, especially assistant coach Jeff Garbutt, who tells me he wants to get started every day.
"The light at the end of the tunnel is getting brighter and brighter. We've been able to give our athletes some snapshots through training and through some scrimmaging opportunities. I think they're encouraged by some of the things they're seeing, so I hope they go to the starting line on the first day in the morning and come out swinging."
The stakes are high as the Hawkeyes open their spring slate against 15th-ranked Louisville and 16th-ranked Notre Dame in the Big Ten/ACC Double Dual in Bloomington, Indiana. The Fighting Irish finished runner-up to Virginia at the 2015 ACC Championships and went on to finish 16th at the NCAA Championships, while the Cardinals placed fourth in the ACC Championships.
"We definitely open with a bang," Carter said. "Having that caliber of competition right out of the gate gives us a ton of information early in the season. It also provides better information to other groups like our supporters, recruits, and people voting in the polls.
"We don't want to look at the polls on a day-to-day basis because it gets distracting, but at the end of the day for those teams that are not gaining an automatic qualifier through conference championships a lot will come back to what the committee thinks of your competitive schedule and how you faired. The polls basically reflect that thinking, so it's important for us to be able to open strong."
Iowa, who was ranked 19th in the CRCA/USRowing Coaches Poll preseason poll and is now receiving votes, will meet Notre Dame in the morning set and Louisville in the afternoon session. The Hawkeyes finished sixth at the 2015 Big Ten Championships, in a field that earned four NCAA Championship bids.
Carter has seen his squad meet benchmark after benchmark and continue to improve in year three of his tenure. The Hawkeyes have been dialed in to their training and are ready to take a step forward this season.
"They're methodical with their training," Carter said. "They're excited to be rowing. We got an early start this year even though we've had a little bit of a lull lately with the weather. It has been rowable.
"We were going to have temperatures in the low 30s with a breeze and I brought up training inside. The team looked at me like I had three heads. They don't seem to want to have anything in their way, weather or not."