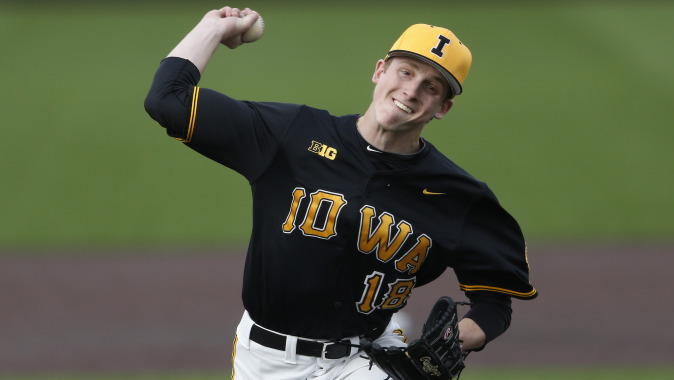 April 5, 2016
Milwaukee (11-12) at Iowa (11-14)
Date
April 6, 2016
Location
Iowa City, Iowa | Duane Banks Field
Statistics
Milwaukee | IOWA
Game 1
Date | Time
Wednesday, April 6 | 5:05 p.m. (CT)
Pitching Matchup
IOWA: Fr., RHP Shane Ritter (0-0, 0.00 ERA) vs.
UWM: So., RHP Austin Schulfer (0-2, 14.49 ERA)
IOWA CITY, Iowa — The University of Iowa baseball team opens a six-game home stand Wednesday, hosting Milwaukee at 5 p.m. (CT) in a midweek contest at Duane Banks Field. The game was originally scheduled for Tuesday.
The Hawkeyes enter the contest with an 11-14 overall record after dropping two of three games last weekend at Minnesota. The Panthers are 11-12 overall after splitting a pair of home games against Valparaiso last weekend in Milwaukee in their first home games of the season.
Iowa will send freshman Shane Ritter to the hill for his first career start. The right-hander is 0-0 with a 0.00 ERA in four appearances. He has allowed three hits over 5 2/3 innings with three strikeouts to three walks.
Milwaukee will counter with RHP Austin Schulfer. The sophomore is 0-2 with a 14.49 ERA in six appearances (three starts). He has allowed 27 runs (22 earned) on 26 hits over 13 2/3 innings with eight strikeouts to 11 walks. Opponents are hitting .400 against Schulfer.
The Panthers' overall pitching staff has a 4.94 ERA, allowing more than a hit per inning pitched. Milwaukee has given up 219 hits over 206 innings and has allowed 131 runs with 113 being earned.
Offensively, Milwaukee is hitting .264 as a team with 52 extra base hits — 31 doubles, six triples, and 15 home runs. The Panthers average 5.6 runs per game.
Outfielder Luke Van Meeteer leads the team with a .396 batting average with team-highs in hits (40), doubles (seven), and runs scored (23). He is also a perfect 9-for-9 on the base paths. Daulton Varsho is the only other Milwaukee regular hitting above .300, coming in at .369 with two runs, 19 RBIs, and four home runs.
The Hawkeyes return to the friendly confines of Duane Banks Field, where the team has gone 5-1 early in 2016. Iowa is averaging 10 runs per game, is hitting .312 as a team, and has a 2.42 team ERA.
Freshman Robert Neustrom has a team-best .471 average at home with seven RBIs and four runs scored. Sophomore Austin Guzzo (.389) and senior Nick Roscetti (.333) are also hitting over .300.
Tuesday's meeting will be the 18th in the all-time series between Iowa and Milwaukee. The Panthers lead the series 10-7 and have won two straight in the series. Milwaukee won 4-3 in 2015 and 10-3 in 2013. The 2014 meeting was cancelled due to weather.
Fans can watch a video stream of Tuesday's game on Hawkeye All-Access on hawkeyesports.com with Brent Balbinot calling the action. The game can also be heard on the radio on AM-800 KXIC.
Following the midweek tilt, Iowa returns to action Friday, hosting Illinois in the first of a three-game weekend series. Game time has been moved up to a 4:05 p.m. (CT) first pitch.