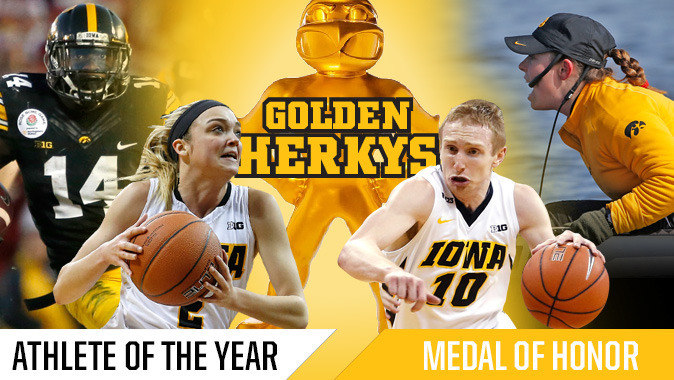 May 4, 2016
IOWA CITY, Iowa — University of Iowa seniors Katie Brown (rowing) and Mike Gesell (men's basketball), and juniors Ally Disterhoft (women's basketball) and Desmond King (football) earned top honors at Wednesday night's Golden Herky Awards. Gesell and Brown were named Iowa's Big Ten Medal of Honor winners, while King and Disterhoft were named Iowa's Male and Female Athletes of the Year for 2015-16.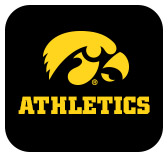 Brown, a native of Fox Lake, Illinois, is the coxswain of Iowa's first varsity eight crew, which is the fastest on the team. After joining the rowing program as a novice, Brown worked her way up each season to the top position. She has helped the Hawkeyes improve steadily, entering the national rankings for the first time in six years this season. Brown, a two-time Academic All-Big Ten honoree and Collegiate Rowing Coaches Association Scholar-Athlete, has helped the first varsity eight to one first place and three runner-up finishes midway through the season, including an upset win against 15th-ranked Louisville at the Big Ten/ACC Double Dual.
Gesell, from South Sioux City, Nebraska, broke the school's single-season record in assists with 205, and finished his Hawkeye career fourth in all-time assists with 557. He was an honorable mention all-conference selection and was named Iowa men's basketball's Big Ten Sportsmanship Award honoree for the fourth straight season. The point guard is one of only three Hawkeyes to ever accumulate 1,000 points, 550 assists, 300 rebounds, and 150 steals in a career (Jeff Horner and Dean Oliver). He ranked 15th nationally in assist-to-turnover ratio (3.15) and 18th in assists per game (6.1). Gesell became the first Hawkeye since Andre Woolridge in 1997 to average six or more assists per game in a single-season. His 3.15 assist-to-turnover ratio was the best by a Hawkeye the last 20 years. Gesell finished his career with 1,072 points, which ties for 28th in school history.
Disterhoft, an Iowa City, Iowa, native, has started every game of her Hawkeye career, scoring 1,542 points (11th in school history), netting 116 three-pointers (12th in school history), blocking 53 shots (14th in school history), and posting 609 rebounds (18th in school history). A second team All-Big Ten honoree for the second consecutive season, Disterhoft led Iowa offensively, averaging 17.1 points per game, and became the program's highest scoring junior (565 points). She scored double figures in every game this year and became the 34th player to score 1,000 points or more in her career. Disterhoft was honored as Academic All-American of the Year and a first team Academic All-American in 2016 by the College Sports Information Directors of America (CoSIDA). She is the second player in program history to earn two Academic All-American accolades.
King, from Detroit, Michigan, was a unanimous consensus All-American and won the Jim Thorpe Award, which is annually awarded to the nation's top defensive back, following the 2015 season. King was also the 2015 Tatum-Woodson Big Ten Defensive Back of the Year, received the Jack Tatum Award from the Touchdown Club of Columbus, and was one of five finalists for the Walter Camp Player of the Year Award. He was named Most Valuable Player, defense, and earned the Reggie Roby Special Teams Award. King tied the Iowa school record with eight pass interceptions, ranking second in the nation. He had 118 returns yards and one touchdown, and led the team with 13 pass break-ups. King recorded 46 solo tackles and 26 assists. He also handled punt and kickoff return duties throughout the season, ranking seventh in the nation in punt returns (14.2) and fourth in the Big Ten in kickoff returns (24.4).
The Big Ten Medal of Honor is the conference's most exclusive award, and the first of its kind in intercollegiate athletics to recognize academic and athletic excellence. The Big Ten Medal of Honor was first awarded in 1915 to one student-athlete from the graduating class of each university who had "attained the greatest proficiency in athletics and scholastic work." Big Ten schools currently feature more than 8,200 student-athletes, but only 28 earn this prestigious award on an annual basis. In the 100 years of the Medal of Honor, over 1,300 student-athletes have earned this distinction.
Disterhoft and King will be Iowa's nominees for the 2016 Big Ten Conference Athletes of the Year awards. Winners will be announced in late June, following a vote by a panel of Big Ten media voters.