Hawkeye Fan Shop — A Black & Gold Store | 24 Hawkeyes to Watch 2016-17 | Hawk Talk Monthly — March
Editor's Note: The following first appeared in the University of Iowa's Hawk Talk Daily, an e-newsletter that offers a daily look at the Iowa Hawkeyes, delivered free each morning to thousands of fans of the Hawkeyes worldwide. To receive daily news from the Iowa Hawkeyes, sign up HERE.
By Breanna Kellogg
hawkeyesports.com
IOWA CITY, Iowa — For Taylor West and Hannah Bluder, Black and Gold has always run in their blood.
 
Both grew up as Hawkeye fans. Now, as freshmen, the University of Iowa rowing program has offered them an exciting new way to be part of the Hawkeye culture.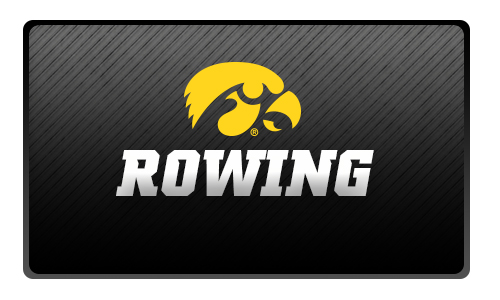 West, raised in Iowa City, has been around the Hawkeyes for as long as she can remember. Her father, Doug West, is a trainer in the Iowa Athletics Department.
 
She has memories of bus rides with the track and field team, and she remembers time she spent around Hawkeye coaches and student-athletes. The University of Iowa was always in the cards for West.
 
"I have been a Hawkeye fan for as long as I can remember," said West. "I only looked at Iowa and one other school, and I didn't even apply to the other school. I knew I wanted to continue wearing the Black and Gold. I'm studying sport and recreation and hope to have an opportunity to work in the athletics department in the future."
 
West learned about rowing from assistant coach Jeff Garbutt, whose son also attended Iowa City West High School. Garbutt knew of her background playing soccer and running track and cross country and he suggested she look into rowing at the collegiate level.
 
Once she joined the team, her experience at Iowa was changed forever.
 
"Rowing has made my experience at Iowa 100 times better," said West. "I am not a sorority girl, so to have more than 70 teammates is cool. We get to travel and do all sorts of things that most college kids don't get to do. It's fun to hang out with everyone all the time."
 
Bluder, daughter of Iowa women's basketball coach Lisa Bluder, had a similar experience.
 
"I have been a Hawkeye fan since I was 4," said Bluder. "I've been around my mom's teams over the years and have grown up with them."
 
Bluder was always passionate about basketball. She looked at several smaller schools to play basketball, but eventually decided she wanted to attend the University of Iowa.
 
Bluder attended various Iowa athletic events growing up in the department. She credits her mother for helping her become interested in rowing.
 
"When I was younger, we went to a few regattas," said Bluder. "We would spend a lot of time at other events, not just basketball, so I knew about the rowing team."
 
Being a student-athlete at Iowa has been an incredible opportunity for both girls.
 
"It's a cool experience," said West. "I never take it for granted. It keeps me busy, but it keeps me focused. I know that if I have two hours to study and do homework, I need to make it happen. "
 
"I'm really excited to compete this spring because I didn't think I was going to be able to compete at this level," said Bluder. "I love the Hawks… I'm happy to be a part of this program."
 
The Iowa rowing team kicks off its spring season Saturday at the Longhorn Invitational. Races begin at 8 a.m. (CT). Follow the rowing team on Twitter @iowarowing for an inside look at the team.