Hawkeye Fan Shop — A Black & Gold Store | 24 Hawkeyes to Watch 2016-17 | Hawk Talk Monthly — May 2017 | Photo Gallery
Editor's Note: The following first appeared in the University of Iowa's Hawk Talk Daily, an e-newsletter that offers a daily look at the Iowa Hawkeyes, delivered free each morning to thousands of fans of the Hawkeyes worldwide. To receive daily news from the Iowa Hawkeyes, sign up HERE.
By DARREN MILLER
hawkeyesports.com
IOWA CITY, Iowa — The University of Iowa rowing program entered the Big Ten Championships last weekend ranked fourth in the region and 12th nationally. That's testimony to how far the Hawkeyes have climbed since Cristy Hartman was a freshman in 2014.
 
Hartman, who graduated this spring, was a member of Iowa's 2V8 boat that placed sixth in the Big Ten in 2014. As a team that year, the Hawkeyes were at the bottom of the seven-team conference, 16 points out of sixth and a whopping 125 away from the league champion.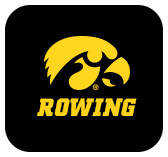 In 2017, thanks to development of several Iowa student-athletes — including Hartman — the Hawkeyes knocked down the door for inclusion to the NCAA's postseason party. Iowa shared fourth place in the Big Ten Championships on May 14 by scoring 106 points and Hartman was named first-team all-conference. The Hawkeyes will now advance to the NCAA Division I Championships for the first time since 2001 from May 26-28 in West Windsor, New Jersey. 
 
Hartman graduated from Germantown (Wisconsin) High School, where she participated in cross country and track and field as an underclassman. A cross country teammate encouraged her to pursue rowing and soon Hartman was a member of the Milwaukee Rowing Club. It wasn't long until former University of Iowa assistant coach Beth Redfern was recruiting Hartman to become a Hawkeye.
 
"I liked it here, I liked the atmosphere, so I decided to give it a try," Hartman said. "(Rowing) has taught me consistency and never giving up on things. If you go after it, you can achieve it."
 
One of Hartman's achievements is earning a double-major in exercise science and psychology from the University of Iowa. She isn't sure when she will put those degrees to use — the immediate plan is to decompress a while at her parents' home in Jackson, Wisconsin, before mapping her future. A potential option is becoming a rowing coach in either high school or college.
 
"Rowing is a completely different world from when I was in high school," Hartman said. "A lot of teams are being added and times are getting faster."
 
Andrew Carter is wrapping up his fourth season as head coach for the Hawkeyes. He thinks Hartman has attributes to become a successful instructor.
 
"She is pragmatic and looks at the real picture; she doesn't look at everything through rose-colored glasses," Carter said. "She is honest and critical, but in a positive way. She is constructive and looking for ways to improve — if she turns that around as a coach and gives that different perspective, I think she would be successful."
 
Hartman worked her way up Iowa's rowing depth chart, starting in the sixth seat of the 2V8 boat as a freshman and finishing in the stroke seat of the 1V8 as a senior.
 
"She is stroking our top eight and she has done that without exception for the entire year; she has done a phenomenal job," Carter said. "I don't think she puts herself anywhere close to being on a pedestal, but in many respects, that's where she belongs."
 
Much of Hartman's development is related to her work ethic and an understanding that growth isn't always immediate. 
 
"Every day in college rowing, if you don't try your hardest and hit your numbers, you are falling behind the other teams," Hartman said. "In December, if you don't give your all, you are going to lose in May. It is getting your ducks in a row early on so that you can be successful."
 
Iowa opened the 2017 season with a double-dual sweep of Michigan State and Louisville on April 1in Bloomington, Indiana. That was the beginning of one of the most successful seasons in recent Hawkeye history.  There was also a league victory over Rutgers and a critical nonconference win over Syracuse.
 
"Every race we have gone faster than we ever have," Hartman said. "We make progress and are better at racing. It is a good season."
 
From an individual perspective, Hartman enjoys logging the work it takes to be a successful rower.
 
"You don't get instant gratification in rowing," Hartman said. "It is the work ahead of time and I like doing the work. When you're doing the workouts and preparing, you are motivating yourself."
 
Hartman appreciates Carter's mantra of "rowing smart." It is Carter who has taught the Hawkeyes about the dynamic of the sport. In turn, the Hawkeye head coach appreciates Hartman's leadership.
 
"It is her experience and understanding what she has gone through and how she has evolved through that process," Carter said. "She has become a stronger rower and person through that. I joked with her at the beginning of the year: She said whatever you do, don't put me in the stroke seat, so that of course meant I automatically was going to put her in the stroke seat. I never took her out because she has done a fantastic job and there has been no argument to make a change. She has persevered through some difficult times and has come out on top.  A lot of the women look at her as an example of how to do that."
 
Iowa is one of 22 programs that will compete in the 2017 NCAA Championships on Mercer Lake. In 2001, the Hawkeyes placed ninth on Lake Lanier in Gainesville, Georgia.