Hawkeye Fan Shop — A Black & Gold Store | 24 Hawkeyes to Watch – 2017-18 | Hawk Talk Monthly — April 2018
Editor's Note: The following first appeared in the University of Iowa's Hawk Talk Daily, an e-newsletter that offers a daily look at the Iowa Hawkeyes, delivered free each morning to thousands of fans of the Hawkeyes worldwide. To receive daily news from the Iowa Hawkeyes, sign up HERE.
By BREANNA KELLOGG
hawkeyesports.com
IOWA CITY, Iowa — Being a Division I athlete isn't easy. It requires dedication and deep personal investment. For University of Iowa rowers, they would not have it any other way.  They love the unique challenges that come with being a student-athlete at the collegiate level.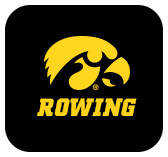 Senior Ashlynn Bauer and junior Megan Sprengeler both played volleyball in high school. It was not until they stepped foot on campus that they began their journey from volleyball to rowing.
The transition was an eye-opener for both Hawkeyes.
"Volleyball is a different paced game than a race," said Sprengeler. "With volleyball, you get breaks during the game. You get to have water during time outs. When you're in a race, you're locked and loaded. You're in the boat and on the water from start to finish. You don't get any rest.
"There's no chance for your coach to call a timeout if you're team's not doing well. You're in the race and it's just the nine of you or the five of you. If it's not going well, you have to figure it out within you crew. Your coach isn't going to call you off to the sideline and fix anything. You have to work together."
Beyond adapting to the pace of racing, rowers must embrace a different mentality.
"It's going from volleyball, a game you play with a ball, to racing, which requires you to give your all the entire time you're on the water," said Bauer. "It's a different type of mentality. It's from a playing mentality to a racing mentality. That was something I had to learn my first year rowing."
Rowers face the obvious challenges of being a Division I athlete, too, such as a rigorous practice schedule.
"We wake up and we go to practice," said Sprengeler. "That's where we start our day. It's usually an hour and a half in the morning, whether it's weights or rowing, depending on what season we're in. Most of us have class anywhere from 9:30 to 3 and we try to sneak a meal in there somewhere. Then we go back to practice at the boathouse from 3:45-6:15. After that we do homework, go to tutors, shower, and use that as our leisure for the day."
Leisure time equates to recovery time. Without it, the body won't respond to the challenges that accompany a rowing race.
"We use every single muscle in our body when we're rowing," said Bauer. "Some people have the misconception that it's like kayaking or canoeing, and they think we only have strong arms. It's actually a lot more legs and back.  It actually uses more muscles than any other sporting movement, which makes it super intense. A race will fatigue you pretty quickly but it's incredibly rewarding."
The next race for the Hawkeyes is the final event prior to the postseason. Iowa travels to Austin, Texas, to compete at the Longhorn Invitational on Saturday. Competition is scheduled to begin at 8 a.m. (CT).