Hawkeye Fan Shop — A Black & Gold Store | Hawk Talk Monthly — October | 24 Hawkeyes to Watch 2019-20 | Fight For Iowa
By JAMES ALLAN
hawkeyesports.com
 
IOWA CITY, Iowa — Connor McCaffery is entering his sophomore season with the University of Iowa men's basketball team with a fresh mindset.
 
During his redshirt freshman season, McCaffery lost confidence in his jump shot.  Teams sagged off him defensively and he was reluctant to shoot.  It resulted in a 22.6 percent 3-point field goal percentage.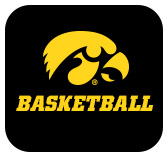 "I didn't shoot well last year," said McCaffery. "I am a good shooter. I have shot well in practice (this year), and I shot well in practice last year. I had that stretch where I lost my confidence and I didn't shoot enough.  I was turning down shots."
 
McCaffery says he was more focused on playing to his strengths and his role within the team last season.
 
"I had it in the back of my mind, I can shoot this, but let's get TC (Tyler Cook) a look," he said. "I started shooting more at the end of the season and had more makes, but it wasn't a lot.  I made some and that's what this year will be more of.
 
"I'll try to look for my shot more and be a bigger part of the offense."
 
McCaffery attempted just 29 3-point field goal attempts.  He made six 3-point attempts with four coming in Iowa's final six games.
 
"When you're shooting as an afterthought, that's never going to be good," he said. "I don't know what my numbers where, I know they weren't good, but I know I didn't have a lot of attempts, either. It's like you're looking to shoot, but not really.
 
"I should have shot better, but with that being said, this year, having a different mind, mentality, and role, it's going to be a lot different. It's a rhythm thing, you catch (the ball) on the swing, you let it go. You see Jordan (Bohannon) and Wiesy (Joe Wieskamp), there is no hesitation; that's what it will be like for me, too."
 
With Joe Toussaint, Bakari Evelyn, and possibly Bohannon in the mix at the point guard position, McCaffery is ready to assist at the small forward position this season.  He has the size and mentality to be effective.
 
"I like crashing the boards, that's the difference between the one and three," he said. "When I am the one, my job is to get back. If I am the three, I am crashing the boards, trying to get offensive rebounds and extra possessions. That's something I take pride in when we start going.
 
"I have played the three and have had days when I have done each. My assists numbers go up when I play the three because I am coming off screens in the lane and if they are in zone, I am in the high post.  I am getting more accustomed to it."
 
McCaffery joined the basketball team full-time Oct. 18 after wrapping up fall baseball practice.  He thinks Year 2 of the basketball-baseball Division I combination will go smoother in 2019-20.
 
"I have gone through it once so I know better of what to expect," said McCaffery. "I know what worked and what didn't. I can take things from each.
 
"I can change up my plan on how to prepare for baseball during basketball season and I changed up my plan on how I prepare for basketball during fall baseball. It is little things I can tweak and get better at that will help me in both sports."
 
Iowa will hit the court for the first time Nov. 4, hosting Lindsey Wilson College in an exhibition on Mediacom Court at Carver-Hawkeye Arena at 7 p.m. (CT).
 
The Fight For Iowa Mobile Season Pass, season tickets, and mini packages are currently available for purchase on hawkeyesports.com/fightforiowa.