Editor's Note: On Aug. 11, the Big Ten Conference announced the postponement of the 2020-21 fall sports season, including all regular-season contests and Big Ten Championships due to ongoing health and safety concerns related to the COVID-19 pandemic.
By DARREN MILLER
hawkeyesports.com
IOWA CITY, Iowa — Like the University of Iowa field hockey win total over the past three seasons, senior midfielder Nikki Freeman has grown significantly.
The senior captain from Whitehouse Station, New Jersey, contributed to Hawkeye teams that finished with seven wins when she was a freshman in 2017 and 14 as a sophomore. Last season, Iowa was 17-5 overall, 7-1 in the Big Ten, winning the Big Ten Tournament with decisions over Ohio State, Northwestern, and Penn State by a combined score of 7-2.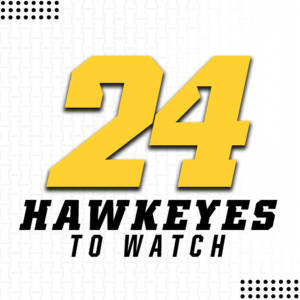 "It was so awesome being part of the (2019 Big Ten championship) team because we knew how far we had come and how much we deserved it," Freeman said. "We worked hard and winning Big Tens and making it to the Elite Eight was huge."
Freeman played 22 games with 17 starts last season. She attempted a career-high 17 shots (10 on goal) and scored goals against California and California-Davis.
"Nikki has grown so much in three years," said Iowa head coach Lisa Cellucci, the 2019 Big Ten Coach of the Year. "She has a quiet confidence about her but has learned to use her voice as she has gone forward."
Cellucci marvels at Freeman's work ethic, composure, and coachability.
"From the minute she stepped on campus she has given her best effort, pushes her teammates and does it with poise," Cellucci said. "I have never seen Nikki get rattled or be too high or too low. She has been a wonderful, consistent person to be able to use as an example. She has been a pleasure to coach, learns and applies it the right away."
Freeman attended Hunterdon Central Regional High School where she was a two-time all-conference, first-team all-county and North Jersey first-team all-star selection. She showed interest in Iowa during her sophomore season of high school, but being someone who enjoys home and family, she was unsure about attending college in the Midwest.
Until she took an official visit.
Nikki and her mother, Diane, fell in love. Nikki told her father, Brad, who was a bit more skeptical about the 1,000 miles separating Whitehouse Station and Iowa City, Iowa.
"Then he came for a visit with us and he loved it the second he got out here, too. That was nice that I had my parents' support being this far away. They visit all the time."
And when the Hawkeyes play at Rutgers, the Freemans host a gathering at their home, complete with catered food and a quasi-petting zoo that features the family's four Nigerian Dwarf goats.
"It's a different thing to do," Freeman said. "When we are on away trips, we usually go out to dinner. Being able to go home and see my family, dogs and goats is super fun."
The team feast with the Freemans is another example of the camaraderie that continues to make the Hawkeyes successful. For one, a majority of the roster is from a ways away, meaning more weekends spent on campus with teammates. In the spring, the Hawkeyes proved how motivated they were by acing their conditioning program while they were away from campus. Perhaps the most glaring example of how close the team is comes from the ease of holding teammates accountable.
"It is easier when we all feel comfortable doing that instead of being afraid to say, 'Hey, you need to work on this,'" Freeman said. "We take the feedback from others well and work on it. It's the same from the coaches. We know the feedback we are getting will help."
Freeman could be a poster child for doing whatever it takes for the team to succeed. It's almost unfair to label her as a midfielder; because of her versatility, Freeman has played attack-center midfield, right midfield, and left midfield.
"It was so awesome being part of the (2019 Big Ten championship) team because we knew how far we had come and how much we deserved it. We worked hard and winning Big Tens and making it to the Elite Eight was huge."

Nikki Freeman
"Being able to be wherever the team needs on that day is important," Freeman said.
Her coach agrees.
"Nikki has been a fantastic teammate," Cellucci said. "A big reason she was voted captain is she has totally fulfilled one of our core values of selflessness and being mentally and physically tough. Nikki has played so many positions and we have used her as a utility player because she has a solid skillset. She has played forward, midfield, and defense and has done whatever the team needs.
"It's rare to find a player at this level that has had to move around like that and she is OK with whatever is going to help the team."
Expectations remain high for the Hawkeyes after advancing to the second round of the NCAA Tournament in 2019. Now that they have done it, they know they can do it again, Freeman said, calling a trip to the Final Four an annual goal for the program. More importantly this season is playing with a "make the most out of every opportunity" attitude.
"It's my last season so I want to make sure I get the most out of every practice because I know it will help the team in the long run if we go hard," she said. "We never know when it could be our last game or last practice. I'll be giving my all the entire time."