June 17, 2014

As an incoming student at UI, you're invited you to come out for the University of Iowa Women's Rowing Team. I know, you might be thinking, "You're inviting me out for a Division I tryout in a sport I've never done?" Yes, that's exactly what we're doing.
All across America, varsity rowing programs will be taking in women who've never rowed before. Here at Iowa, we call this group our "Talent-Transfer" pool and they'll be developed to race their first year in the collegiate "Novice" division and to become critical varsity squad contributors beyond that. We are looking for individuals with a strong athletic background, a desire to compete at the Division I level, are coachable, and have a terrific work ethic. No rowing experience is necessary!
Rowing is a sport where talented athletes can quickly excel. In fact, over half of the US Olympic Rowing Team started as walk-ons in college! I strongly encourage you to give this amazing sport a try, and to see where this opportunity takes you. I can promise you that rowing at the DI level will get you in the best shape of your life, build your overall confidence, provide an instant Hawkeye family, and build life-long friendships. Coming out may be one of the best decisions you ever make!
There are always many questions that come when we recruit a new group of talent-transfer athletes and some of those have been addressed below so that you can feel good about making the decision to come out. In the meantime, let's see if we can give you info on coming out.
We will be holding tryouts early this fall once you arrive on campus. It's not too early to start preparing! Here are some steps you can take to set yourself up for success:
Contact us! We want to learn that you're interested, hear how you are doing, and make sure that you get updates on what you need to do next;
Find us at the Information Fair during orientation in the Main Lounge at the IMU;
Register with the NCAA Eligibility Center. All prospective collegiate student-athletes must register with the Eligibility Center in order to practice and compete in college;
Attend an Informational Meeting at the Campus Wellness and Recreation Center on one of the following dates:

Sunday, August 24 @ 3:00pm
Monday, August 25 @ 5:00pm

Get fit and enjoy your summer! Do activities that you love and are confident in. You will want to build a strong aerobic base, work on flexibility, and overall core strength.
Finally, you can sign up for a summer clinic that we've specifically scheduled to work in concert with orientation schedules. June 25, and July 14 are dates when you can come out for a day of learning how to row before school begins in August. You will get a head start on learning the basics of the sport and you will get to meet some of your soon-to-be teammates. Click here to learn more.
We have very high standards for our athletes, both in the classroom and on the water, and our student-athletes have proven to be exceptional in achieving those standards. That success doesn't come without support and, as a member of the rowing team, that support will be available to you, too. Academic support, including priority registration, tutors, and advisors will be there to ensure your academic success. A Division I coaching staff, strength & conditioning specialists, and a world-class sports medicine staff will be there to promote your athletic success. In fact, for those who really excel in their first year, there may even be athletic scholarship opportunities available in the future!
We look forward to hearing from you and meeting you this summer!
Contact Us!
Assistant Coach & Recruiting Coordinator Jeff Garbutt
Phone: 319-930-7510
Email: jeffrey-garbutt@uiowa.edu
Website: www.iowarowing.com
Twitter: @iowarowing
Facebook: University of Iowa Women's Rowing
Assistant Coach & Talent Transfer Coordinator Julie Quoss
Phone: 319-930-7541
Email: julie-quoss@uiowa.edu
REASONS TO COME OUT:
Over 50% of DI rowers begin their careers in their freshman year of college and many go on to race at the Olympics!
Compete at the highest level of college athletics
Represent the HAWKEYES within the B1G and beyond!
Be more than a Hawkeye Fan, COMPETE for IOWA
Be a part of, and ADD to, the legendary HAWKEYE tradition!!
Travel around the country and compete at both Collegiate and World-renowned regattas
Be a part of a FAMILY that will support you and make you stronger
As many as 85 women are part of the rowing team and they're more than just teammates – they're FAMILY
IOWA ROWING FACTS:
We are a fully supported DI Varsity Athletic Team;
We are a member of the Big Ten Conference (B1G);
We compete in both the Fall and the Spring with B1G and NCAA Championships scheduled in the spring season;
Rowing is typically one of the top-3 Academic performers among all the Hawkeye teams with a Team GPA over 3.0;
Our current roster boasts TWO All-B1G Team members, an All-American (as a freshman who was a talent-transfer!), and FIVE National Scholar Athletes in 2013-14.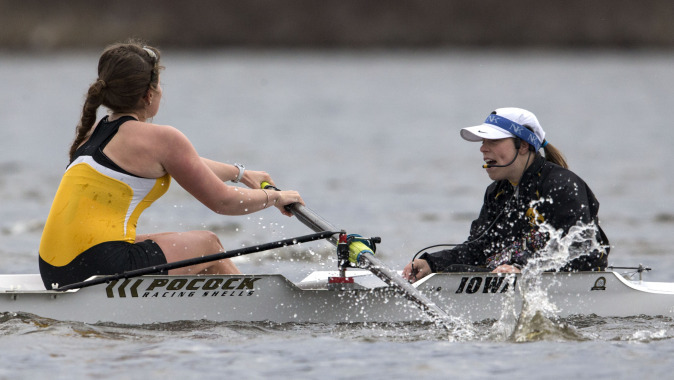 FAQ's
Q: What does a rower look like?
Rowers are usually 5'8″ or taller, but there are exceptions. They generally have a solid athletic resume in a different high school sport(s). For example, many women begin rowing after successful careers in swimming, volleyball, basketball, track, soccer, etc. However, previous organized sporting experience is not a requirement. Have questions? Contact a Coach!
Q: What is a coxswain?
A coxswain is sort of like the ship's captain. She is a smaller woman, usually under 120lbs., who steers the boat, gives commands and implements strategy during races.
Q: When and Where are practices?
Practices are held at the beautiful P. Sue Beckwith Boathouse, which is located on Dubuque Street right across from the Mayflower Residence Hall. Later in the year, when you begin resistance and cross-training sessions, you'll do those at Carver Hawkeye Arena. In the early fall we provide three practice windows and you pick which one fits best with your class schedule. Those windows are 7:30-9:00am., 3:30-5:00pm., and 5:30-7:00pm. Experience has proved this to be absolutely manageable and we will help equip you with the necessary tools to reach your goals.
Q: What will I do at practice?
You will first be shown basic rowing technique on rowing machines (we refer to them as ergometers). Next will be sessions devoted to learning how to manage the equipment (i.e., boats and oars). Finally you will begin practicing these things on the water in boats. All this while training to improve your fitness!
Q: What do I need to bring to practice?
You will need to wear snug-fitting clothes (i.e., spandex shorts, t-shirt) along with socks & sneakers. Sunglasses, sunscreen, and a water bottle are also needed. If you commit to the sport and team, we will eventually issue most of these items to you.
Q: How many people row in a boat?
We compete mainly in boats called eights (8+'s), and fours (4+'s). An 8+ holds eight rowers and one coxswain while a 4+ holds four rowers and one coxswain.
Q: Will I compete at regattas?
YES! As a walk-on who is new to the sport, you train in what's known as the Freshman/Novice division. All universities have this division on their rowing team and you will race Freshman/Novice crews from other colleges As you improve, you will progress to more advanced crews in more advanced categories.
Q: Does rowing for the HAWKEYES cost money?
The only money you will pay is to register with the NCAA Eligibility Center, which is required of you if you want to participate in collegiate athletics. The NCAA does not permit us to pay this minor fee for you.
Q: What about my grades?
As an Athletic Department, we share your focus on academic success and are committed to our core mission of WINNING, GRADUATING, and DOING IT RIGHT. In order to promote these principles, we provide our varsity athletes with a long list of support structures that are designed to help you balance your life here at Iowa. To list a few:
Priority registration – With the help of our academic advisors, who are focused on student-athletes, you get to schedule your classes around practice times, before anyone else on campus! This will take effect second semester for novice rowers.
Free tutoring – we want you getting the best grades possible!
Nike issued gear for practice and competition – we want you dressed to win!
UI medical care for anything related to athletics – we want you healthy and happy!
Q: Is there a chance that I could earn a scholarship?
Yes! If you have a successful first season there's a possibility that you may earn a level of scholarship support. This will depend on your performance in your first year and the potential you show for the future.
Q: How should I prepare for tryouts?
Make sure you are aerobically fit when you show up on campus this fall. The more physically fit you are the better. However, be prepared to get into the best shape of your life once we get started!
Contact Us!
Assistant Coach & Recruiting Coordinator Jeff Garbutt
Phone: 319-930-7510
Email: jeffrey-garbutt@uiowa.edu
Website: www.iowarowing.com
Twitter: @iowarowing
Facebook: University of Iowa Women's Rowing
Assistant Coach & Talent Transfer Coordinator Julie Quoss
Phone: 319-930-7541
Email: julie-quoss@uiowa.edu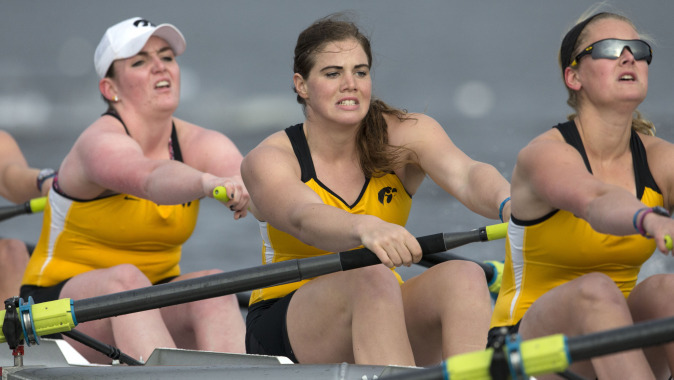 CAPTION: Freshman Morgan Grastorf and sophomores Lauren Subler and Claire Benschoter (pictured L-R above) joined the Hawkeye rowing team at the novice level and have seen great success ever since. Read their stories below.
Morgan Grastorf joined the Hawkeyes as a freshman in the fall with no rowing experience. She has excelled exponentially in her first year and worked her way into Iowa's top boat (1V8). The Naperville, Illinois native, was a Pocock Second Team All-American and a First Team All-Central Region selection. She also received and accepted an invitation to attend the 2014 USRowing Women's Pre-Elite Camp, which grooms up-and-coming rowers for the national teams. Following the her freshman season, Grastorf earned the team's Outstanding Newcomer of the Year Award.
Lauren Subler has competed with the 1V8 crew for the past two seasons after joining the team as a novice in the fall of 2012. The Tipp City, Ohio native, earned a letter as a freshman and sophomore. She enjoyed much success in 2014 and picked up Second Team All-Big Ten honors for her efforts on the water. In 2013, Subler was invited to attend the USRowing Women's National Team Freshman Camp.
Claire Benschoter also joined the team as a novice and earned letters in her first two seasons with the Hawkeyes. She competed in the 1V8 boat and was named the team's Outstanding Performance of the Year Award after the 2014 season.
STUDENT-ATHLETE TESTIMONIALS
Morgan Grastorf, Class of 2017
"After playing basketball my whole life I wanted to give something else a try. Rowing just happened to be the perfect fit for me as an athlete. Rowing has opened so many doors for me than any other sport I've participated in.
My path to where I am now started with me being on the novice team and not really knowing how much I would grow as a rower in just one year. With hard work and dedication I went from being a novice, to rowing in the first varsity 8 boat. Then at the end of the year seeing all my hard work pay off with the awards I was granted and a pre-elite camp to attend it makes me so excited for the years to come.
Rowing has made me made me take my limits as an athlete and as a person and just completely bust them open. Every day I step foot in the boathouse and think how am I not only going to challenge and better myself, but also those around me. Which absolutely carries to how you approach situation in life and never backing down when things get tough.
Obviously this being my first year with rowing, everything was a learning experience. You just have to come in everyday with an open mind and be willing to try new things, no matter how different it may be. From never having held an oar before, or never having done a 2k or 6k test in my life, there was a lot of firsts this year. But at the end of the year rowing with the varsity and getting pretty good at erg tests, I can't wait to see what the future holds for me and rowing. I think anyone who is willing to challenge themselves and open their mind to new things should try rowing. I can't wait to meet the new additions to the team and to see how they contribute to our speed."
Lauren Subler, Class of 2016
"I looked into rowing because I liked the idea of trying something new without any expectations of myself. Being a long time competitive swimmer, rowing provided me with a way to continue my competitive career at a Big Ten Division I school in a different sport.
My experience thus far has been a very positive one. Rowing has challenged me in more ways than I can even possibly express. I have gained so much mental and physical toughness. I have traveled all over the country with some of the best friends I will ever have. It's crazy how close you get to your teammates when you're pushing, fighting, and conquering a common goal together. I have so much respect for everyone on the team. No matter the boat or whether varsity or novice, everyone shows an insane amount of discipline and manages to have a lot of fun along the way.
The family you get from joining the program is enough in itself. The coaches, academic advisors, athletic personnel are all so supportive of you and what you're trying to achieve. My words of wisdom for walk-ons is to try and not just make it through, but to try and lead the pack and set the standard. It's much more fun when you're competitive and pushing others around you. You really can do it. Many have and every year there are walk-ons that accept the challenge and rise to the top.
I look forward to meeting some new teammates this fall. It know it seems daunting, but try something new and surprise yourself. You will learn so much about yourself along the way."
Claire Benschoter, Class of 2016
"Being very athletic throughout my life sometimes playing three sports a year with my main sport being ice hockey for 13 years, I knew it would be very hard to cut off and not be doing something athletic. That's when I started looking at clubs and athletic opportunities that the University of Iowa had to offer. Eventually I stumbled upon rowing, looking for tall, lanky, athletic girls looking to be competitive and challenge themselves in a whole new way they had never thought before. It sounded like just my body type and sport, so I contacted coaches.
I came into the Hawkeye Rowing program as a freshman never having taken a stroke, and two years later now I can't imagine my life without it. Rowing at Iowa has become such a big part of my life in so many different ways. Anyone who rows or has rowed before can tell you it's not just a sport, it becomes a lifestyle. Being a very competitive person, it's been awesome to have been able to challenge myself both physically and mentally. I've pushed myself to levels I never imagined I could perform at. I have an amazing "surrogate" family of about 60 sisters and coaches, who I work with side-by-side and push myself constantly every day for.
The coaches are top level and very knowledgeable about everything rowing. Being a Hawkeye Rower has taught me hard-work, dedication, respect, time-management, accountability, and the importance of giving back to the community. I truly consider myself blessed and humbled to have had the opportunity to be a Hawkeye student-athlete thus far in my time here at Iowa. I don't regret my decision one bit to join the team, I am very excited for all the new talent and power we have in years to come. I've been able to meet some of the most amazing people I might never have connected with if it wasn't for rowing."