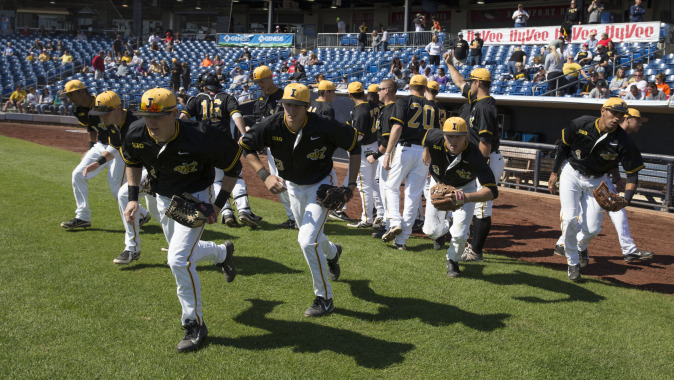 Sept. 10, 2014
Photo Gallery

DAVENPORT, Iowa — The University of Iowa baseball team opened its fall season by defeating the Ontario Blue Jays, 14-2 and 11-3, in a 16-inning contest Sunday at Modern Woodmen Park in the Quad Cities.
In the opening contest, five Hawkeye hurlers limited Ontario to three hits over nine innings. Juniors Calvin Mathews, Tyler Peyton, Ryan Erickson, and Blake Hickman held the Blue Jays hitless through seven innings, and the quartet combined for six strikeouts.
Offensively, Iowa jumped out to a 1-0 lead in the first inning before tacking on two runs in the bottom of the second. The Hawkeyes then scored in their final four at-bats, pushing two runs across the plate in the fifth, one in the sixth, and four in the seventh and eighth innings.
Iowa finished with 10 hits in the game with junior Nick Roscetti leading the offense with three hits, finishing 3-for-4 with three runs and two RBIs. Redshirt senior Sean Moore was 1-for-2 with a triple with two runs and two RBIs, while junior Eric Schenck-Joblinske had three steals.
The Hawkeye bats continued to shine in the second game, scoring 11 runs on 13 hits over six innings. Six of the 13 hits went for extra bases (five doubles, one triple). After a scoreless first, Iowa scored in its final six frames, plating four in the second, three in the third, single runs in the fourth and fifth, and two in the six.
Three Hawkeyes posted multi-hit games with junior Joel Booker leading the way with a 3-for-3 showing with two runs and an RBI. Roscetti went 2-for-2 with two RBIs, while senior Nick Day went 2-for-2 with a double, triple, two runs, and three RBIs.
Roscetti was a combined 5-for-6 with four RBIs, and he started both games as the Hawkeye shortstop.
Five pitchers limited the Blue Jays to six hits and three runs over seven innings. Senior Andrew Hedrick and Day both pitched single scoreless innings in relief.
Iowa will hold its annual Scout Day at Veterans Memorial Stadium in Cedar Rapids, Iowa, on Sept. 26, at 2 p.m. (CT). The Hawkeyes will be back in action Oct. 1, facing North Iowa Area Community College at Ashford University Field in Clinton.