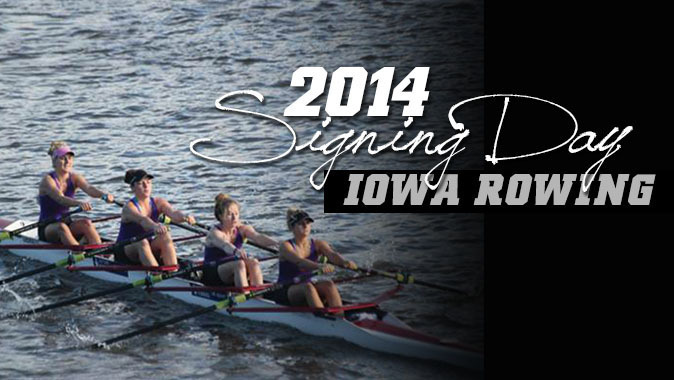 Dec. 1, 2014
IOWA CITY, Iowa — University of Iowa head women's rowing coach Andrew Carter announced Monday that Alessandra French, Hannah Jane Bristowe, Emma Moores, Andjela Milenkovic, Alysson Wittmeyer, and Carly Millerd have each signed a National Letter of Intent and will join the Hawkeyes next season.
French attended Ranelagh School and is from Ascot, Berkshire, England. She began her rowing career at the Eton Excelsior Club and has gone on to represent Great Britain in both 2012 and 2013 as a junior.
"Ally has had a terrific junior career in the UK, having represented Great Britain in the 2x at the 2012 Coupe de la Jeunesse in Spain while still 17 years old," Carter said. "In 2013, she brought home a gold medal in the 8+ and a silver in the 4x as a member of the GB squad that won the overall points championship at the Coupe in Switzerland.
"Ally's experience is going to have an excellent impact on our team and her continuing pursuit of high performance rowing at home in Great Britain will undoubtedly fit right in with the drive of the women of Iowa."
Bristowe, a native of St. Catharines in Ontario, Canada, has competed for both Governor Simcoe Secondary School and the St. Catharines Rowing Club. She has won multiple Ontario Championships as a sophomore and junior and has twice placed third at the Royal Canadian Henley Regatta.
Bristowe was named captain of her high school basketball team as a senior, and has also excelled academically, appearing on the honor roll all four years of high school.
"Hannah's experience in one of Canada's best junior programs at the St. Catharine's Rowing Club is going to be an excellent addition to our program," Carter said. "Hannah is bringing excellent skills in both sweep rowing and sculling, developed under the watchful eye of one of the best junior coaches in the country, and deep racing experience in both disciplines, which is a huge plus in my opinion."
"Despite a very impressive high school and junior career so far, I think Hannah has only scratched the surface of what she can do and I'm looking forward to seeing more over the next four years."
Moores, a native of Windsor, England, is a senior at Claires Court School and a member of the Eton Excelsior Rowing Club. Moores was a member of the gold-medal winning 4x for England at the 2014 Home International Regatta, a silver medalist in the Junior 4x and a bronze medalist in the Junior 1x at the at the 2014 British Rowing Championships.
In 2013, Moores brought home a silver medal in the 2x from the National Schools Regatta, rowed away with a bronze in the WJ16 1x, and WJ16 2x at the British Rowing Championships and reached the semi-final of both the Henley Women's Regatta and the prestigious Henley Royal Regatta.
As a member of the Eton Excelsior Club, Moores was named most improved junior girl of the year in 2012 junior member of the year in 2013.
Moores has also earned academic recognition throughout her tenure at Claires Court School. She received the Munrow award for progress in 2013 and the Claires Court Association Plaque in 2014.
"Emma has shown a high level of competitiveness as a junior in the UK," Carter said. "She's an accomplished sculler with several national and international medals to her credit. With success in the 1x, 2x, and 4x, Emma's quality of rowing has been made obvious.
"I think her experiences at Eton Excelsior and her exposure to the National Selection system in Britain has her well prepared for a career at Iowa, and we're looking forward to Emma making a great contribution."
Milenkovic, a native of Belgrade, Serbia, is a multiple-time medalist at the Serbian National Championships as a member of the Partizan Rowing Club. In a career that began at age 12, Milenkovic has experienced international success in the Balkan Region as a both a sculler and indoor rowing competitor.
Outside of rowing, Milenkovic enjoys running half marathons. In 2014, she competed in the Belgrade half marathon and finished first in her age group. Milenkovic also excels in the classroom with Best Literature Works awards in 2012 and 2013.
"Andjela is coming in with a several years of single sculling in her native Serbia and that small-boat experience is great advantage to have," said Carter. "Andjela's technical development is quite a way down the track so I expect her to transition into our program seamlessly.
"One of the things that was most interesting about Andjela was the leadership she has played in Belgrade. When she started several years ago, she was the only junior woman rowing. Now, through her success and mentorship of younger girls, Andjela has helped to grow women's rowing in Serbia and, in particular, at the Partizan Club. Several years of rowing in small boats, advanced technical skills, and leadership qualities all make for a strong collegiate rowing candidate so I'm looking forward to seeing Andjela on campus in 2015."
Wittmeyer hails from Elgin, Illinois, and is a four-sport high school athlete at Elgin Academy. Wittmeyer has earned first place finishes at the Crystal Lake Indoor and Chicago Indoor Rowing competition, third at the Midwinter Meltdown, and 39th out of 239 at the C.R.A.S.H.-B World Indoor Championships.
Outside of rowing, Wittmeyer is a member of the volleyball team, basketball team, soccer team, National Honor society and the International Thespian society at Elgin. She is also involved as a mock trial witness, yearbook committee member, and the assistant editor for the Literary Magazine.
"Alysson is coming out of a young and aggressively growing program at St. Charles and we're excited to see how she continues to grow at the college level," Carter said. "I think Alysson's ceiling is out of sight and her understanding of being part of a program on fast-forward is something that will serve her well at Iowa.
"I was impressed with her enthusiasm through the recruiting process and especially when she visited campus. Alysson is going to make a terrific Hawkeye."
Millerd is a four-year high school rower from Bainbridge Island, Washington. She earned a top finishes in both the 2012 and 2013 USRowing NW Regional Championships and was named team captain for the 2014-2015 season.
Beyond rowing, Millerd has shown her excellence in school and in her community. At Bainbridge Island High School, she is the editor-in-chief of her school newspaper, the Spartan Standard, is a member of the National Honor Society, and has received the Social Studies Student of the Year Award all four years. Further, she serves as secretary for the Marge Williams Center Board, coaches youth soccer and was the recipient of the Presidential Service Award in 2014.
"Carly comes with a strong recommendation from her coach on Bainbridge Island where she's been tutored by an Iowa Hawkeye," Carter said. "Her experience as a captain at Bainbridge Island, the respect shown to her by her peers, and her reputation as a hard worker makes Carly someone I'm excited to see at the college level.
"I know she's going to even further develop as a student, rower, and person at Iowa, and I can see her being a consistent contributor all four years."
Iowa rowing opens their regular season in DeLand, Florida, with scrimmages against Old Dominion on Feb. 18 and Central Florida and Old Dominion on Feb. 21.