March 4, 2015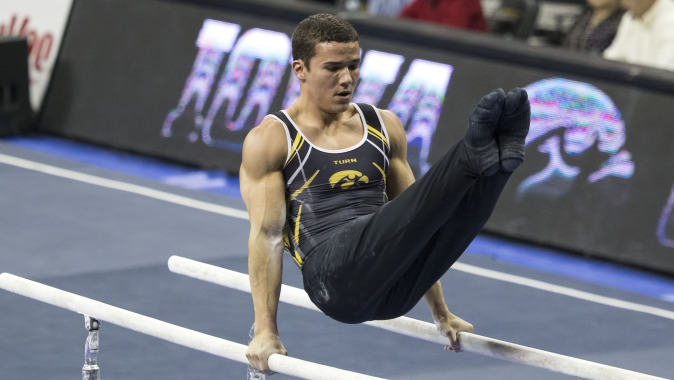 Notes- Minnesota

THIS WEEK:
The No. 6-ranked University of Iowa men's gymnastics team will go head-to-head with No. 9 Minnesota for the second time this season in Minneapolis, Minnesota, on March 7. The meet begins at 7 p.m. (CT).
FOLLOW ALONG:
Fans can watch live on BTN Plus, available at btn2go.com. A link to the live stream is also available on the team's schedule page at hawkeyesports.com.
LAST TIME OUT:
The Hawkeyes traveled east to take on the No. 2-ranked Penn State Nittany Lions last weekend. Despite setting a new season high team score, Iowa lost Penn State 440.800 to 435.750. Junior Matt Loochtan (14.950) placed first on vault, junior Jack Boyle set a season high on high bar, taking the event title with a 14.900, and redshirt junior Cyrus Dobre-Mofid (15.250) set a career high on parallel bars on his way to a third event title for the Hawkeyes. Loochtan (15.350) set a season high on floor exercise while Boyle (15.000) and redshirt senior Lance Alberhasky (14.750) also set a career highs on the event.
NATIONALLY RANKED:
The Hawkeyes are ranked in the top 10 nationally according to the most recent national ranking list on roadtonationals.com (March 2). The rankings are based on an average of the team's top three scores. Oklahoma remains in the top spot over Penn State. Stanford moved up a spot to third followed by Illinois and Michigan. Iowa and California are sixth and seventh, respectively. Ohio State switched places with Minnesota at eighth and ninth, and Air Force sits at 10th.
1. Oklahoma
2. Penn State
3. Stanford
4. Illinois
5. Michigan
6. Iowa
7. California
8. Ohio State
9. Minnesota
10. Air Force
SULLIVAN STREAKING:
Junior Doug Sullivan is sixth in the country on pommel horse. In the last five meets, the pommel specialist has averaged a 14.900 on the event, clinching event titles against UIC (14.950) and Illinois (14.850). The Aurora, Illinois, native is Iowa's pommel horse record holder with a score of 15.250.
SOARING HAWKS:
Two Iowa gymnasts are ranked in the top 10 in the country according to roadtonationals.com. Junior Jack Boyle is ninth on rings with a top three score average of 15.300. Junior Doug Sullivan sits sixth in the country on pommel horse. Sullivan's three score average is 15.033 with a high score of 15.150 from the Feb. 14 meet against Minnesota and Nebraska in Iowa City.
LOOCHTAN, BOYLE COMPETE AT WINTER CUP:
The University of Iowa men's gymnastics team sent juniors Jack Boyle and Matt Loochtan to represent the Hawkeyes at the Winter Cup Challenge in Las Vegas, Nevada, on Feb. 20-22. Boyle finished 33rd with an overall score of 79.250, but failed to qualify for finals. Loochtan qualified for finals following a 15.010 on vault, finishing fourth overall. In finals, he scored a 14.900 clinching fourth overall on vault with a combined score of 30.010. Loochtan's other events included a 14.600 on floor, claiming eighth place, 13.650 on rings, and 13.250 on parallel bars.
SIX HAWKEYES EARN PCA HONORS:
Six gymnasts were honored by the PCA (Presidential Committee for Academic Awards) earlier this past year. Cyrus Dobre-Mofid, Andrew Botto, Zach Wendland, Cory Paterson, and Caleb Fischle-Faulk were honored during the Iowa vs. Maryland men's basketball game on Feb. 8. Each year the PCA honors student-athletes who have achieved a 3.0 GPA and are letterwinners. The PCA is responsible for advising the UI President and director of athletics Gary Barta on policies for the University's intercollegiate athletics programs, and recognizes student-athletes for their accomplishments in and out of the classroom.
HAWKEYE FACILITY RENOVATION:
The men's and women's gymnastics teams are amidst a practice facility renovation. Located in the UI Field House, the renovation will provide the gymnasts with more space to practice, and include two new foam pits and another pommel horse. The project will help accelerate the gymnasts' skills and improve safety at the facility. The gym is nearing completion and the teams hope to start training in it by April.
SUMMER COMPETITIONS:
Many Iowa gymnasts stayed busy over the summer by competing in national and international competitions. Sophomore Cory Paterson kicked off the summer by being named a Canadian National Champion on high bar. Paterson scored a 13.850 and finished fifth in the all-around competition with a 79.800. The Hawkeyes also had three gymnasts qualify for the P&G Championships in August. Juniors Jack Boyle and Matt Loochtan qualified for the senior division, while freshman Austin Hodges made the cut for the junior division. Loochtan scored a 14.900 on high bar, clinching ninth place in the event. His all-around score of 54.600 was good enough for 31st. Boyle's 14.950 on rings earned him an eighth place finish on the event and an all-around score of 79.650 tied him for 26th. Head coach JD Reive believes summer competitions are a necessary part of building a championship program at Iowa.
HEAD COACH JD Reive:
Entering his fifth year as head coach of the Hawkeyes, Reive has high expectations for his team. For the first time in his career Reive has a team comprised of gymnasts he personally recruited. He is looking to take the program another step forward. In 2014, the gymnasts set seven school records and seven went on to compete individually at the NCAA Championships. The team finished seventh in the Big Ten and missed the team finals at the NCAA Championships in April. Reive led the Hawkeyes to a fifth place finish at the NCAA Championships in 2013, their best finish in a decade. Reive graduated from Nebraska in 2000 with a bachelor of journalism degree and was an assistant at Stanford from 2003-10 where he helped the team grab four top three finishes.
UP NEXT:
The Hawkeyes end the regular season with a trip to Lincoln, Nebraska, for a dual meet against the Cornhuskers on March 15. The competition begins at 1 p.m. (CT).
FOLLOW THE HAWKEYES:
Web Address: hawkeyesports.com (see the men's gymnastics schedule page for links to live stats and live streams)
Facebook: facebook.com/iowagymnastics
Twitter: twitter.com/iowagymnastics
YouTube: youtube.com/iowagymnastics
Live Stream: btn2go.com