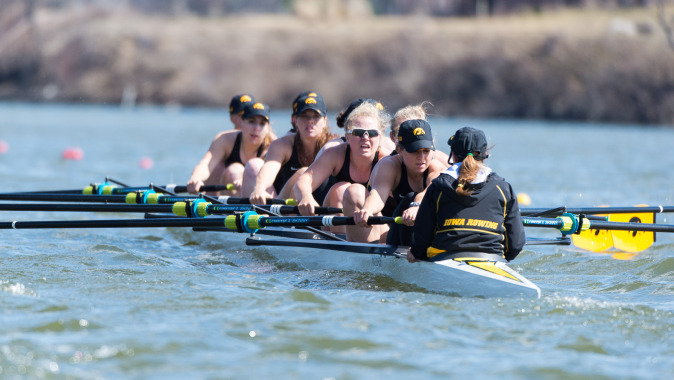 May 16, 2015
Editor's Note: The following first appeared in the University of Iowa's Hawk Talk Daily, an e-newsletter that offers a daily look at the Iowa Hawkeyes, delivered free each morning to thousands of fans of the Hawkeyes worldwide. To receive daily news from the Iowa Hawkeyes, sign up HERE.
By JIL PRICE
IOWA CITY, Iowa — The University of Iowa rowing program has been building and improving one step at a time since the arrival of second-year head coach Andrew Carter. The pieces are in place, improvements have been steady, and now it's time for the team to prove that they are on the right track; not only to themselves, but to the rest of the rowing community.
To Carter and the Hawkeyes, the Big Ten Championship is the perfect opportunity to make a statement.
"It has been fulfilling," Carter said. "As a group they have turned a corner in how they've been approaching their training and racing week in and week out. The next big challenge is the Big Ten Championship, which is its own unique animal. The bar is raised when you get there."
The competition is steep, as Iowa will challenge eight conference crews with experience, talent, and historical backing. The team's opponents include back-to-back national champion and top-ranked Ohio State, No. 8 Wisconsin, No. 12 Michigan, and No. 13 Indiana, along with Minnesota who is receiving votes in the most recent release of the CRCA/US Rowing Coaches Poll on May 12.
"This is the first year we've felt confident going into the Big Ten Championship," said senior2V8 competitor Alyssa Armstrong. "There is no question on what we want to do and who we want to beat. It's a tough field, but more than ever, we're honed in and ready."
The Hawkeyes, who finished seventh at the Big Ten Championship a season ago, have also been receiving votes in recent weeks. After defeating Tennessee in every race and UCF in all but one to cap the regular season, Iowa garnered a season-high 12 votes in this week's poll.
However, for UI rowing, 12 votes is not enough recognition for its accomplishments and the work the team has put in.
"We've had the underdog mindset all year long, and we don't just have a chip on our shoulder, it's a bag of chips," Armstrong said. "We've shown good results across the board, and we haven't gotten any real recognition for that. Every week we get one or two more votes, but that's it. It gives us a big chip on our shoulder, but it is fun to be the team nobody expects to do anything big. We're excited to go in and prove people wrong."
Carter is aware of the 'bag of chips' the team carries, but knows that a national ranking is not the only message out there when it comes to the progression of his program. Opposing coaches and crews have been quick to compliment the Hawkeyes throughout the season.
"The kind words that have been shared by all opposing coaches, within and outside the Big Ten, has only added fuel to our fire," Carter said. "I shared that with our team this past week. The people they've raced get it, but it has been challenging for them to get noticed nationally.
"This group has a chip on its shoulder and wants to prove to everyone the advancements that have been made. I want to make sure that they focus and have the right perspective when they present that concept. We're doing it the right way like (Director of Athletics Gary Barta) wants us to do, and we want people to recognize that our way is the right way."
Iowa opens Big Ten Championship action Saturday at Eagle Creek Park in Indianapolis at 4 p.m. (CT). The championship regatta continues at 8 a.m. Sunday. The Big Ten Network will air a tape delay of the competition Sunday, May 24, at 5 p.m.