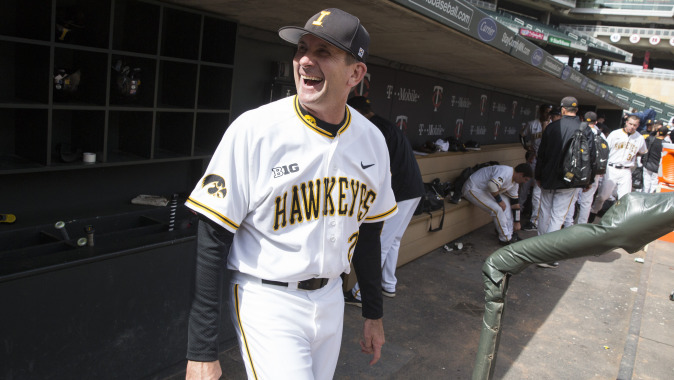 May 27, 2015
NCAA Springfield Regional: No. 3 Oregon (37-23) vs. No. 2 Iowa (39-16)
Dates
May 29-June 1, 2015
Location
Springfield, Mo. | Hammons Field
Game Notes
Iowa Oregon
Statistics
IOWA | Oregon | Missouri State | Canisius
Game 1
Date | Time
Friday, May 29 | 1 p.m. (CT)
Pitching Matchup
IOWA: Jr., RHP Tyler Peyton (6-4, 3.18 ERA) vs.
UO: TBA
THIS WEEK
The second-seeded University of Iowa baseball team will open NCAA Tournament play at the Springfield Regional against third-seeded Oregon on Friday at 1 p.m. (CT) at Hammons Field. The Hawkeyes will face Missouri State or Canisius on Saturday at 1 p.m./6 p.m.
GAME COVERAGE
? The duration of the Springfield Regional will be available on ESPN3/WatchESPN. Anish Shroff and Landon Powell will be on the call.
? The game will also be broadcast on AM-800 KXIC and AM-1360 KMJM with Brent Balbinot and Steve Duncan on the call. The game will also be available free of charge on Hawkeye All-Access on hawkeyesports.com.
? Fans can also follow every game with live stats (GameTracker) on hawkeyesports.com and live updates are also available on Twitter: @UIBaseball.
NCAA REGIONAL HISTORY
? Iowa is 4-7 all-time in NCAA Tournament play with all four victories coming during the 1972 College World Series season. The Hawkeyes tallied wins over Northern Illinois, Central Michigan, and Bowling Green.
? The Hawkeyes have played NCAA Regionals in Bowling Green, Ohio (1972), Norman, Oklahoma (1975), and Waterbury, Connecticut (1990).
? UI head coach Rick Heller is 1-4 all-time in NCAA Regional play, losing two games as a No. 3 seed at Indiana State in 2012 and going 1-2 as a No. 4 seed at Northern Iowa in 2001. The Panthers beat BYU, 10-1, in the first elimination game in Lincoln, Nebraska.
LEADING OFF
? Iowa is making its first NCAA Regional appearance since 1990 and its fourth NCAA appearance in school history. The Hawkeyes are looking for their first NCAA win since 1972 — the year Iowa made its only College World Series appearance.
? The Hawkeyes are ranked for the ninth straight week, coming in No. 20 by Collegiate Baseball, 23rd in the USA Today Coaches' Poll, and 24th by the NCBWA and Baseball America. Iowa dropped out of the D1Baseball rankings.
? Iowa won 19 games in Big Ten play to finish as runner-up to earn its highest regular season finish in 25 years. The Hawkeyes' 39 overall wins are the most victories since winning 40 contests in 1985.
? The Hawkeyes have reached the 30-win plateau in back-to-back seasons for the first time since 1989 and 1990.
? Iowa had a school-record six student-athletes earn All-Big Ten recognition in 2015 in Blake Hickman (first team), Eric Toole, Nick Hibbing, and Calvin Mathews (second team), and Nick Roscetti and Tyler Peyton (third team).
? The Hawkeyes are 8-3 in neutral site games and 14-10 in road contests this season.
? UI head coach Rick Heller is the winningest coach in Iowa history in his first two seasons, winning 69 games. He is the second coach in school history to bring a team to the NCAA Tournament (Duane Banks).
? Junior Blake Hickman went 7-0 with a 2.45 ERA in Big Ten play, and is 9-2 overall with a 2.90 ERA. The nine victories are the most by a Hawkeye since 2005, are tied for the fourth most in school history, and are 18th-best nationally.
? The Hawkeyes rank among the top-18 nationally in pitching and defense. Iowa is 12th in the NCAA in fielding percentage (.978), while ranking 14th in hits allowed per nine innings (7.81) and 18th in ERA (3.00).
? Iowa is on pace to shatter the program's ERA record (3.63), which was set in 1971.
QUICK HITTERS
? The Hawkeyes are one of a Big Ten record five NCAA Regional qualifiers in 2015. Illinois is hosting a Regional, while Indiana, Michigan, and Maryland are in the field.
? Iowa is riding a two-game losing streak for just the third time this season and the first since April 8 and April 10. The Hawkeyes haven't lost three straight games in 2015.
? The Hawkeyes won their first 11 series of the season and didn't have a losing weekend until the final series of the regular season when it dropped 2-of-3 game at Rutgers. Iowa went 1-2 at the Big Ten Tournament.
? Junior Tyler Peyton brings an eight game hitting streak and a 13-game reached base streak into Friday's NCAA opener against Oregon.
? Seniors Eric Toole (187), Jake Mangler (177), Kris Goodman (169), and Nick Day (129) have combined to start 672 games the last four years as Hawkeyes. Mangler has started 92 consecutive games at second base.
? Twenty-three games have been decided by two runs or less. Iowa is 16-7 in such contests.
? Iowa is 19-5 when playing error-free baseball and 32-9 when committing one or fewer errors. Iowa is 7-7 when committing two or more errors.
? The Hawkeyes are 29-2 when out-hitting their opponents and 29-6 when scoring first. Conversely, Iowa is 10-10 when the opponent scores first.
? Iowa has out scored opponents 36-12 in the first inning, and 95-57 over the first three innings.
? The Hawkeyes are second in the Big Ten in defense (.979 fielding percentage), second in ERA (3.00), and eighth in batting (.273).
? Iowa has out scored opponents 36-12 in the first inning, and 95-57 over the first three innings.
THE SERIES
? Iowa has never faced Oregon in its history. The Hawkeyes last game against a Pac-12 school was against Washington State in 1988 — a 6-2 loss.
? The Hawkeyes are 1-0 all-time against Canisius, winning 18-3 in 1992.
? Iowa is 15-34 all-time against Missouri State. The Hawkeyes handed the Bears their first loss in 2015, rallying for a 6-5 victory on Feb. 21 in Grand Prairie, Texas.
HELLER JOINS EXCLUSIVE GROUP
By leading the Hawkeyes to NCAA Regionals, UI head coach Rick Heller joined an exclusive group. Heller is one of six active coaches to have led three Division I teams to NCAA Regionals and one of nine all-time. Heller has guided Northern Iowa, Indiana State, and Iowa to the NCAAs.
Arizona State's Tracy Smith (Miami, Ohio, Indiana, Arizona State, and Auburn's Sonny Galloway (Oral Roberts, Oklahoma, Auburn) also joined the club in 2015. Others include: Navy's Paul Kostacopoulos (Providence, Maine, Navy), Arizona's Andy Lopez (Pepperdine, Florida, Arizona), Texas' Augie Garrido (Cal State Fullerton, Illinois, Texas), Ron Polk (Georgia Southern, Mississippi State, Georgia), Larry Cochell (Oral Roberts, Cal State Fullerton, Oklahoma), and Pat McMahon (Old Dominion, Mississippi State, Florida).
IOWA IS GREAT: 1-OF-8
Iowa is one of eight schools nationally to make a bowl game in football, advanced to the men's and women's basketball NCAA Tournaments, and play in an NCAA Regional in baseball. The list includes: Arkansas, Iowa, Louisville, LSU, Maryland, Notre Dame, Oklahoma State, and Texas.
Only Iowa and Oklahoma State played in a January bowl game.
IOWA AGAINST NCAA REGIONAL FIELD
? The Hawkeyes went 10-8 against six teams that advanced to NCAA Regional play (Maryland, 2-1; Missouri State, 1-0; Houston Baptist, 2-2; Indiana, 3-1; Michigan, 2-2, Bradley, 0-2).
? Iowa hit .260 in 18 games, averaging 4.3 runs per contest. Tyler Peyton hit .369 with 14 RBIs and 11 runs scored, Jake Mangler hit .3452 with nine RBIs and 8 runs, and Eric Toole hit .275 with 13 runs and seven steals.
? The Hawkeyes posted a 4.50 team ERA in 18 game, allowing 86 runs (78 earned) over 156 innings. Ryan Erickson went 2-0 with a 3.50 ERA, while Calvin Mathews (2-1, 3.65) and Blake Hickman (2-2, 4.55) had two wins apiece.
ALL-B1G HONOREES
The Hawkeyes had a school-record six All-Big Ten selections in 2015 in Blake Hickman (1st), Nick Hibbing, Eric Toole, Calvin Mathews (2nd), and Nick Roscetti and Tyler Peyton (3rd).
? Hickman is the first Iowa starting pitcher since 2004 to earn first-team honors. It is the first honor of Hickman's career.
? Toole is now a three-time all-conference selection, earning second team honors in 2013 and 2015 and third-team in 2014. He is the first Hawkeye to earn three all-conference accolades since his brother Justin Toole (2007-09).
? Hibbing earned his first career All-Big Ten nod and became the first Iowa reliever since 2006 to earn all-league recognition.
? Mathews earned his first career honor. 2/3 of Iowa's rotation earned all-conference recognition.
? Peyton earned his first career honors after ranking in the top-five in the Big Ten in hitting. He is the first Iowa first baseman to be honored since 2002.
? Roscetti became the second straight Iowa shortstop to earn All-Big Ten honors. Hit .391 in Big Ten action with 36 hits — second most in league action.
WIN TOTAL CLIMBING
? Iowa has won 39 games in 2015, reaching the 30-win plateau in two straight seasons for the first time since 1989 and 1990.
? The 39 victories are the most for the program since 1985.
? Iowa hasn't won 40 games since 1985 (40-20), and the program has only three 40-win seasons in its history.
BEST OF THE RUNNERS-UP
The Hawkeyes finished 19-5 in the Big Ten to finish second in the league standings. Iowa had a .792 conference winning percentage — the best by a runner-up team since the league returned to single division play in 1988.
A DAY TO REMEMBER
Senior Nick Day belted a two-out, two-run walk-off home run into the left field bleachers at Target Field to send the Hawkeyes to a 3-2 come-from behind victory over Ohio State on May 20.
? Day finished 2-for-3 with two RBIs and a run scored. It was his first multi-hit game since April 3 at Purdue, and his first home run since April 1 at Western Illinois.
? The blast was Day's first career home run against a Big Ten opponent and fourth overall. It was Iowa's first walk-off home run since Jason White in 2008 (10-9 win over Illinois).
? Day's blast was the No. 5 play on SportsCenter's Top-10 plays on May 20 — Iowa's second appearance on the plays of the day this season.
TOOLE MAKES HISTORY
Senior Eric Toole broke the school record for career singles in the series opener against Minnesota on May 8. The Council Bluffs, Iowa, native had a single in the third inning to tie Mike McQuillan's school record and a two-run single in the sixth to make history. Toole is fourth all-time in career hits with 235 with a school record 203 singles.
PEYTON IS A SEMIFINALIST FOR OLERUD AWARD
Junior Tyler Peyton is a semifinalist for the 2015 John Olerud Two-Way Player of the Year Award. The award is presented to the nation's top player both on the mound and at the plate. He is the only player from the Big Ten Conference to make the cut.
The Grimes, Iowa, native is 6-4 with a 3.18 ERA in 15 starts as Iowa's Friday starter and is leading the team with a .352 batting average — third-best in the Big Ten — while also ranking second on the team with 30 RBIs and fourth in runs (30).
TWO-WAY TYLER
For the final two months of the season, junior Tyler Peyton has been hitting and pitching for himself on Friday nights… and quite well. Peyton is 3-2 with a 3.55 ERA in eight starts playing both ways, allowing 23 runs (20 earned) on 47 hits over 50 2/3 innings. He opened Big Ten play with 14 1/3 innings of shutout ball. Offensively, Peyton is hitting .259 with four runs and two RBIs when playing both ways. He drove in the go-head run against No. 17 Indiana and went 3-for-5 in the opener at Purdue.
GOOD PITCHING… GOOD DEFENSE
The Hawkeyes have relied on their pitching and defense all season. Iowa ranks 12th nationally in fielding percentage (.978), 14th in hits allowed per nine innings (7.81) and 18th in ERA (3.00). The team has committed 48 errors in 55 games — the second-fewest in the Big Ten — and Iowa has 46 double plays.
THE ULTIMATE TABLE SETTER
? Eric Toole has reached base safely in 51-of-55 games this season, and has hit safely in 44 games. Toole has a career-high 73 hits this season, the sixth-most in the Big Ten, and leads the team with 41 runs.
? The centerfielder is second in the Big Ten with 27 steals in 33 attempts, which are the 11th-most in a single season in school history.
HIBBING DAZZLES
Senior Nick Hibbing rode a dominant regular season to second-team All-Big Ten honors in 2015 — the first all-league recognition of his career.
? Hibbing went 2-0 with a 0.74 ERA and six saves in 10 Big Ten appearances. He had 22 strikeouts against zero walks in Big Ten play.
? The right-hander hasn't walked a batter in his last 40 1/3 innings — since his first outing of the season against Kansas State on Feb. 13. He has 35 strikeouts to two walks this season.
? Hibbing has allowed one run over his last 10 appearances, a span of 21 innings, scattering 10 hits and striking out 19 during the stretch.
IOWA PITCHING SHINES
? The Hawkeyes have allowed two earned runs or fewer in 31 games this season, including 16 against Big Ten competition.
? The Hawkeyes currently have a 3.00 team ERA over 55 games, which would shatter the school record of 3.63, set in 1971.
? Iowa has used the same weekend rotation for the duration of the season. Tyler Peyton, Blake Hickman, and Calvin Mathews are a combined 20-7 with a 2.94 ERA with 158 strikeouts to 87 walks.
? Iowa's pitching staff has three shutouts this season (vs. Cincinnati (13 innings), vs. Indiana, at Michigan) — the most for the program since 2007 (four shutouts).
? Iowa is second in the Big Ten in ERA (2.90), first in opposing batting average (.236), and third in saves (18). The Hawkeyes have allowed the fewest hits (434) and second-fewest runs (197) in the conference.
? The Hawkeyes' starting pitchers are 20-9 with a 3.06 ERA in 55 starts.
IN RELIEF
? The UI bullpen is 19-7 with a 2.95 ERA with a school record 18 saves, which are the third-most in the Big Ten. Iowa's relievers are holding batters to a .229 average and have 169 strikeouts.
? Junior Luke Vandermaten didn't allow a run in his first 10 appearances and has only allowed six runs (five earned) runs in 20 appearances. The right-hander has surrendered 30 hits over 38 2/3 innings, fanning 23. Vandermaten is 2-0 with a 1.16 ERA and has four saves. Where it stands, Vandermaten's ERA would be the fourth-best in school history.
? Junior southpaw Ryan Erickson is 4-0 with a 2.18 ERA with one save and has 27 strikeouts to 18 walks. Erickson, who has thrown at least four innings in three of his last four outings, threw a career-high 5 2/3 innings at Michigan to tally his fourth win. Erickson is usually the first reliever called out of the bullpen on Fridays.
? Iowa's relief corps have converted 18-of-19 save opportunities this season. The Hawkeyes are 31-2 when leading after six, 31-1 leading after seven, and 32-1 leading after eight.
SINGLE SEASON RANKINGS
? Luke Vandermaten – 1.16 ERA – 4th
? Blake Hickman – 9 wins – t4th
? Eric Toole -27 steals (in 33 attempts) – t11th
? Tyler Peyton – 87 2/3 innings – t13th
? Eric Toole – 73 hits – 15th
OFFENSIVE TIDBITS
? Senior Eric Toole hit his first career home run — in his 752nd career at-bat — against Michigan on May 21 at the Big Ten Tournament. It was Iowa's first leadoff home run since 2012.
? The Hawkeyes are hitting just .257 as a team over their last 10 games, where they are averaging 5.6 runs per contest.
? Iowa scored 10 runs and hit .194 in three games at the Big Ten Tournament. Jake Mangler (.333) and Nick Day (.300) both hit above .300 in the tournament.
? Junior Dan Potempa is hitting .348 (8-of-23) with seven RBIs and two doubles in his last seven games.
? Tyler Peyton is hitting a team-best .333 (21-of-63) with runners in scoring position with 13 two-out RBIs. Jake Mangler is hitting .322 (28-of-87) with 20 two-out RBIs. Iowa hits .262 with runners in scoring position as a team.
? Grant Klenovich has started the first game of the last two series at first base. The freshman is hitting .385 (5-for-13) with two RBIs in his last six games in the lineup.
MOVING UP THE RECORD BOOKS
? Junior Eric Toole has 70 career steals, which are the fourth-most in program history.
? Toole is the school record holder in career singles (203) and ranks fourth in career hits (235). Senior Jake Mangler is fourth with 181 career singles and tied for ninth with 213 career hits.
? Junior Nick Hibbing has made 79 career appearances as a Hawkeye — the second most in school history. The school record is 81 by Tim Gudex. He is also fourth all-time with 16 career saves.
? Toole and Kris Goodman both rank among the top 10 in games played. Toole is tied for eighth with 193 games, while Goodman is 10th with 187.
#HELLERBALL
? UI head coach Rick Heller is one of nine coaches all-time (one of six active) to lead three different NCAA Division I teams to regional play.
? The Hawkeyes debuted in the national rankings on March 30, coming in at No. 24 by Collegiate Baseball. It was Iowa's first ranking since 1990. Iowa has been ranked nine-straight weeks.
? Iowa finished as the runner-up in Big Ten play, winning 19 games during the regular season — the most for the program since 1990.
? Heller is the winningest coach in his first two seasons in program history, winning 69 games. Iowa has posted back-to-back 30 win seasons for the first time since 1989 and 1990.
? Iowa climbed to as high as No. 13 — its highest ranking since 1990 — on May 12 by Collegiate Baseball.
? Iowa had a school-record six All-Big Ten selections in 2015. The Hawkeyes have had 11 All-Big Ten honorees in two seasons on Heller.
? Iowa posted its first victory over a ranked opponent since 2012 and swept a ranked opponent (No. 19 Indiana) for the first time since 1990. The Hawkeyes also swept No. 25 Nebraska, winning its second straight series over the Huskers.
? Iowa won 2-of-3 games at Michigan — its first series win over the Wolverines since 2010. The Hawkeyes won a school record eight straight Big Ten series.
? The Hawkeyes opened Big Ten play with consecutive sweeps, starting 6-0 for the first time in school history. Iowa is 8-1 in Big Ten play for first time since 1990.
? Iowa won 30 games in Heller's first season in 2014 — the most wins by a first-year head coach in program history and the third 30-win campaign since 1993.
? The Hawkeyes advanced to and won a game in the Big Ten Tournament in 2014 — the program's first tournament victory since 2010.
? Iowa has posted winning streaks of nine games (in 2015) and seven games (in 2014) — the longest streaks for the program since 2012.
? Under Heller, Duane Banks Field has been undergoing a transformation with AstroTurf installed in the infield and outfield, new outfield fences and the addition of a new video scoreboard.
FOLLOW THE HAWKEYES
Iowa baseball fans can follow the Hawkeyes on Facebook by going to facebook.com/iowabaseball. Fans can also follow on Twitter @UIBaseball.