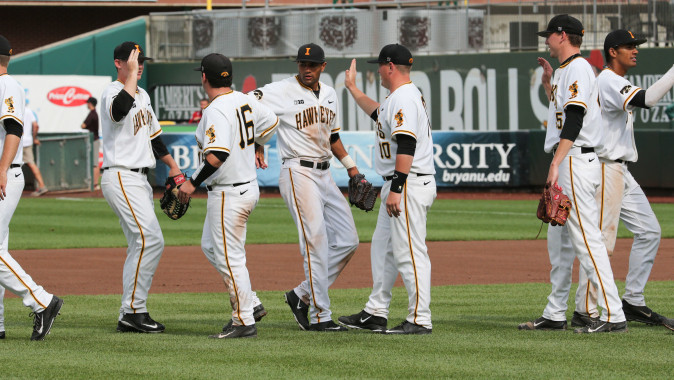 May 30, 2015
Game 2
Date | Time
Saturday, May 30 | 8 p.m. (CT)
Pitching Matchup
IOWA: Jr., RHP Blake Hickman (9-2, 2.90 ERA) vs.
MSU: Jr., LHP Max Hall (10-2, 2.17 ERA)
TODAY'S GAME
The University of Iowa baseball team will continue play in the Springfield Regional tonight, facing top-seeded Missouri State at 8:05 p.m. (CT) at Hammons Field.
GAME COVERAGE
? The duration of the Springfield Regional will be available on ESPN3/WatchESPN. Anish Shroff and Landon Powell will be on the call.
? The game will also be broadcast on AM-800 KXIC and AM-1360 KMJM with Brent Balbinot and Steve Duncan on the call. The game will also be available on Hawkeye All-Access on hawkeyesports.com.
? Fans can also follow every game with live stats (GameTracker) on hawkeyesports.com and live updates are also available on Twitter: @UIBaseball.
40 WINS
Iowa's 3-1 victory over Oregon moved the Hawkeyes to 40-16 overall this season. The 40 victories are the most for the program since 1985, tied for the second-most wins in a single season, and is just the fourth 40-win season in school history.
ENDING A DROUGHT
Iowa won its first NCAA Tournament game since 1972 with Friday's 3-1 victory over Oregon. The last time the Hawkeyes won an NCAA Tournament game…
? Richard Nixon was President.
? A gallon of gas was 36 cents.
? A gallon of milk was $1.20.
? The Godfather was the top movie in the box office.
? American Pie was one of the hit songs.
? UI head coach Rick Heller was 9 years old.
2-WAY TYLER
Tyler Peyton showed why he is one of 10 players remaining for the John Olerud Two-Way Player of the Year Award in Iowa's 3-1 win over Oregon. The right-hander went 7 1/3 innings, allowing one run on seven hits, while fanning five. He also went 1-for-2 with a run scored and two walks at the plate.
B1G DAY
The Big Ten Conference went 5-0 on the first day of NCAA Regional play.
? Iowa def. Oregon, 3-1
? Michigan def. Bradley, 10-5
? Illinois def. Ohio, 10-3
? Indiana def. Radford, 7-1
? Maryland def. Ole Miss, 3-1
PLAYER NOTES
? Senior Nick Day finished 2-for-4 with an RBI against the Ducks. It was Day's eighth multi-hit game this season and second in his last four games. The third baseman has hit safely in three of the last four contests.
? Junior Nick Roscetti drove in two of Iowa's three runs against Oregon despite not recording a hit in the game. Roscetti now has a team-high eight multi-RBI games this season.
? Junior Tyler Peyton extended his hitting streak to nine games with a third inning single against Oregon. Peyton has reached base safely in 14-straight contests.
? Iowa pitchers Tyler Peyton and Nick Hibbing allowed one run on 10 hits against Oregon. It was the team's 32nd game this season allowing two earned runs or fewer.
? Senior reliever Nick Hibbing threw 1 2/3 shutout innings to pick up his eighth save of the season. The right-hander extended his streak without walking a batter to 42 innings. He has 36 strikeouts to two walks this season.
? Senior Eric Toole finished 0-for-4 and didn't reach base. It was just his fifth game this season without reaching safely. Toole is 1-for-16 in postseason play with his only hit being a solo home run on May 21 against Michigan. It was Toole's first career blast.
MISCELLANEOUS NOTES
? The Hawkeyes are 20-5 when playing error-free baseball and 33-9 when committing one or fewer errors.
? Iowa's 3-1 win over Oregon was the Hawkeyes' 24th game decided by two runs or less. Iowa is 17-7 in such contests.
IOWA IS…
? 1-0 all-time against Canisius, winning 18-3 in 1992.
? 15-34 all-time against Missouri State. Iowa handed Missouri State its first loss in 2015, rallying for a 6-5 victory on Feb. 21 in Grand Prairie, Texas.
? The Hawkeyes trailed 4-1 through four before putting up a four-spot in the bottom of the sixth inning. Tyler Peyton had a walkoff RBI single in the bottom of the ninth inning to knock in Kris Goodman, who started the rally with a one-out double.
? Iowa had 12 hits in the game, including a 3-for-4 performance from Peyton, and two-hit games from Eric Toole and Austin Guzzo.
? Junior right-hander Blake Hickman allowed three runs (two earned) on four hits in 1 2/3 innings. He had four walks and zero strikeouts. Luke Vandermaten (1 2/3 IP, 1 H), Calvin Mathews (2 IP, 1 R, 3 H), Nick Hibbing (1 IP, 0 R), and Connor Grant (3 IP, 1 R, 0 H, 2 K, 2 BB) allowed two runs on five hits in 7 1/3 innings.