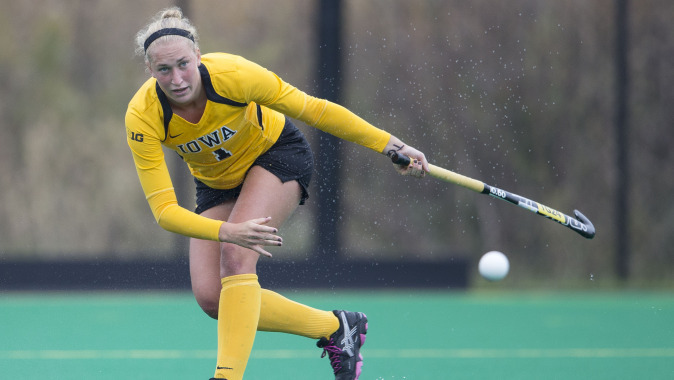 June. 3, 2015
IOWA CITY, Iowa — Four University of Iowa field hockey student-athletes have been selected to participate in the 2015 Young Women's National Championship. Chandler Ackers, Taylor Omweg, Alexandra Pecora, and Melissa Progar will compete June 21-26 at the USA Training Center in Lancaster, Pennsylvania.
The Young Women's National Championship serves as a high level, international structured competition serving as the selection tournament for the 2015-16 U.S. Women's Under 21 National Team.
"We are thrilled to have four Hawkeyes selected to compete in the Young Women's National Championship," said UI head coach Lisa Cellucci. "They have played very well to this point and now they need to continue to train hard in preparation for a great performance at the tournament. They will have the opportunity to play against the very best U21 athletes in this country and will be up for selection to the U21 National Team. We can't wait to see them compete."
Ackers (B/MF) started all 18 games for the Hawkeyes a year ago as a sophomore totaling 11 points on two goals and a team-best seven assists. The native of White Haven, Pennsylvania, will be making her second appearance at the Women's National Championship, having participated in the event in 2014.
Omweg (B/MF) and Progar (MF) both appeared in all 18 games a year ago as freshmen. Omweg earned nine starts, while Progar made 12 starts. Both were classmates at Tabb High School in Yorktown, Virginia, prior to becoming a Hawkeye.
Pecora started 17 games as Iowa's goalkeeper as a sophomore. She won 10 games, collecting 78 saves and posting a .722 save percentage. She was named Big Ten Defensive Player of the Week (Oct. 28) after registering a shutout over fifth-ranked Penn State. The native of Marlton, New Jersey, has international experience having competed at the U.S. U21 Championship in 2014.