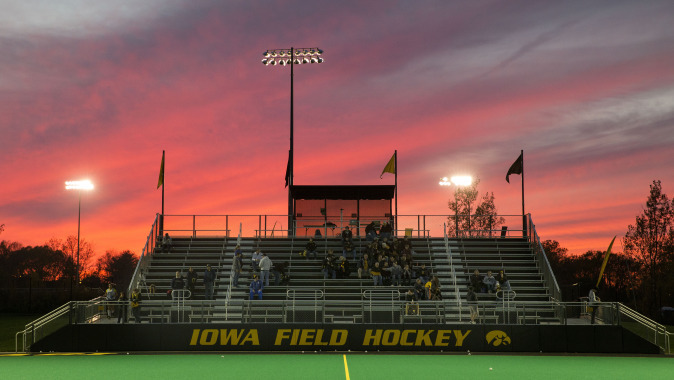 Sept. 9, 2015
THIS WEEK
The 15th-ranked University of Iowa field hockey team plays host to three matchups this week. Iowa kicks things off against fifth-ranked Stanford in its home opener on Thursday at 4 p.m. (CT). The Hawkeyes return to Grant Field on Saturday for a showdown with Kent State at 11:30 a.m. (CT) before concluding the weekend with a 2:30 p.m. (CT) contest against Saint Louis on Sunday.
LIVE STREAMING
Iowa field hockey fans can follow all home contests via live stats (GameTracker) on hawkeyesports.com. Click on the "GT" link found on the field hockey schedule page to access the live stats feed. Fans can also follow @IowaFieldHockey for live in-game updates. Thursday's contest against Stanford will be streamed live on BTN Plus. Sunday's game against Saint Louis will be streamed on Hawkeye All-Access — a subscription based service.
PROMOTIONS
• Thursday — Free Iowa field hockey schedule cups will be available to the first 150 fans. There will be a "Meet the Hawkeyes" ice cream social following the game.
• Saturday — Dollar Dog Day. There will also be free Iowa field hockey T-shirts for the first 75 fans.
• Sunday — There will be free Iowa field hockey book covers for the first 50 kids. Fans can also enter a raffle to win a pair of tickets to the Iowa vs. Pittsburgh football game (Sept. 19). There will be a postgame autograph session with the Hawkeyes.
SCOUTING STANFORD
• The Cardinal bring a 3-1 record into Thursday's match. Stanford topped Indiana,1-0, on Sept. 4 before picking up a 1-0 overtime victory over Miami (Ohio) on Sept. 6.
• Maddie Secco leads the Cardinal in goals (3) and points (7). Secco, Lauren Becker, Fran Tew, Beaudoin, and Millie Stefanowicz each have an assist.
• Stanford averages 1.5 goals per game off 13.2 shots per game.
• The Cardinal checked in at No. 5 in this week's Penn Monto/NFHCA Poll, released Sept. 8. Stanford was ranked No. 6 in the preseason poll released on Aug. 25.
STANFORD VS. IOWA — THE SERIES
• Iowa is 12-7 all-time against Stanford, including 5-2 when playing in Iowa City.
• In the first ever meeting between the two schools (1983), Iowa won, 2-1.
• The Cardinal defeated the Hawkeyes, 2-1, last season, and have won the last five matchups between the two schools.
• Iowa has not deeated Stanford since 2008, when the Hawkeyes won, 3-2, in Stanford, California.
SCOUTING KENT STATE
• The Golden Flashes enter Saturday's contest with a 1-2 record after being shutout 6-0 by Old Dominion and falling 5-1 to Michigan State last week.
• Prior to the start of the 2015 season, the Golden Flashes were picked to repeat as Mid-American Conference regular season and Tournament champions.
• Despite losing last year's top two scorers to graduation, the Golden Flashes bring back a strong contingent to the 2015 campaign. Kent State's five goals this season have each been scored by five different players.
• Through three games, the Golden Flashes are giving up 4.67 goals per game, and have been outscored by opponents, 14-5.
KENT STATE VS. IOWA — THE SERIES
• Iowa leads the all-time series against James Madison, 6-1, and are a perfect 4-0 when playing in Iowa City.
• The first match ever played between the two schools was in 1997 in Iowa City. The Hawkeyes won, 7-2.
• Iowa has won three in a row against Kent State, with the last victory coming in 2013 when the Hawkeyes blanked the Golden Flashes, 6-0.
SCOUTING SAINT LOUIS
• Standing at 0-5, the Billikens head to Iowa City looking for their first win of the 2015 season.
• Saint Louis has been shutout in every game except for its 7-1 loss at California. Freshman Morgan Crowe has the Billikens' lone goal of 2015.
• Through five games, Saint Louis is being outshot by opponents, 122-26, while giving up 5.2 goals per game. The opposition is also edging the Billikens in penalty corners, 41-11.
SAINT LOUIS VS. IOWA — THE SERIES
• Iowa leads the all-time series against Saint Louis, 15-5-1. The Hawkeyes are 9-1 at home when playing the Billikens.
• The first match ever played between the two schools was in 1977; Iowa's first official season. The Billikens won, 3-1.
• Iowa and Saint Louis have not met since 2009, when the Hawkeyes destroyed the Billikens, 12-0, in Iowa City.
LAST TIME OUT
The Hawkeyes closed out a four-game road stretch last weekend with matchups against Richmond and James Madison in Harrisonburg, Virginia.
After nearly a two hour lighting/rain delay, Iowa picked up its second victory of the season, defeating Richmond on Friday afternoon in a 5-1 trouncing. Junior Stephanie Norlander and freshman Makenna Grewe both scored two goals apiece, while sophomore JoElla Guagliardo notched her first career goal.
In Iowa's Sunday matchup with James Madison, the Hawkeyes fell, 4-1. Iowa's lone goal came in the second half from freshman Isabella Brown. The goal was the first of Brown's career.
IN THE RANKINGS
Iowa moved up two spots to No. 15 in the Penn Monto/National Field Hockey Coaches Association (NFHCA) Division I Poll, released on Sept. 8. The Hawkeyes garnered 204 points in the rankings and are one of five ranked Big Ten schools — Maryland (No. 8), Northwestern (No. 9), Penn State (No. 14), and Michigan (No. 16). Iowa has been ranked in the polls each week dating back to Sept. 6, 2011.
TO BE THE BEST YOU HAVE TO PLAY THE BEST
Of Iowa's 18 opponents in 2015, seven are ranked in the most recent NFHCA Division I Poll released on Sept. 8, including five Big Ten schools — No. 8 Maryland, No. 14 Penn State, No. 9 Northwestern, and No. 16 Michigan.
INSIDE THE BIG TEN RANKINGS
Junior Stephanie Norlander is tied for fourth in the Big Ten in goals (4), tied for fifth in points (7), and tied for eighth in shots (13).
Through four games, the Hawkeyes rank fifth in assists in the Big Ten overall with seven. Sophomore Mallory Lefkowitz is tied for second in the conference with three assists, each coming in Iowa's 5-1 victory over Richmond on Sept. 4.
GREWE STEPPING UP
Freshman Makenna Grewe ranks second among all freshmen in the Big Ten in goals (three) and points scored (seven), tying her for fourth and fifth in the conference overall.
Grewe got Iowa on the board in 2015, scoring her first career goal against No. 11 Wake Forest in the season opener on Aug. 29.
BIG TEN PLAYERS TO WATCH LIST
Three University of Iowa field hockey players — Chandler Ackers, Stephanie Norlander and Alexandra Pecora — have been named to the 2015 Big Ten Players to Watch List, announced by the league office.
Ackers, a junior from White Haven, Pennsylvania, started all 18 contests in 2014, accounting for 11 points on two goals and a team-high seven assists. She was named to the 2014 All-Big Ten Tournament Team, while also garnering Academic All-Big Ten honors. Ackers was also named to the NFHCA Academic Squad for the second-straight year.
A two-time Player to Watch, Norlander was a second-team NFHCA All-American and first-team All-Big Ten honoree in 2014. She started in all 18 contests, scoring 35 points on 15 goals and five assists during her sophomore campaign. The North Vancouver, Canada, native ranked third in the Big Ten and 13th nationally in goals per game (.83), while ranking fifth in the Big Ten and 19th nationally in points per game (1.94). Norlander also scored four game-winning goals last season. In 2013, Norlander was named Big Ten Freshman of the Year in addition to earning NFHCA West Region All-America second-team honors.
Pecora appeared in 17 contests in 2014, starting each game at goalkeeper. The Marlton, New Jersey, native posted a 10-7 mark as a sophomore, collecting 78 saves and recording a .722 save percentage. Pecora tallied a career-high 13 saves at No. 2 Maryland on Nov. 1, and was named Big Ten Defensive Player of the Week on Oct. 28 following her performance in a 4-0 shutout over No. 5 Penn State.
WHAT A SUMMER IT WAS
A second-team NFHCA All-American and first-team All-Big Ten honoree in 2014, junior Stephanie Norlander highlights what was a busy summer for several Hawkeyes. A native of North Vancouver, Canada, Norlander competed for the Canadian National Field Hockey Team at the World League 3 semifinals in Valencia, Spain as well as the 2015 Pan American Games, where she helped the Canadians to a third place, bronze medal finish. She scored three goals in Canada's Pan Am opener against the Dominican Republic en route to a 12-1 victory.
Juniors Chandler Ackers and Alexandra Pecora and sophomores Melissa Progar and Taylor Omqeg were each selected and competed in the USA Women's National Championship at the USA Training Center in Lancaster, Pennsylvania. Ackers and Pecora were also selected and participated at the Junior National Team Camp and Trials held at the Spooky Nook Sports Complex also in Lancaster, Pennsylvania.
Sophomore Veronique Declercq competed for the Belgium U21 Team in various tournaments over the course of the summer.
HAWKEYES IN THE NCAA TOURNAMENT
The Hawkeyes have been selected to the NCAA Tournament 22 times in program history — the most of any school as a member of the Big Ten Conference. The Hawkeyes are 26-23 all-time in tournament play, including 9-5 in first round match-ups and 11-6 in second round contests. Iowa has advanced to 11 NCAA Final Fours, winning the 1986 national championship. The Hawkeyes 26 tournament victories and 11 NCAA Final Fours are the most of any school as a member of the Big Ten Conference.
IOWA NEWCOMERS
Iowa's 2015 roster features a lot of youth. Of the 19 student-athletes listed on Iowa's roster, 12 are either freshmen or sophomores. Iowa's five freshmen include Lara Bampfield (F), Isabella Brown (MF), Makenna Grewe (MF), Riley Kniptash (F/MF), and Avery Semler (F/MF).
CAFONE REDSHIRTING
The 2014 Big Ten Offensive Player of the Year and first-team All-American will redshirt during the 2015 season due to injury. Cafone dislocated her shoulder last November and re-injured it during the spring.
WELCOME BACK, JESS
Head coach Lisa Cellucci announced the addition of former Hawkeye Jessica Barnett to her staff in late July. Iowa's 2012 and 2013 Female Athlete of the Year, Barnett will serve as a volunteer assistant coach. A four-year starter for the Hawkeyes from 2009-12, Barnett was a two-time All-American and a three-time All-Big Ten, All-Region, and Big Ten All-Tournament team selection. She helped the Hawkeyes earn back-to-back NCAA Tournament appearances in 2011-12.
LOOKING AHEAD
The Hawkeyes remain in Iowa City next week, closing out a five-game homestand. Iowa faces Rutgers in its Big Ten opener on Sept. 18 and follows with a matchup against Missouri State on Sept. 20.
HAWKEYES ON BTN
Throughout the 2015 season, two Hawkeye contests will be televised live on Big Ten Network — Iowa's home contest against Michigan State (Oct. 16) and away matchup at Penn State (Oct. 23) –, while five additional matches will be streamed live on the BTN Plus.
All four quarterfinal matches (Nov. 5) of the 2015 Big Ten Tournament, hosted by the University of Indiana, will be streamed on the BTN Plus. Both semifinal contests (Nov. 6) and the championship match (Nov. 8) can be seen live on BTN.
LINK UP WITH THE HAWKEYES
For an inside look at the Iowa field hockey program and to access exclusive coverage, "like" The University of Iowa Field Hockey Team on Facebook and follow @IowaFieldHockey on Twitter and Instagram.