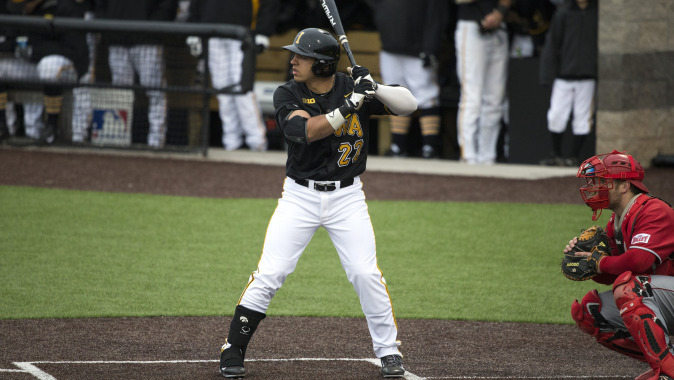 Oct. 13, 2015
Box Score

IOWA CITY, Iowa — Four pitchers combined for a seven-hit shutout to send the black team to a 7-0 game one victory over the gold team in the 2015 Black & Gold World Series on Tuesday at Duane Banks Field.
Redshirt junior Ryan Erickson threw 4 2/3 shutout innings, scattering four hits and striking out three. Freshmen Shane Ritter and Sam Lizarraga followed by scattering three hits over 3 2/3 innings, and redshirt junior Jared Mandel got the final two outs. Ritter was credited with the victory, tallying strikeouts for three of his five outs.
After three scoreless frames, the black team grabbed the lead, pushing three runs across the plate in the top of the fourth. Freshman Zach Daniels had an RBI single and freshman Robert Neustrom had a two-run double in the inning.
The black doubled its advantage in the sixth. After a Daniels single and Nick Roscetti hit by pitch, senior Eric Schenck-Joblinske connected on a three-run home run to right field to push the lead to 6-0. Junior Devin Pickett singled to lead off the eighth before scoring the black team's seventh run on a Daniel Aaron Moriel hit by pitch with the bases loaded.
Daniels and Neustrom had six of the black team's 13 hits. Daniels was 3-for-5 with two runs and an RBI, while Neustrom was 3-for-5 with a double and two RBIs. Roscetti went 2-for-2 with two runs scored.
Senior Joel Booker and freshman Mitchell Boe paced the gold team offensively. Booker was 2-for-4 with a double out of the leadoff position, while Boe finished 2-for-3.
Sophomore C.J. Eldred was tagged with the loss, allowing one run on four hits in 3 1/3 innings in the start. Freshman Cole Baker was the only gold team hurler to not allow a run, tossing 1 2/3 perfect frames to end the contest.
Game two of the three game series will begin at approximately 2 p.m. (CT) Wednesday.