Oct. 14, 2015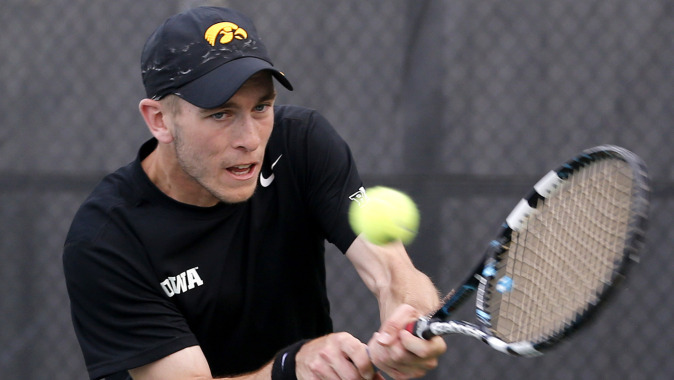 ITA REGIONALS: The Hawkeyes travel to Fayetteville, Arkansas for the ITA Regionals, Oct. 15-19. The three-day event will take place at the George M. Billingsley Tennis Center on the University of Arkansas campus.
HAWKEYE LINE UP:
Senior Dominic Patrick, juniors Nils Hallestrand and Robin Haden, sophomores Jake Jacoby and Lefteris Theodorou, and freshmen Tony Leto and Jonas Larsen will make the trip to Fayetteville on Thursday.
ITA ALL-AMERICAN RECAP:
Junior Robin Haden led the Hawkeyes with three wins at ITA All-American Pre-Qualifying Tournament in Tulsa, Oklahoma, Oct. 3-7. Haden won his first two matches in straight sets and rallied from one set down to win his third set, 1-6, 6-3, 6-3. He advanced to the qualifying tournamen but was bounced from the championships with consecutive loses. He was the first Hawkeye to reach the qualifying round since 2011.
Sophomores Jake Jacoby and Lefteris Theodorou started the weekend with wins on Saturday to advance to the second round of play, but both fell to their opponents Sunday to end their All-American runs.
HADEN MOVES ON:
Robin Haden was the first Hawkeye to reach the qualifying round since Marc Bruche and Will Vasos in 2011. Back in 2011, Bruche started the tournament in the qualifying round. He was able to bypass the pre-qualifying bracket entirely due to his ITA national ranking of 101 at the time. Bruche won three matches in qualifying to make the main draw. He fell in the first round of the main draw to Marcos Giron (UCLA). No other Hawkeye has qualified for the ITA All-American Main Draw before or since.
Vasos made the qualifying bracket by defeating four opponents in the pre-qualifying bracket. He eventually lost in the qualifying bracket to Damian Hume who competed for Boise State at the time.
JACOBY RETURNS TO ITA REGIONALS:
At the 2014 ITA Regionals, freshman Jake Jacoby made it to the main draw of the singles tournament, and had a strong showing in the doubles bracket with partner Josh Silverstein. The freshman duo won a pair of matches before eventually falling in the round of 16.
FOLLOW THE HAWKEYES
Fans can follow the Hawkeyes all season long and receive live match updates on Facebook (facebook.com/IowaMensTennis) or on Twitter (@IowaMensTennis). Fan can also stay update with the team off the court on Snapchat (uiowamenstennis).
UP NEXT:
The Hawkeyes will compete in their final fall tournament at home. Iowa is set to host the Big Ten Indoor Men's Tennis Championships on Nov. 6-9.
Last season, Dom Patrick took home a Big Ten doubles championship with partner, Matt Hagan.