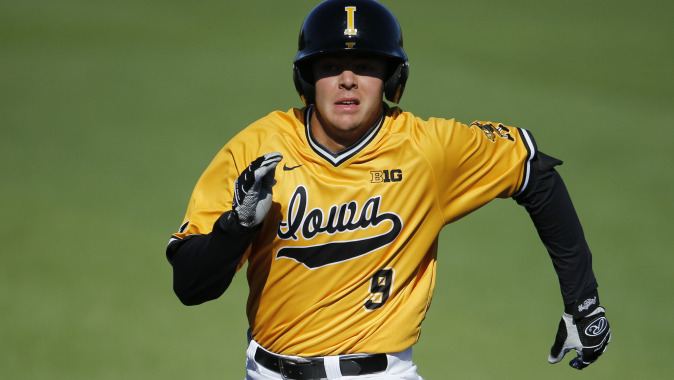 Oct. 15, 2015
IOWA CITY, Iowa — A nine-run sixth inning sent the gold team to an 11-5 series-clinching victory over the black team in the 2015 Black & Gold World Series.
The big inning began with one out and courtesy of free bases. The gold team drew four straight walks against relievers Connor Grant and Zach Daniels to start the inning before freshman Mitchell Boe had an RBI single to cut the deficit to 5-4.
Senior Joel Booker and McCoy followed with back-to-back walks to give the gold team a 6-5 lead before freshman Luke Farley roped a bases-clearing triple to right field to make the score 9-5. Junior Drew Owens drove in the final two runs with a two-run homer to right field off freshman Sam Lizarraga.
The black team jumped out to a 5-0 lead in the first two innings.
Freshman Robert Neustrom had an RBI groundout to drive in the first run before senior Eric Schenck-Joblinske had an RBI single to center to plate senior Nick Roscetti to make the score 2-0. Zach Fricke drove in the third run, drawing a four-pitch walk against freshman Cole McDonald.
Roscetti and Neustrom started off the second inning with back-to-back singles against junior Josh Martsching before Schenck-Joblinske roped an RBI single to right field to push the lead to 4-0. Sophomore Grant Klenovich had the black team's final RBI, courtesy of a sacrifice fly.
The gold team began its comeback in the fifth, scoring a pair of runs against Grant. Sophomore J.T. Sole started the rally by reaching on an error before scoring on a wild pitch, and McCoy drove in the second run on an RBI groundout.
Farley and Owens paced the gold team offensively, accounting four of the team's five hits. Farley was 2-for-4 with a triple and three RBIs, while Owens was 2-for-3 with a home run, two runs, and two RBIs. The gold team took advantage of 10 walks.
Sophomore Nick Allgeyer threw 2 2/3 perfect innings, needing just 19 pitches. Senior Tyler Radtke earned the win, allowing a single hit in two innings, while senior Daniel Aaron Moriel got the final two outs to notch the save.
Roscetti and Schenck-Joblinske both tallied multi-hit games for the black team. Roscetti was 2-for-4 with two runs scored, while Schenck-Joblinske was 2-for-4 with a run and two RBIs.
Senior Calvin Mathews tossed four scoreless innings in the start, scattering two hits and striking out a pair.
The Hawkeyes fall ball slate is complete. Iowa will open the 2016 season Feb. 19, opening a three-game series at Dallas Baptist.