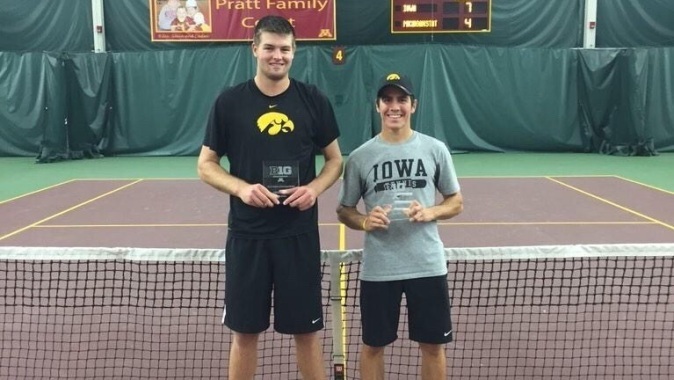 Nov. 4, 2015
BIG TEN MEN'S INDOOR CHAMPIONSHIPS:
The University of Iowa is set to host the 2015 Big Ten Men's Indoor Championships, Friday through Monday at the Hawkeye Tennis & Recreation Complex. Admission is free to the public all four days of competition.
Senior Dominic Patrick, juniors Robin Haden and Nils Hallestrand, sophomore Jake Jacoby and Lefteris Theodorou, and freshmen Jonas Larsen and Tony Leto will all be competing for the Hawkeyes.
BIG TEN TEAMS COMPETING:
Teams participating will be Indiana, Illinois, Iowa, Michigan, Michigan State, Minnesota, Nebraska, Northwestern, Penn State, Purdue, and Wisconsin.
SCHEDULE OF EVENTS:
? The events will begin at 9 a.m. on Friday with doubles competition taking place throughout the day.
? Saturday's matches start at 8 a.m., with the Singles Round of 64. Singles Main Draw Round of 32 will take place on Saturday as well beginning at 2 p.m.
? On Sunday, Singles Back Draw Round of 32, Singles Main Draw Round of 16, Singles Back Draw Round of 16, Singles Main Draw Quarters, and Singles Back Draw Quarters will all take place.
? The final day of play will start at 9 a.m. on Monday with Singles Semifinals Main Draw and conclude with the Singles Finals Main Draw.
Results of each match will be posted upon completion on Twitter @2015B1GIndoors.
LOOKING BACK:
Last year, the Hawkeyes traveled to Minnesota to compete in the 2014 Big Ten Men's Indoor Championship. Dominic Patrick teamed up with then-senior Matt Hagan in doubles competition. The duo made history becoming the first Iowa Big Ten Doubles Flight A Champions since 1958 (James Andrews/Robert Potthast).
"It is really exciting to have a chance to defend [the title] at home," said Patrick. "Ross has improved our doubles over the years and the team is catching on to how we need to play. If we play up to our potential I expect to have another shot at the title."
FOLLOW THE HAWKEYES
Fans can follow the Hawkeyes all season long and receive live match updates on Facebook (facebook.com/IowaMensTennis) or on Twitter (@IowaMensTennis). Fans can also stay updated with the team off the court on Snapchat (uiowamenstennis).
COACH WILSON QUOTE:
"We only get to do this maybe once every seven years that we get to host the Big Ten doubles and singles in the fall so obviously whenever we want to do a good job of putting on the tournament for all the other teams and showing off our facility and Iowa City," said UI head coach Ross Wilson.
"Also, it's a nice opportunity for our guys to be able to play a tournament at home and sleep in their own beds and compete on the courts that they practice on every single day, which is important. We have high expectations going into the tournament and hopefully we can perform well at home."