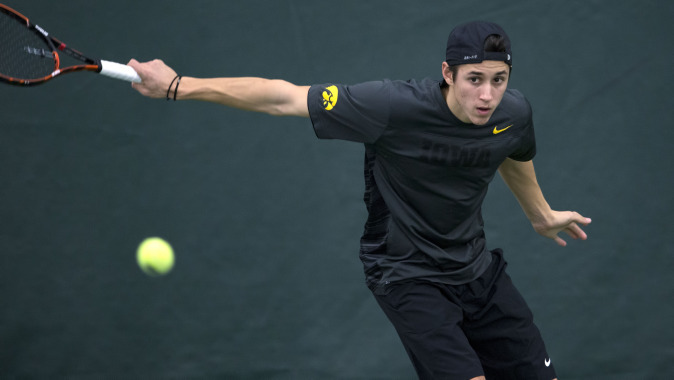 Nov. 7, 2015
IOWA CITY, Iowa — The University of Iowa men's tennis team had five of seven athletes advance to the Singles Round of 32 at the Big Ten Indoor Championships Saturday at the Hawkeye Tennis & Recreation Complex.
Sophomore Lefteris Theodorou was the top Hawkeye finisher on the day. Theodorou defeated Wisconsin's Lamar Remy, 6-2, 7-5, in his opening match. The native of Athens, Greece, then advanced to the Round of 16 where his opponent, Marino Alpeza of Minnesota, retired due to injury in the third set of their match. The final score of the match was, 7-5, 6-7(5), 5-2.
Robin Haden, seeded 12th in the singles tournament, took down Jose Carranza of Wisconsin in his first match of the day, 7-6(4), 6-1. In the Round of 32, Haden fell to Arthur Dobardin of Purdue, 6-7, 7-5, 6-1.
Sophomore Jake Jacoby faced Nebraska's Scott Elsass in the Round of 64. Jacoby won the match, 6-4, 6-4, but fell in his second match to No. 3 seed Toshiki Matsuya of Illinois, 6-4, 4-6, 6-3.
Freshman Tony Leto also advanced past the Round of 64 this morning taking down opponent Nebraska's Chris Schindler, 6-2, 7-5. Leto then faced Michael Lorenzini of Northwestern but lost, 6-2, 6-3.
Senior Dominic Patrick was seeded ninth in the tournament and received a first round bye. In the second round of play, Patrick fell, 6-2, 5-7, 6-0, to Indiana's Matt McCoy.
Iowa freshman Jonas Larsen was defeated in the Round of 64 by Nebraska's Marc Herrmann, 6-2, 6-3. He advanced in consolation play when his opponent Alan Sweet of Wisconsin retired due to injury. Larsen was up 5-2 in the first set.
Nils Hallestrand lost his first round match, 7-5, 5-7, 6-2, to Indiana's Stefan Lugonjic. In his consolation match, Hallestrand fell, 6-3, 5-7, 10-4, to Nebraska's Scott Elsass.
Singles play continues tomorrow with competition taking place all day at the HTRC beginning at 8 a.m. (CT). Admission is free to the public throughout the competition.
Singles Main Draw
Lefteris Theodorou (UI) def. Lamar Lemy (WIS): 6-2, 7-5
Robin Haden (UI) def. Jose Carranza (WIS): 7-6(4), 6-1
Jake Jacoby (UI) def. Scott Elsass (NEB): 6-4, 6-4
Tony Leto (UI) def. Chris Schindler (NEB): 6-2, 7-5
Stefan Lugonjic (IND) def. Nils Hallestrand (UI): 7-5, 5-7, 6-2
Matt McCoy (IND) def. Dominic Patrick (UI): 6-2, 5-7, 6-0
Lefteris Theodorou (UI) def. Marino Alpeza (Minn): 7-5, 6-7(5), 5-2 retired (injury)
Arthur Dobardin (PUR) def. Robin Haden (UI): 6-7, 7-5, 6-1
Toshiki Matsuya (Ill) def. Jake Jacoby (UI): 6-4, 4-6, 6-3
Michael Lorenzini (NW) def. Tony Leto (UI): 6-2, 6-3
Singles Consolation
Scott Elsass (NEB) def. Nils Hallestrand (UI): 6-3, 5-7, 10-4
Jonas Larsen (UI) def. Alan Sweet (WISC): 5-2 retired (injury)