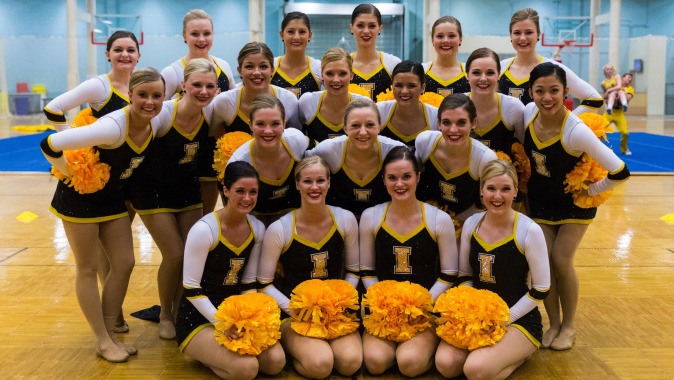 Jan. 14, 2016
Cheer/Dance Team Sendoff Photo Gallery

By JAMES ALLAN
hawkeyesports.com
IOWA CITY, Iowa — It is national championship week for the University of Iowa spirit squads.
The Hawkeyes compete at the Universal Cheer Association and Universal Dance Association College Cheerleading and Dance Team National Championships from Jan. 15-17 in Orlando. The dance team will compete in jazz and pom competitions, while the cheerleaders will compete in the cheer competition.
"Everyone is excited," said senior Lexie Strom, a four-year member of the dance team. "We've been working hard for this. We had a great football season and having that excitement and watching their team work together has pushed us to be that successful."
The UI dance team is coming off a fifth-place showing in pom — the highest finish in program history — and a 15th place finish in jazz at the 2015 National Championships. The team finished seventh and 13th, respectively, in 2014.
UI dance coach Jenny Eustice credits the team's senior class for being the driving force behind the team's growth and success. Iowa's four seniors are Kelly McGinnis, Kayla Meyer, Alayna Vogel, and Strom.
"They got a taste of success last year and that has made them more driven to repeat and improve on their success," said Eustice. "They're great leaders and the freshmen look up to them. The whole team's expectation is to get better."
Every team in the competition will dance/cheer in the semifinals. The top half of each group advances to a second performance in the finals on a grand stage.
"The finals venue has a huge floor, beautiful lights everywhere, and a huge castle as the backdrop," said Strom. "It has a Disney World feel to it. It's every dancer's dream stage. I saw a picture of it on social media and it lit a fire in my heart."
The Hawkeyes' goal is to reach the finals in every area, and the goal goes a step further in the pom competition.
"Last year we finished in the top five in the nation, which was our goal," said Strom. "We don't want to settle for top five. The top three get medals at the awards ceremony. We're pushing to be in that position. That's one thing we've used as motivation, thinking about those teams that receive medals and wanting to be one of them."
After a year off, the UI cheer team is excited to return to nationals and compete against the premiere teams in the country.
"It has been an exciting winter break with a trip to the Rose Bowl, a performance in Chicago (on Jan. 9) and now a trip to Orlando," said UI spirit coordinator Gregg Niemiec. "We're excited to represent the university and show our athletic talent among the best teams in the country."