Feb. 14, 2016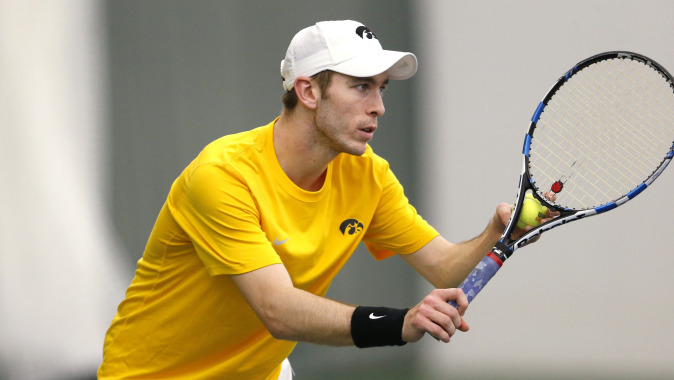 Feb. 14, 2016
MURFREESBORO, Tennessee — The University of Iowa men's tennis team dropped their match today against Middle Tennessee State at the Adams Tennis Complex in Murfreesboro, Tennessee.
Iowa started the day by giving up the doubles point. Senior Dominic Patrick and sophomore Josh Silverstein had the only Hawkeye win in doubles, defeating Miguel Negre and Robin Riethmueller, 6-2.
The doubles point was clinched when sophomores Lefteris Theodorou and Jake Jacoby lost, 7-5, to Ayed Zatar Cordero and Gonzalo Morell.
Iowa's only singles win of the day came from the racket of Jacoby. The Little Rock native handled Robin Riethmueller in the No. 6 spot, 7-5, 6-0.
Theodorou suffered his first individual loss of the season, 7-6, 6-4, to the Middle Tennessee's newcomer Gonzalo Morell.
The Hawkeye upper classmen fell short today in their matches. Patrick and junior Robin Haden lost, 6-2, 6-4, and 6-1, 7-6 (1), respectively.
After last weekend's back to back victories, Silverstein fell to Ayed Zatar Cordero in three sets.
Freshman Jonas Larsen was the last off the court for the Hawkeyes. He lost his match in a three set decision as well.
The Hawkeyes are back in action next Sunday, Feb. 21, in Wichita, Kansas against the Wichita State Shockers at the Coleman Tennis Complex. The match is set to begin at 11 a.m. (CST).
MIDDLE TENNESSEE 6, #62 IOWA 1
Singles
1. Dima Zyhmantovich (MT) def. Dominic Patrick (IOWA): 6-2, 6-4
2. Gonzalo Morell (MT) def. Lefteris Theodorou (IOWA): 7-6 (5), 6-4
3. Ayed Zatar Cordero (MT) def. Josh Silverstein (IOWA): 6-4, 2-6, 6-3
4. Miguel Negre (MT) def. Robin Haden (IOWA): 6-1, 7-6 (1)
5. Luis Morillo Diaz (MT) def. Jonas Larsen (IOWA): 6-4, 3-6, 6-3
6. Jake Jacoby (IOWA) def. Robin Riethmueller (MT): 7-5, 6-0
Order of Finish: 6, 1, 4, 2, 3, 5
Doubles
1. Ayed Zatar Cordero/Gonzalo Morell (MT) def. Lefteris Theodorou/Jake Jacoby (IOWA): 7-5
2. Dominic Patrick/Josh Silverstein (IOWA) def. Miguel Negre/Robin Riethmueller (MT): 6-2
3. Dima Zyhmantovich/Luis Morillo Diaz (MT) def. Robin Haden/Nils Hallestrand (IOWA): 6-4
Order of Finish: 2, 3, 1