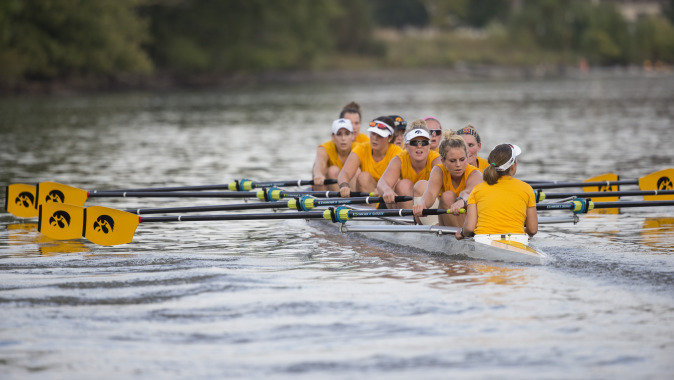 Feb. 19, 2016
Download your Hawk Talk Monthly android app

NEW BRAUNFELS, Texas — The University of Iowa women's rowing program continued to gain valuable experience with a training session Thursday and a scrimmage Friday with Old Dominion in New Braunfels, Texas.

The programs worked out together on day one, which helped the Hawkeyes solidify their lineups for the scrimmage on day two of the trip. The scrimmage was held on a 1250-meter course in Texas Hill Country and allowed Iowa to get a taste of head-to-head competition.

"The scrimmages went very well with very composed pieces from each of our crews," said head coach Andrew Carter. "I was pretty pleased overall and I think our crews improved with each 1250-meter piece they performed.

"With the same format scheduled for Sunday with the University of Texas, this was a great opportunity to experiment with some lineup options and to get a feel for the stroke rates that we will be using."

Each crew performed well for this point in the year, and enjoyed the racing experience in Texas Hill Country in front of Hawkeye fans. They watched as Iowa pulled out top finishes in both the 8+ and 4+ boat classes.

"It was special to stage this event here in New Braunfels," Carter said. "There were Tigerhawk flags flying at homes along the lake, we were being cheered from the docks along the course, and when the racing concluded, the home across from our dock blasted the Hawkeye victory polka over their sound system.

This was definitely not an away event for us. This is a home course."

The Hawkeyes continue their trip in Austin, Texas, where they will meet the Longhorns on Sunday, Feb. 21. Texas, the defending Big 12 Champion, earned a seventh place result at the 2015 NCAA Championship.