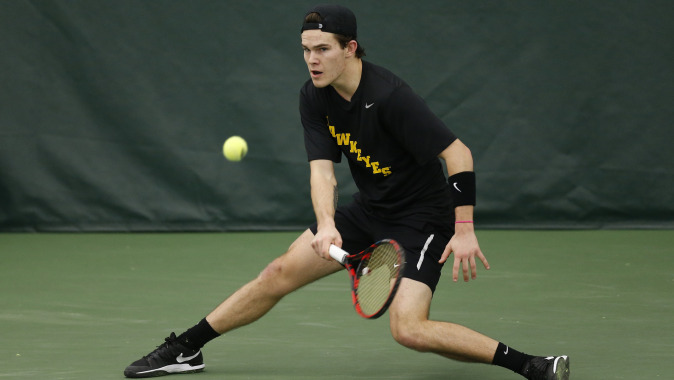 Feb. 21, 2016
WICHITA, Kansas — The No. 66 University of Iowa men's tennis team defeated No. 65 Wichita State, 4-3, at the Genesis Health Club Sunday afternoon. The win improves Iowa's overall record to 5-2.
Sophomores Josh Silverstein and Lefteris Theodorou led the charge today for the Hawkeyes bringing in wins against challenging opponents.
Theodorou matched up against No. 121 Miroslav Herzan for a, 6-1, 6-2, win while Silverstein took on Jocelyn Devilliers for another straight set victory for the Hawkeyes, 6-2, 6-4.
Wichita State (4-6) had the early lead in the match after clinching the doubles point. The Shockers lay claim to the No. 22 and No. 38 doubles teams in the country, but the Hawkeyes hung with them, forcing two, 7-6, decisions.
Sophomore Jake Jacoby outlasted Eddie Stoica of the Shockers in three sets, 6-1, 3-6, 6-4.
The Iowa victory came from the racket of freshman Jonas Larsen, who played in the No. 4 spot for the first time in his Hawkeye career today. Larsen clinched the match with a three-set victory over Sergio de Vilchez.
"For Jonas to clinch the match in the third set for us shows the big strides he's made as a player since he's arrived on campus in August," said UI head coach Ross Wilson.
Upperclassmen, Dominic Patrick and Robin Haden fell in their singles matches, both in straight sets. Haden, a transfer from Mississippi State, played in the No. 5 spot today for the first time as a Hawkeye.
Iowa is back in action on Feb. 26, at home for a doubleheader inside the Hawkeye Tennis and Recreation Complex. The Hawkeyes open the day at 11 a.m. (CST) against IUPUI and finish with a 6 p.m. (CST) match against the University of Denver. Both matches are free to the public.
#66 IOWA 4, #65 WICHITA STATE 3
Singles
1. #95 Tin Ostojic (WSU) def. Dominic Patrick (UI): 6-2, 6-0
2. Lefteris Theodorou (UI) def. #121 Miroslav Herzan (WSU): 6-1, 6-2
3. Josh Silverstein (UI) def. Jocelyn Devilliers (WSU): 6-2, 6-4
4. Jonas Larsen (UI) def. Sergio de Vilchez (WSU): 6-3, 2-6, 6-4
5. Haru Inoue (WSU) def. Robin Haden (UI): 6-0, 6-1
6. Jake Jacoby (UI) def. Eddie Stoica (WSU): 6-1, 3-6, 6-4
Order of Finish: 1, 2, 5, 3, 6, 4
Doubles
1. #38 Jocelyn Devilliers/Tin Ostojic (WSU) def. Jake Jacoby/Lefteris Theodorou (UI): 7-6
2. #22 Miroslav Herzan/Haru Inoue (WSU) def. Dominic Patrick/Josh Silverstein (UI): 7-6
3. Robin Haden/Nils Hallestrand (UI) def. Sergio de Vilchez/Eddie Stoica (WSU): 6-4
Order of Finish: 3, 1, 2