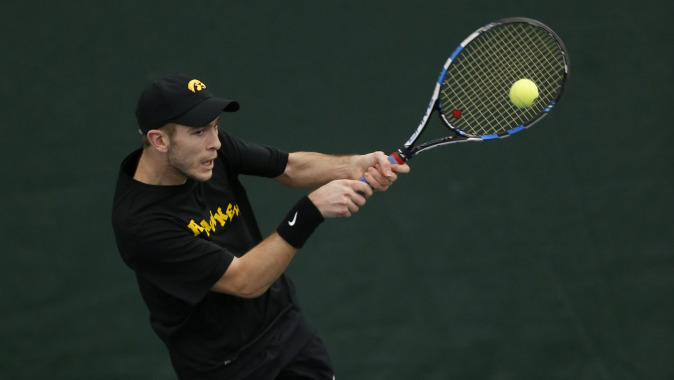 March 19, 2016
SAN LOUIS OBISPO, Calif. — The 52nd-ranked University of Iowa men's tennis team fell to No. 73 Cal Poly, 5-2, Saturday afternoon at the Mustang Courts.
Iowa sophomores Lefteris Theodorou and Jake Jacoby were the Hawkeyes' lone singles victories for the day.
Theodorou defeated Ben Donovan at the No. 1 spot, 7-5, 6-2 — moving to 3-1 at the No. 1 singles position this season. Jacoby anchored the bottom part of the lineup at six, posting a straight set victory over Aiku Shintani.
Senior Dominic Patrick, freshman Jonas Larsen, and junior Robin Haden all lost their matches in three sets at three, four, and five, respectively.
The Hawkeyes dropped the doubles points with 6-4 losses at two and three.
Iowa returns to Big Ten play March 25 in Madison, Wisconsin. The Hawkeyes will be back in Iowa City on March 27 against Minnesota.
#73 CAL POLY 5, #52 IOWA 2
Singles
1. Lefteris Theodorou (IOWA) def. Ben Donovan (CP): 7-5, 6-2
2. Garrett Auproux (CP) def. Josh Silverstein (IOWA): 6-3, 6-2
3. Corey Pang (CP) def. Dominic Patrick (IOWA): 4-6, 6-3, 7-6
4. Josh Ortlip (CP) def. Jonas Larsen (IOWA): 2-6, 6-3, 6-4
5. Axel Damiens (CP) def. Robin Haden (IOWA): 6-1, 2-6, 6-2
6. Jake Jacoby (IOWA) def. Aiku Shintani (CP): 6-4, 6-1
Order of finish: 2, 6, 1, 5, 3, 4
Doubles
1. #78 Lefteris Theodorou/Jake Jacoby (IOWA) vs. #68 Ben Donovan/Corey Pang (CP): unfinished
2. Garrett Auproux/Tim Tan (CP) def. Josh Silverstein/Dominic Patrick (IOWA): 6-4
3. Dan Cardiff/Karl Enander (CP) def. Nils Hallestrand/Robin Haden (IOWA): 6-4
Order of finish: 3, 2