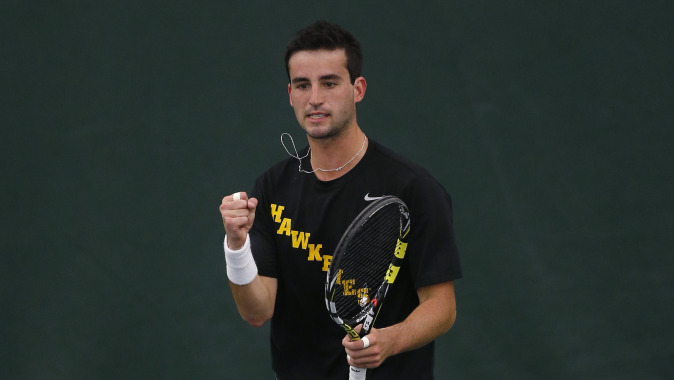 April 1, 2016
COLUMBUS, Ohio — The 60th-ranked University of Iowa men's tennis team defeated Dayton Friday, 6-0, and lost to conference foe, No. 4 Ohio State, 4-0, in the Buckeye State.
In the morning matchup, senior Dominic Patrick and sophomore Jake Jacoby teamed up for the first time on the doubles courts this season to help the Hawkeyes clinch the doubles point against Dayton. The pair is now 2-0 all time.
The Hawkeyes finished all of their matches in straight sets against the Flyers. Sophomore Josh Silverstein stepped on court one for the first time in his collegiate career to pick up a win over Carsten Fisher, 6-4, 6-2.
Lefteris Theodorou, another sophomore on the Hawkeye squad, won his 12th match of the season with a, 7-5, 6-4, victory at the two spot. Patrick's match was the only court left unfinished after the Hawkeyes clinched the victory at the Five Seasons Sports Park in Dayton.
The Hawkeyes finished the day in Columbus where the Buckeyes (19-2, 4-0) took every match in straight sets.
Theodorou saw himself back at the top of the lineup, but was unable to finish his match before Iowa's day came to a close.
Jacoby took his match into a third set after battling back in the second, but also left the court undecided.
Iowa (9-9, 2-2) return to the courts again for a Sunday match against No. 33 Penn State (15-4, 2-2) in State College, Pennsylvania.
#60 IOWA 6, Dayton 0
Singles
1. Josh Silverstein (UI) def. Carsten Fisher (UDMT): 6-4, 6-2
2. Lefteris Theodorou (UI) def. Zach Berry (UDMT): 7-5, 6-4
3. Dominic Patrick (UI) vs. Bernardo Sanson (UDMT): unfinished
4. Robin Haden (UI) def. Simon Jayaram (UDMT): 6-3, 7-6
5. Jonas Larsen (UI) def. Lorenzo Rollhauser (UDMT): 6-4, 6-3
6. Jake Jacoby (UI) def. Graham Reinbold (UDMT): 6-4, 6-4
Doubles
1. Lefteris Theodorou/ Josh Silverstein (UI) vs. Carsten Fisher/ Zach Berry (UDMT): unfinished
2. Robin Haden/ Jonas Larsen (UI) def. Bernardo Sanson/ Simon Jayaram (UDMT): 6-3
3. Jake Jacoby/ Dominic Patrick (UI) def. Graham Reinbold/ Lorenzo Rollhauser (UDMT): 6-3
#4 OHIO STATE 4, #60 IOWA 0
Singles
1. Lefteris Theodorou (UI) vs. #2 Mikael Torpegaard (OSU): unfinished
2. Josh Silverstein (UI) vs. #65 Chris Diaz (OSU): unfinished
3. #26 Hugo Di Feo (OSU) def. Dominic Patrick (UI): 6-4, 6-0
4. Ralf Steinbach (OSU) def. Robin Haden (UI): 6-2, 6-0
5. #70 Herkko Pollanen (OSU) def. Jonas Larsen (UI): 6-2, 6-4
6. Jake Jacoby (UI) vs. Martin Joyce (OSU): unfinished
Order of finish: 4, 3, 5
Doubles
1. Mikael Torpegaard/ Martin Joyce (OSU) def. Jake Jacoby/ Lefteris Theodorou (UI): 6-2
2. Ralf Steinbach/ Hunter Tubert (OSU) def. Dominic Patrick/ Josh Silverstein (UI): 6-2
3. Robin Haden/ Jonas Larsen (UI) vs. Hugo Di Feo/Matt Mendez (OSU): unfinished
Order of finish: 2, 1