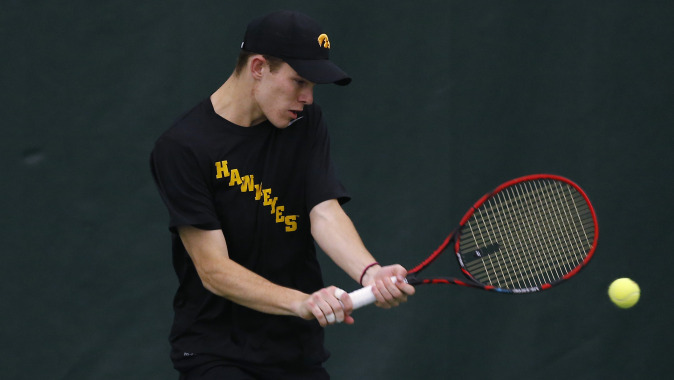 April 3, 2016
UNIVERSITY PARK, Pa. — The 60th-ranked University of Iowa men's tennis team dropped a 4-0 decision at No. 33 Penn State Sunday afternoon.
The home squad claimed an early 1-0 advantage after claiming the doubles point as a result of posting wins on courts two and three, 6-3 and 6-1, respectively.
Penn State (16-4, 3-2) extended its lead to 2-0 after 96th-ranked Leo Stakhovsky knocked off Iowa sophomore Lefteris Theodorou, 6-1, 6-2, on court one of singles play. Hawkeye classmate Josh Silverstein played his third match of the season on court two, falling to Constant De La Bassetierre, 6-2, 6-2.
Penn State's Tomas Hanzlik clinched the match for the Nittany Lions, recording a 6-7, 6-4, 6-1 win over Iowa senior Dominic Patrick on court four.
Junior Robin Haden was leading 2-0 in the third set over 125-ranked Tomas Hanzlik before the match was abandoned due to Penn State having clinched the match. Freshman Jonas Larsen won his first set 7-5 and was leading 3-0 in the second set before the match was called. Jake Jacoby's singles match was also abandoned.
Today's Big Ten match was played indoors at the Sarni Tennis Center, which has only four courts. Singles matches 1-4 were contested first; matches 5-6 did not begin until courts became available.
Iowa (9-10, 1-3) returns to action on Friday competing in a pair of matches in Iowa City. The Hawkeyes first will face Creighton at 11 a.m. followed by Illinois at 6 p.m. Both matches will be held at the Hawkeye Tennis and Recreation Complex with admission free to the public.
#33 PENN STATE 4, #60 IOWA 0
Singles
1. #96 Leo Stakhovsky (PSU) def. Lefteris Theodorou (UI): 6-1, 6-2
2. Constant De La Bassetiere (PSU) def. Josh Silverstein (UI): 6-2, 6-2
3. Robin Haden (UI) vs. #125 Matt Berry: unfinished
4. Tomas Hanzlik (PSU) def. Dominic Patrick (UI): 6-7, 6-4, 6-1
5. Aws Laaribi (PSU) vs. Jonas Larsen (UI): unfinished
6. Ben Lieb (PSU) vs. Jake Jacoby (UI): unfinished
Order of finish: 1, 2, 4
Doubles
1. David Kohan/Christian Lutschaunig (PSU) vs. Jake Jacoby/Lefteris Theodorou (UI): unfinished
2. Leo Stakhovsky/Matt Barry (PSU) vs. Dominic Patrick/Jake Jacoby (UI): 6-3
3. Matt Galush/Constant De La Bassetiere (PSU) def. Jonas Larsen/Nils Hallestrand (UI): 6-1
Order of finish: 3, 2