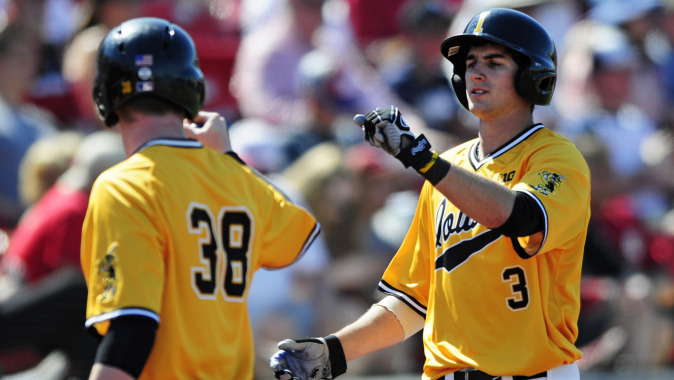 April 19, 2016
Game Notes — at Bradley (4/20)

Iowa (17-17) at Bradley (16-13)
Dates
April 20, 2016
Location
Peoria, Ill. | Dozier Park
Statistics
Bradley | IOWA
Game 1
Date | Time
Wednesday, April 20 | 7 p.m. (CT)
Pitching Matchup
IOWA:Fr., RHP Cole McDonald (3-1, 2.51 ERA) vs.
BU: Fr., LHP Ben Olson (1-4, 5.64 ERA)
IOWA CITY, Iowa — The University of Iowa baseball team returns to action Wednesday, traveling to Peoria, Illinois, for a midweek matchup at Bradley. The game is set to begin at 7 p.m. (CT) from Dozer Park.
The Hawkeyes are looking to complete the two-game series sweep of the Braves. Iowa posted a 7-6 come-from-behind victory over Bradley on March 22 at Duane Banks Field. Senior Nick Roscetti had the game-winning RBI single in the bottom of the ninth inning, rallying the Hawkeyes from a 6-5 ninth-inning deficit.
Iowa is 17-17 overall and is 11-6 in its last 17 games, but dropped 2-of-3 games last weekend at Indiana. Bradley has lost three of its last four games and is 16-13 overall. The Braves dropped 2-of-3 games last weekend at Evansville.ST
Freshman RHP Cole McDonald will take the mound for the Hawkeyes. The New Hampton, Iowa, native is 3-1 with a 2.51 ERA in seven appearances (five starts). He has allowed four runs on 11 hits over 14 1/3 innings and has fanned 16 to just three walks. McDonald went a career-long four innings, scattering two hits and fanning four last week against Air Force.
The Braves will counter with freshman LHP Ben Olson — a Des Moines, Iowa, native. Olsen is 1-4 with a 5.64 ERA in 10 appearances (seven starts). He has allowed 21 runs (19 earned ) on 35 hits in 30 1/3 innings pitched and has 31 strikeouts.
Bradley is hitting .282 as a team and averaging 5.7 runs per game. Four regulars are hitting above .300 with Spencer Gaa leading the way with a .343 average. Tyler Leffler has a team-best 37 hits — 16 doubles — and 20 runs scored, while Paul Solka has a team-best 22 RBIs and four home runs.
The Braves have a 3.96 team ERA over 254 2/3 innings. Bradley averages 8.1 strikeouts as the team has 235 to 94 walks on the year. Opponents are hitting .251 against the Bradley pitching staff.
Iowa is hitting .274 as a team over its last 10 games with senior Tyler Peyton leading the way with a .351 average. Mason McCoy (.333), Joel Booker (.302), and Nick Roscetti (.302) are also hitting over .300. Booker has scored nine runs and swipe four bases during the stretch.
The Hawkeyes are perfect in midweek games this season, winning all six contests and averaging 14.5 runs in the process. Iowa's hitting .344 as a team and the pitching staff has a 2.77 ERA. Joel Booker (.440) and Daniel Aaron Moriel (.409) are both hitting over .400.
Wednesday's game will be broadcast on ESPN3 with Dave Snell and Griffin Sassano on the call. Iowa play-by-play announcer Brent Balbinot will call the game on Hawkeye All-Access.
Following the midweek matchup, Iowa returns to Duane Banks Field for a three-game series against No. 18/21 Michigan on Friday through Sunday. It begins a season-long nine-game home stand.