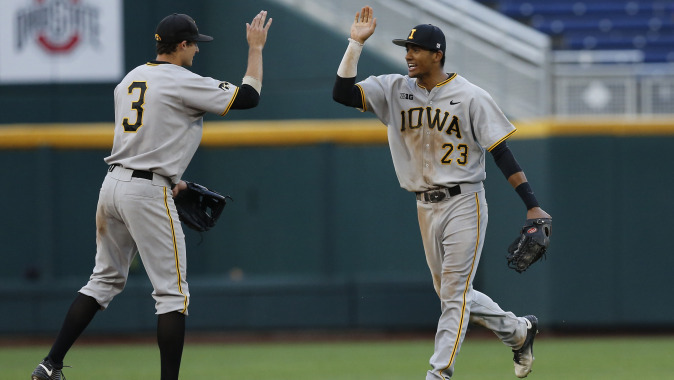 May 26, 2016
Iowa (28-25) vs. Ohio State (39-17-1)
Dates
May 26, 2016
Location
Omaha, Neb. | TD Ameritrade Park
Game Notes
Iowa
Statistics
Iowa | Ohio State
Game 1
Date | Time
Thursday, May 26 | 9 p.m. (CT)
Pitching Matchup
IOWA: Sr., RHP Tyler Peyton (4-5, 4.28 ERA) vs.
OSU: Sr., LHP John Havird (6-3, 3.32 ERA)
TODAY'S GAME
The University of Iowa baseball team continues play in the Big Ten Tournament winner's bracket, facing fourth-seeded Ohio State at 9 p.m. (CT) at TD Ameritrade Park in Omaha, Nebraska. The Hawkeyes will be the home team.
GAME COVERAGE
? The game will be televised on BTN with Kevin Kugler, Scott Pose, and Danan Hughes on the call.
? The game will also be broadcast on AM-800 KXIC with Brent Balbinot and Steve Duncan on the call. The game will also be available on Hawkeye All-Access on hawkeyesports.com.
? Fans can also follow every game with live stats on hawkeyesports.com and live updates are also available on Twitter: @UIBaseball.
PITCHING MATCHUP
? Iowa will start senior RHP Tyler Peyton. The reigning Big Ten Pitcher of the Week is 3-0 with a 0.00 ERA in his last three starts. He has allowed just eight hits in a 23 scoreless innings stretch. The streak started with a road win at Ohio State, where he scattered two hits in seven shutout innings. Peyton is 4-5 with a 4.28 ERA this season.
? Ohio State will counter with LHP John Havird, who is 6-3 with a 3.32 ERA in 14 starts. He has allowed 84 hits and struck out 56 in 84 innings. Iowa handed Havird his second loss on May 7, roughing him up for six runs (five earned) on 10 hits over 5 2/3 innings.
OHIO STATE vs. IOWA SERIES
Iowa dropped 2-of-3 games at Ohio State from May 6-8 despite posting a higher batting average (.324-.218), having more hits (35-19) and scoring more runs (12-9). The Hawkeyes posted a 3.24 team ERA, compared to a 3.67 ERA for the Buckeyes.
? The game featured three shutouts with Ohio State winning game one (6-0) and three (3-0), while Iowa won the middle game, 12-0, behind a season-high 20 hit outburst.
? Iowa and Ohio State are 2-2 against one another in Big Ten Tournament play. Last season Nick Day gave the Hawkeyes a 3-2 win with a walk-off, two-run home run in the bottom of the ninth inning at Target Field in Minneapolis.
B1G TOURNEY NOTES
? Iowa has one at least one game in each of the last three Big Ten Tournaments. The Hawkeyes knocked off top-seeded Minnesota, 8-2, on Wednesday.
? Wednesday's win was the 99th Rick Heller's coaching career as Iowa's head coach.
? It was Iowa's 10th Big Ten Tournament victory all-time. The Hawkeyes are making their third straight Big Ten Tournament appearance — a first in program history.
? Sophomore C.J. Eldred won for the first time since March 25, giving the Hawkeyes his seventh quality start of the season. The righthander allowed two runs on six hits over seven innings and fanned five.
? Junior Mason McCoy extended his career-long hitting streak to 10 games with a two-hit game against Minnesota. Booker's on-base streak was extended to 12 straight contests.
OFFENSE EXPLODES
Iowa's offense belted out 18 hits in the team's 8-2 victory over top-seeded Minnesota. The Hawkeyes have 14 or more hits in four of their last five games. Seven players had at least one hit and five Hawkeyes tallied multi-hit games. Joel Booker (5-for-5), Tyler Peyton (4-for-6), and Austin Guzzo (3-for-5) all tied or posted career-highs in hits and the top five batters in the order finished 15-of-26 (.577) with all eight of the team's RBIs.
? Iowa is hitting .329 and averaging 5.4 runs per game in its last 10 contests. The pitching staff has a 1.87 ERA during the stretch.
? First time since 2010 Iowa has had two players with 15 or more doubles (Booker, 17; Peyton 15).
RECORD-SETTING BOOKER
Senior Joel Booker finished 5-for-5 against the Gophers, tying a University of Iowa, Big Ten Tournament, and TD Ameritrade Park record.
? The outfielder is the 17th Hawkeye to accomplish the feat and the second this season, joining junior Mason McCoy. Booker is the sixth player to finish with five hits in Big Ten Tournament game; the most recent was Kurt Lee in 2010 against Michigan.
? Booker, a first-team All-Big Ten selection, has six multi-hit games in his last seven contests. He is hitting .556 with 15 hits, six runs, three RBIs, and five steals during the stretch.
? Booker's five hit performance gives him 79 hits for the season — the seventh-most in a single season in program history. He has the most hits by a Hawkeye since 2010.