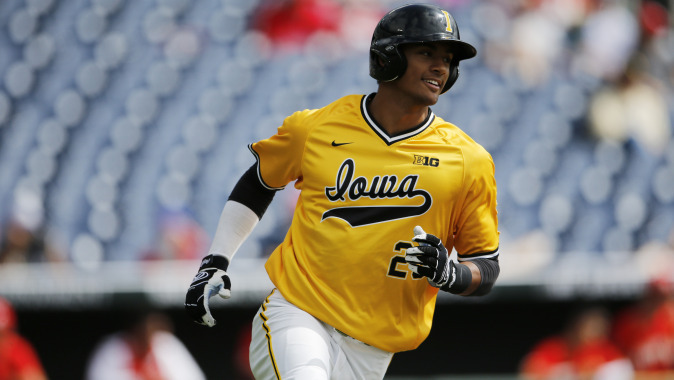 May 28, 2016
No. 7 Iowa (30-25) vs. No. 3 Ohio State/No. 7 Michigan State
Dates
May 29, 2016
Location
Omaha, Neb. | TD Ameritrade Park
Game Notes
Iowa
Statistics
Iowa | Ohio State | Michigan State
B1G Championship Game
Date | Time
Sunday, May 29 | 1 p.m. (CT)
Pitching Matchup
IOWA: TBA vs.
MSU/OSU: TBA
NEXT UP
The University of Iowa baseball team will face the winner of Sunday morning's elimination game between No. 7 seed Michigan State and third-seeded Ohio State in a winner-take all Big Ten Tournament title game at 1 p.m. (CT) at TD Ameritrade Park in Omaha, Nebraska.
GAME COVERAGE
? The game will be televised on BTN with Kevin Kugler, Scott Pose, and Danan Hughes on the call.
? The game will also be broadcast on AM-600 WNT with Brent Balbinot and Steve Duncan on the call. The game will also be available on Hawkeye All-Access on hawkeyesports.com.
? Fans can also follow the game with live stats on hawkeyesports.com and live updates are also available on Twitter: @UIBaseball.
IOWA VS. OSU/MSU
? The Hawkeyes have split four meetings with Ohio State this season. The Buckeyes took 2-of-3 games in Columbus from May 6-8, but Iowa evened the series with a 5-4, come-from-behind win Friday at the Big Ten Tournament.
? Iowa won 2-of-3 games from Michigan State from May 13-15 in Iowa City. The Spartans took the opener before the Hawkeyes rebounded with 3-1 and 5-1 wins.
B1G TOURNEY NOTES
? The Hawkeyes are playing in their first Big Ten Tournament championship game since 2010. Iowa has never won a Big Ten Tournament title.
? A Big Ten Tournament title would propel the Hawkeyes to their second consecutive NCAA Regional appearance, which would be a first in program history.
? Iowa has won three games at the conference tournament for the second time in program history and the first time since 2010.
? The lowest seed to ever win a Big Ten Tournament title was a No. 6 seed (Ohio State) in 2010.
? The Hawkeyes are averaging eight runs and 13 hits per game in tournament play. The team has a .347 average.
? On the mound, Iowa has a 1.93 ERA, allowing 20 hits in 28 innings. The staff has 27 strikeouts to five walks and has allowed six earned runs.
HELLER GOES FOR TITLE NO. 5
UI head coach Rick Heller, who won his 100th career game in the come-from-behind victory over Ohio State, is going for his fifth career conference tournament title. Heller claimed the 2001 MVC Tournament while at Northern Iowa after he won three straight Iowa Conference titles at Upper Iowa from 1995-97.
30 X 3
The Hawkeyes won their 30th game of the season in the Big Ten Tournament semifinal victory over Maryland. It is the first time since 1983-85 that Iowa has had 30 or more wins in three consecutive seasons.
BOOKER CLIMBS RECORDS
Senior Joel Booker has 83 hits this season — the most by a Hawkeye since 2010 and a total that is tied for the fourth-most in a single season in program history. John Knapp owns the record with 91 hits in 1986.
? His 19 doubles are tied for the third most all-time and the most since 1989. Knapp owns the doubles record with 24 in 1986.
? Booker tied a school, Big Ten Tournament, and TD Ameritrade Park record with five hits (5-for-5) in Iowa's game one 8-2 win over top-seeded Minnesota.
NEVER SAY DIE HAWKEYES
Iowa rallied from a 4-0, ninth-inning deficit to defeat Ohio State, 5-4, on May 27. It was the team's 13th come-from-behind victory this season and its third walk-off win.
? Redshirt junior Devin Pickett had his first career RBI to tie the game in the bottom of the ninth inning with two outs.
IOWA B1G TOURNEY TIDBITS
? Junior Mason McCoy extended his career-long hitting streak to 12 games with a two-hit game against Maryland. He is hitting .418 with a team-best 11 RBIs during the streak.
? Senior Joel Booker has reached safely in 14 straight contests.
? Iowa's top four hitters (Tyler Peyton, Nick Roscetti, Joel Booker, and Mason McCoy) are hitting .441 (26-of-59) with 16 runs and 13 RBIs in the tournament.
? Booker is hitting .600 (9-of-15), while Peyton is hitting .500 (7-of-14). McCoy has a team-high five RBIs (.375 average), including the walk-off game-winner against Ohio State.
? Freshman Robert Neustrom tallied his seventh three-hit game of the season (11th multi-hit game this season) in the win over Maryland. Neustrom is hitting .444 with two RBIs in the Big Ten Tournament.
? Sophomore Nick Gallagher allowed one hit in six shutout innings against Maryland to earn his team-leading eighth win. He had a career-high nine strikeouts.
EN FUEGO
? The Hawkeyes are enjoying their best stretch of the season, winning eight of their last nine games. Iowa is hitting .322, has 23 extra base hits, and is averaging 6.3 runs per game. The team has nine or more hits in eight of the nine games and 14 or more hits in five of the last seven games.
? Five Hawkeyes are hitting over .345 during the stretch with Joel Booker leading the team with a .514 (19-of-37) average. Mason McCoy has nine RBIs and a .429 average and Tyler Peyton has scored 11 runs.
? Iowa is 8-1 with a 1.60 ERA on the mound with 61 strikeouts to 27 walks over 84 1/3 innings. Opponents are hitting .188 during the stretch.
BULLPEN BULLETS
? Iowa has senior long reliever Ryan Erickson waiting in the wings. The southpaw is 2-0 with a 0.53 ERA in his last four relief appearances.
? Freshman Zach Daniels hasn't pitched this week. The right-hander hasn't given up a run in his last nine appearances, spanning 10 2/3 innings. He is 1-1 with a 1.53 ERA and has 15 strikeouts in 17 2/3 innings.
? Sophomore Nick Allgeyer hasn't surrendered a run or hit in his last five relief appearances, spanning seven innings. Allgeyer struck out four of the six batters he faced against Minnesota on May 25.