IOWA CITY, Iowa – As the Iowa Hawkeyes get ready to host the second prime time game of the season in Kinnick Stadium, head coach Kirk Ferentz says his team must learn from its experiences of the last two games and build for the final three games of November.
"We have played a challenging schedule; Wisconsin was excellent before the bye week, Penn State is playing well and will move up in the rankings, and Michigan now is playing as well as anybody in the country," said Ferentz.  "It will be a great environment in Kinnick.  We can't dwell on last week too long; we looked at the tape and will make corrections, but it will take our absolute best to be ready for Michigan.  That's what it's all about, I know our guys are eager to get back on the field and get this week started."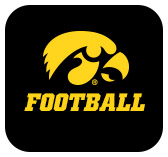 Michigan, undefeated and ranked second in the nation, is the third-straight ranked opponent on Iowa's schedule.  Wisconsin, a 17-9 winner over Iowa, was ranked 10th at the time, while the fast-improving Nittany Lions were ranked 12th last week.
Penn State used momentum of a 48-yard kickoff return to drive for a touchdown on its first possession last Saturday night.  Junior linebacker Josey Jewell blocked a Penn State field goal attempt to keep the score at 7-0 through the first period, but Penn State added two more touchdowns before Iowa could answer.
"That play (kickoff return) was representative of the way the night went for us," said Ferentz.  We knew it was going to be a tough environment to go into, especially playing at night.  They are an excellent football team, they have played well the last four or five weeks and are reaching their peak.  They have a talented team, but their quarterback has taken off, which has given them an offensive personality that is tough to match up against.  We knew it was going to be a challenge; we'll get back up on our feet this week and move forward."
Iowa moved the ball early in the game, but came up short on critical short-yardage situations.  Those missed opportunities led to too many opportunities for the Penn State offense.
"If you look at the first half, that was the story of the game for us," said Ferentz.  "The third-and-short opportunities, we had plays that could have been executed, some opportunities that we did not execute.  With that, it lets their offense back on the field, and they were playing well on offense.  It's a combination of us possessing the ball on offense, converting those third downs, and getting into a position where you can convert those possessions into points."
Iowa's only points of the first half came on a 12-yard pass from quarterback C.J. Beathard to running back Akrum Wadley.  Iowa's final points came on a 36-yard scoring strike from Beathard to wide receiver Jerminic Smith.
Saturday night marks Iowa's third meeting with Michigan when the Wolverines will be ranked second in the nation.  Iowa, ranked first in the nation, defeated Michigan, 12-10, in Kinnick Stadium in 1985 on a last-second field goal.  The Wolverines were also ranked second when they defeated Iowa 20-6 in 2006 in Ann Arbor.
Saturday night's contest will kickoff at 7:12 p.m. (CT) and will be televised on ABC.  Iowa closes the season at Illinois (Nov. 19) and by hosting Nebraska (Nov. 25) on Senior Day.