Hawkeye Fan Shop — A Black & Gold Store | 24 Hawkeyes to Watch – 2017-18 | Fight For Iowa | USA Team World University Games Central | Photo Gallery
 
 
By JAMES ALLAN
hawkeyesports.com
TAIPEI, Taiwan — Monday was an off day for USA Team at the World University Games, which meant the red, white, and blue went into full-out tourist mode.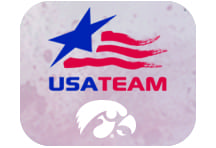 After getting in a weight training and study hall session in the morning, USA Team submersed itself in Taipei culture for the remainder of the day.
 
The tourist trek started with a trip to Taipei 101 — a landmark skyscraper in downtown Taipei. It was the tallest building in the world in 2004 and held the title until the Burj Khalifa Dubai was builit in 2010.  The building features the fastest elevator in the world, traveling passengers from the fifth to 89th floor in just 37 seconds.
 
"It was cool," said junior Chris Whelan. "I was able to see the Sears Tower and Empire State Building when I was in New York, but this had a different feel to it with it being in another country and experiencing one of the world's tallest buildings. It was cool in itself, seeing the architecture put into it.  It is something I hadn't seen before."
 
Following the two-hour stop at Taipei 101, USA Team went to Snake Alley at Huaxi Street Night Market, a traditional Taiwanese night market.  The team then went to the more contemporary Shilin Night Market to close out the evening.
 
 "This was something I didn't think I would experience nor something I thought baseball would take me to go see," said Whelan. "Getting fully submersed in the culture, it was interesting to see.  Seeing all the different types of people, their traditions and cultures, and getting to be a part of it was a cool."
 
What was the strangest part of the evening?
 
"I saw a lot of odd looking sea life that people consume," he said. "There were some tree nuts that is wrapped in leaves that people put in their mouths, and have seen too many snakes that I would rather not see. But I have seen a lot of odd and cool stuff; it's all part of the experience."
 
USA Team returns to action Tuesday, facing Russia at 5:30 a.m. (CT) at New Taipei City Xinzhuan Baseball Stadium.  The game will not be streamed online; listen to Zach Mackey on the radio call on hawkeyesports.com.