Hawkeye Fan Shop — A Black & Gold Store | Kinnick Edge | Hawk Talk Monthly — Dec. 2017 | Pinstripe Bowl Web Site | Official Bowl Tour site | Pinstripe Bowl Tickets | Pinstripe Bowl Coverage
Editor's Note: The following first appeared in the University of Iowa's Hawk Talk Daily, an e-newsletter that offers a daily look at the Iowa Hawkeyes, delivered free each morning to thousands of fans of the Hawkeyes worldwide. To receive daily news from the Iowa Hawkeyes, sign up HERE.
 
By DARREN MILLER
hawkeyesports.com
IOWA CITY, Iowa — Bernie Wyatt won't attend the New Era Pinstripe Bowl on Wednesday, which is odd considering the amount of time he spent recruiting the New York-New Jersey area as a college football coach.
 
At 78-years-old, Wyatt is retired, but he still makes daily stops to the University of Iowa's Richard O. Jacobson Football Operations Building.
 
"My wife likes it because she gets me out of the house," he joked.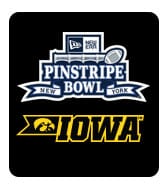 Wyatt met his wife, Barb, when he was a three-sport standout for Amityville High School in Long Island. In 1956, Wyatt broke the Long Island single-season scoring record with 170 points. He was heavily recruited.
 
"I thought I was going to Notre Dame, but it was an all-boys school then and I didn't want that experience," Wyatt said.
 
Whitey Piro, another Long Island native, was on Forest Evashevski's coaching staff at the University of Iowa. Since Wyatt was born in Brooklyn and raised in Long Island, he and Piro hit it off. 
 
"I came out here and liked the environment, so I made Iowa my choice," Wyatt said.
 
Wyatt lettered for the Hawkeyes from 1959-61, leading the team in interceptions in 1960 and being named Most Valuable Player in 1961. In 1974, after coaching one high school season in Long Island and a few more at Iowa City Regina, Wyatt joined Bob Commings' staff at Iowa. Hayden Fry retained Wyatt as recruiting coordinator in 1979.
 
"That didn't excite me too much," Wyatt said. "I said I would be happy to stay at Iowa, but I would like to be considered if there was an opening in coaching and eventually that's what happened. I coached tight ends and went to defensive ends, but I was still heavily involved in recruiting."
 
And he was deeply rooted in recruiting New York and New Jersey. Wyatt was instrumental in bringing the likes of Ronnie and Kevin Harmon, Andre Tippett, Owen Gill, Bob Kratch, Devon Mitchell, and Leroy Smith to Iowa City.
 
"I spent a lot of time out there," Wyatt said. "A lot of recruiting is in relationships you build with high school coaches. I knew a lot of coaches there and I knew the ones that would give me the straight scoop.
 
"There is a lot of talent back there, so you have to look at character. It was easy to determine whether they could play at this level, but the other stuff — grades and type of person — is just as important."
 
One of the high school coaches Wyatt befriended was Frank Verducci of Barrington, New Jersey. Verducci had an impressive defensive line recruit named Andre Tippett and Wyatt was interested. Tippett's transcript needed a boost, so Wyatt called Vern Thomsen, head coach at Ellsworth Community College in Iowa Falls, Iowa.
 
"I said Vern, I'll make you a deal," Wyatt said. "I'll send you a great player, but you have to get him out in a year."
 
When the year was up, Tippett phoned Wyatt. Ellsworth wanted its star for another fall, but Wyatt would not have it.
 
"We went round and round and Ellsworth finally let him out," Wyatt said. "Tip was nice kid and a great, great player."
 
When Wyatt was Iowa's recruiting coordinator, about the only time he was in Iowa City during the season was game day. Even though he swept the entire country for student-athletes, his niche was New York and New Jersey. Wyatt knew the LaGuardia and Newark airports well. His recruiting turf was far from rural Iowa.
 
"You had to be careful. When you go into cities like Newark, New Jersey, it's rough," Wyatt said. "A lot of those coaches are trying to help kids get away from there. The moms wanted to make sure we took care of their sons."
 
It wasn't long before Iowa was a popular destination among many football recruits from New York and New Jersey. Word spread that the student-athletes would be cared for at Iowa — and occasionally receive a home-cooked meal from Barb Wyatt.
 
Coincidentally, it was Verducci who contacted Wyatt about a running back from Newark named Akrum Wadley. In the past four seasons for Iowa, Wadley has rushed for 2,784 yards and 27 touchdowns and caught 69 passes for seven more scores.
 
"(Verducci) called me one day and said there is a tailback you should look at," Wyatt said. "I told (Iowa head coach) Kirk (Ferentz) about him and Kirk liked him."
 
Wyatt hasn't been back to New York or New Jersey in years. His parents are deceased and he no longer has family in Long Island. But Wyatt will watch the New Era Pinstripe Bowl on Wednesday and reflect on the many hours he spent in high schools in the area.
 
Wyatt also has a suggestion and instruction for Hawkeye players, coaches, and fans attending the game:
 
The suggestion?
 
"Visit a deli, I would get a pastrami," he said. "But it is expensive out there."
 
The instruction?
 
"I'm sure they're going to be down on the streets walking around, looking at Times Square and all that," Wyatt said. "They better put their wallet in their front pocket, not their back pocket. That's good advice."