Hawkeye Fan Shop — A Black & Gold Store | 24 Hawkeyes to Watch 2018-19
By DARREN MILLER
hawkeyesports.com
IOWA CITY, Iowa — When Jeff McGinness says he was born to be a Hawkeye, believe him.
 
He was raised in Iowa City, Iowa, where his father was treasurer of the Hawkeye Wrestling Club. At City High School, McGinness won 172 wrestling matches (without a loss) and four state championships.
 
So, did he ever consider competing for anyone other than legendary head coach Dan Gable at the University of Iowa?
 
"My parents would have had to move out of town," McGinness said. "My family was extremely close to the Hawkeye wrestling program."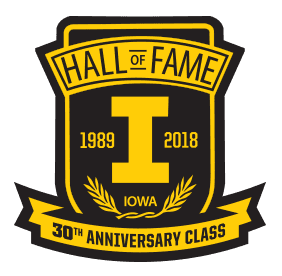 McGinness is one of seven inductees into the 30th National Iowa Varsity Club Hall of Fame class Aug. 31 at the Coralville Marriott Hotel and Convention Center. Tickets to the event, which is open to the public, can be purchased at hawkeyesports.com/HOFtickets.
 
While competing for Iowa, McGinness compiled a 127-16 record with 31 falls. He was a three-time All-American and two-time national champion, which is why he wondered if his hall of fame call would ever come.
 
"With Iowa wrestling, if you're a two-time national champion it seems like you're kind of normal, not that big of a deal," McGinness said. "It is an honor to be included on a long, long list of Hawkeye wrestling greats that I watched growing up: the Zaleskys, Barry Davis, Randy Lewis, people I idolized."
 
It is easy to become overwhelmed by the success McGinness had as a wrestler. He is also proud of what he accomplished in the classroom. McGinness earned bachelor's degrees in psychology and communication studies and added a law degree in 2001.
 
"One of the things that is often overlooked about the more successful wrestlers who have gone through the program is their success not only on the mat, but in the classroom," McGinness said. "My father stressed that you are a student-athlete, not an athlete who happens to go to school. That is important to me. You can't just wrestle, you have to get a degree."
 
McGinness was named Academic All-Big Ten and first-team Academic All-America by the National Wrestling Coaches Association.
 
His collegiate career didn't play out on the mat exactly as planned. McGinness didn't see himself as a prototypical Iowa wrestler, one of those physical, well-conditioned brawlers who would always go, go, go. Instead, he was a more tactical, explosive, and technical-based.
 
"Having a coach who could look at me and say, 'OK, we're going to create something new and individual in Jeff' was good," McGinness said.
 
McGinness, along with Joe Williams, were jewels of Gable's recruiting class in 1993. Both had their redshirts pulled as true freshmen, and McGinness was stunned.
 
"It was a little bit of a shock," he said. "I wasn't 100 percent mentally ready for that."
 
McGinness finished the season 36-9 and placed second in the Big Ten and fifth in the NCAA at 126 pounds. He was named Big Ten Freshman of the Year.
 
The following season he was undefeated in 30 bouts, winning his first Big Ten and NCAA titles.
 
"I was undefeated because wrestling was fun and I was doing everything right: controlling my weight correctly, I was going to class, and everything in my life was balanced," McGinness said.
 
A growth spurt between the end of the 1994-95 season and the beginning of 1995-96 caused a hiccup. Rather than compete for a spot at 134 pounds, McGinness used his redshirt. Then, during his junior season, McGinness was cutting a lot of weight and it took its toll at the end of the season. He finished 27-3 and was second in the Big Ten and did not place at nationals. The days with McGinness at 126 pounds were over.
 
As a senior, he bumped up two weight classes to 142 pounds, finished 34-4, and won his second conference and national championships.
 
"I had a lot of naysayers both nationally as well as people connected to the program," McGinness said. "For me, coming back (to win) my senior year wasn't as much about proving people wrong, but proving to myself that given the right environment and me focusing on the way I want to wrestle and not having to worry about cutting weight and all these other issues was very rewarding."
 
With McGinness in the lineup, the Hawkeyes won four Big Ten and three NCAA team championships. He was named Outstanding Wrestler of Big Ten Championships in 1998. McGinness won 43 consecutive matches from 1994-96 and twice received the Mike Howard Award as the team most valuable performer.
 
After graduating from law school, McGinness spent seven years working for a law firm in Chicago, specializing in civil litigation defense. He returned to Iowa and worked in Cedar Rapids from 2007-12, then decided to make a career move outside of private practice. Since 2012, McGinness has served as general counsel, vice president of franchise operations, and national beverage director for WineStyles of West Des Moines. WineStyles is a franchise of national boutique wine stores and wine bars.
 
McGinness met his wife, Jami, in rhetoric class at the University of Iowa. They live in Waukee with their three children.