Hawkeye Fan Shop — A Black & Gold Store | Hawk Talk Monthly — January | Fight For Iowa
DALLAS, Texas — The University of Iowa women's tennis team concluded action on Sunday at Metroplex Mania.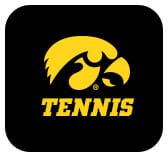 In singles action, Elise van Heuvelen Treadwell fell to Chiara Tomasetti of Northern Arizona University, 6-2, 7-6.
Cloe Ruette dropped her singles match to Katherine Jakeway, 6-2, 6-3. Danielle Burich was defeated in straight sets by Nicole Petchey, 6-0, 6-1. Danielle Burich lost her singles match to Tiffany Hollebeck, 6-3, 7-5. Each Hawkeye was defeated by a Southern Methodist University opponent.
In the doubles tournament, the team of van Heuvelen Treadwell and Ruette fell short in a nail biter to NAU'S double team of Chiara Tomasetti and Ellie Millard, 7-6. The sophomore duo of Danielle Burich and Danielle Bauers were defeated by Emilie Haakansson and Madi Moore of NAU, 6-2.
"I definitely thought we could have done a better job in a couple key areas today," said Iowa assistant coach Daniel Leitner. "We put ourselves in position to win sets, but weren't able to close them out. Hopefully we can tighten up a couple areas before starting the season in a couple days."
The Hawkeyes begin their championship season on Friday, Jan. 18, versus Xavier at the Hawkeye Tennis and Recreation Complex. The match is scheduled to begin at 5 p.m. (CT).
DAY 3 Results
Singles:
1. Tomasetti (NAU) def. Elise van Heulen Treadwell (Iowa): 6-2. 7-6
2. Millard (NAU) def. Verma (NSU): 6-1, 1-6, 6-2
3. Polanska (NSU) def. Moore (NAU): 6-3, 7-5
4. Antonia Blattner (NSU) def. Avery Aude (SMU): 4-6, 6-3, 6-4
5. Ela Iwaniuk (NSU) def. Emilie Haakansson (NAU): 6-2, 3-6, 6-3
6. Katherine Jakeway (SMU) def. Cloe Ruette (Iowa): 6-2, 6-3
7. Nicole Petchey (SMU) def. Danielle Burich (Iowa): 6-0, 6-1
8. Tiffany Hollebeck (SMU) def. Danielle Bauers (Iowa): 6-3, 7-5
Doubles:
1. Tomasetti/Millard (NAU) def. van Heulen/Ruette (Iowa): 7-6
2. Aude/Hollebeck (SMU) def. Verma/Polanska (NSU): 6-2
3. Haakansson/Moore (NAU) def. Bauers/Burich (Iowa): 6-2
4. Blattner/Iwaniuk (NSU) def. Petchey/Jakeway (SMU): 6-2