Hawkeye Fan Shop — A Black & Gold Store | 24 Hawkeyes to Watch 2018-19 | Photo Gallery
IOWA CITY, Iowa — The 13th-ranked University of Iowa women's rowing team earned Boat of the Week honors for the first varsity eight (1V8) performance at the Big Ten Double Dual on Saturday, the conference announced Tuesday.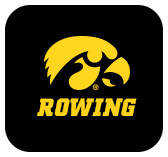 Under rough rowing conditions that included 15 mile-per-hour headwinds and white-capping waves, Iowa ran the table in the flagship boat class, defeating No. 11 Wisconsin and Minnesota at Lake MacBride.
The Hawkeyes had a quick start against the Badgers in the first 250 meters and maintained a lead over the next 1000 meters. Heading into the final 500 meters, Iowa shut down any chance of a comeback with steady moves to take the victory.
Iowa took a similar approach in the afternoon session against Minnesota. The Hawkeyes held a slim lead through 1,500 meters, but an aggressive finish stretched Iowa's margin to nearly five seconds as the Hawkeyes posted the fastest time of the day.
Iowa's varsity 8 boat includes two 2018 CRCA All-Americans (Contessa Harold and Hunter Koenigsfeld) and three U23 National Team camp selections (Hannah Greenlee, Harold, and Koenigsfeld). In addition, the Hawkeyes have been ranked for 23 consecutive weeks– the program's longest streak.
HEARING FROM COACH CARTER
"I've been very pleased with the progress of our first eight.  Being acknowledged as the B1G Boat of the Week is a really nice touch at this point of the season and I'm hopeful that the crew will see it as validation of their terrific investment so far.  Confidence plays a big role in racing and getting a nod like this can only help build that confidence."
The Hawkeyes travel to Providence, Rhode Island, this Saturday to compete against Harvard and Brown on the Seekonk River.